21 Amazing 'Harry Potter' Quote Tattoos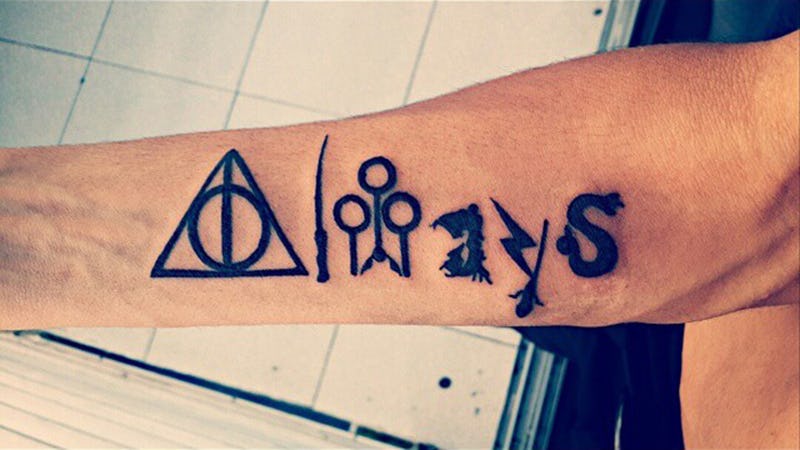 It's absolutely no questions that Harry Potter fans take the series seriously. So seriously, in fact, that Harry Potter tattoos of all sorts are incredibly popular. A quick Instagram hashtag search reveals that there are over 15,000 photos tagged #harrypottertattoo, and Pinterest shows off even more results. It appears that HP fans are more than willing to express their love for Harry, Ron, and Hermione on their skin for the rest of their lives.
If you're going to show off your devotion to J.K. Rowling's masterpiece in the form of a tattoo, you may want to consider using her words and not just images. Quote tattoos on their own are special, but when they really mean something to you, they become even better. Considering the Harry Potter series features some of the best literary quotes ever, your only real problem will be figuring out which one to use.
Whether you're thinking about getting your own HP tattoo or you just want to browse through some really cool ink ideas, you need to check out these 21 Harry Potter quote tattoos found on Instagram. These are great enough to bring back some of the magic from the books — after I looked these up, I found myself itching for a long-overdue Harry potter marathon. Who knows? They may even inspire you to get your own ink.
1. An "Always" Tattoo Full Of Symbols
There are many Harry Potter fans out there sporting "always" tattoos — there are even people who have no idea it's an HP reference. This one makes that clear using glasses, a wand, a snake, and more obvious HP symbols.
2. An Avada Kedavra Tat
Evil? Yes. But this one will definitely stand out in a crowd.
3. A Quote About Loss
This is easily one of the most touching Harry Potter quotes from the entire series, and it can mean so many different things.
4. A Marauder's Map Tattoo
This says "I love Harry Potter" but it also says "watch out for all my sass."
5. A Simple "Always" Tattoo
This is easily one of the most popular HP options, but who can argue with something this simple and awesome? The scar at the end is what really makes this great.
6. A Deathly Hallows Quote Tattoo
Another one of the more meaningful quotes from the book, this pairs nicely with the Deathly Hallows symbol.
7. A Dumbledore Quote
This is one of my favorite quotes from the books. I love this tattoo because it's really straight-forward and not too over-the-top.
8. Up To No Good Tattoo
What makes this popular option stand out? The perfect Harry Potter font.
9. Another Dumbledore Quote
This quote is so good that it was worth two similar tattoos. The small font and placement of this make it look kind of mysterious.
10. An Ode To Snape And Lily
Can't get over the romance between Snape and Lily? This tattoo is for you.
11. A Quote And Glasses Tattoo
The quote along is amazing. The glasses and scar? Even better.
12. Dreams Quote Tattoo
Clearly a popular option, this quote works even when it's shortened.
13. A Deathly Hallows Quote Tattoo
I love this! It's kind of inspiring and also shows everyone you're a huge Harry Potter fan.
14. A Dumbledore Quote Tattoo
It's fitting that Dumbledore's best and most notable quote would make for such a great tat.
15. A Snitch And Quote Tattoo
This quote is perfect, but the little golden snitch at the bottom is my favorite part.
16. An Inspirational Quote Tattoo
This quote sums up the books, and so much more at the same time.
17. An "Up To No Good" Quote
I love everything about this: the stars, the font, the wand, the quote, even the placement.
18. An Ode To Sirius Black
This is pretty, simple, and definitely meaningful.
19. It's Real For Us Tattoo
Every super fan will appreciate this ink.
20. A Snitch And Quote tattoo
This is super elaborate, but it works.
21. I Must Not Tell Lies Tattoo
Everyone won't understand this means, but other fans will get it. And they'll know it's awesome.
Image: @lucyanhoppus/Instagram