21 Early '00s Britney Spears Mag Covers RANKED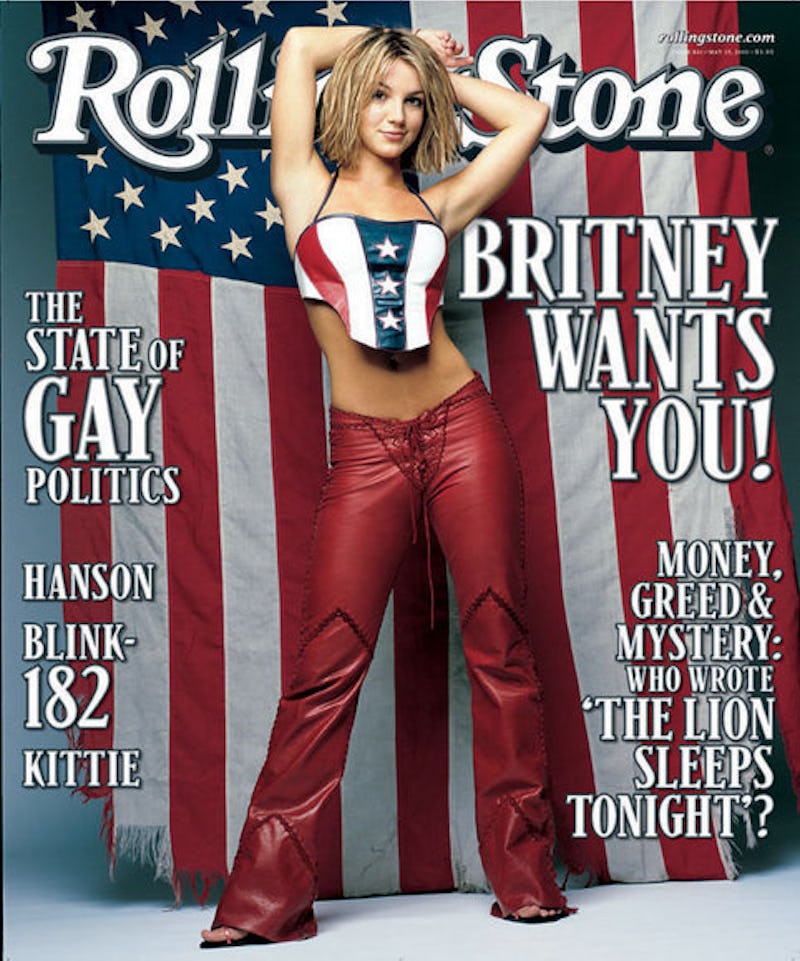 If you're anything like me, your childhood was defined by pop superstar and American sweetheart Britney Spears (and subsequently, a ton of Britney Spears magazine covers). When she broke out on the scene in 1999 with her debut album ...Baby One More Time, it was a pretty big deal. And since then, with little hiccups here and there over the years, the nation has been infatuated with this small town blonde, Southern belle with moves and pipes to boot.
My parents bought me the album when it first came out, and I would play it every day while dancing along in my living room. I studied the lyrics provided in the album's artwork booklet that came with every CD (R.I.P. age of CDs), and committed her songs to memory. I loved singing along to her tunes in my bedroom, trying extra hard to get the notes just right and to sound as much like Spears as possible.
As of late, with the exception of the song she collaborated with Iggy Azalea on, Brit Brit has not been on my radar. So looking back through magazine covers from the years when I loved her most was very nostalgic. It also reminded me of what a style icon Spears is (I mean, she's been on the cover of just about every major magazine at least once!).
She's easily maintained her power and sexual prowess from her days as the girl next door to her life as the all-American mother. There have certainly been some bumps in the road, but ultimately she's been killin' the game. Here's a look back at all of her American magazine covers of the early 2000s, ranked. It is absolutely impossible for there to be any "bad" magazine covers of Spears, so I'll be ranking from "slightly underwhelming" to "YASS QWEEN."
21. Cosmo Girl! June/July 2000
Spears is so young and fresh-faced here. A little vanilla for me, but the highlights are on point.
20. Teen People September 2001
A year later, and we've got this adorable long bob adorned with even more golden highlights. Her skin is so dewy! Again, a little vanilla at this point in her career.
19. Elle October 2005
Fast-forward to the beginning of motherhood for Spears. She looks beautiful as always, and it's rad that she's flaunting her pregnant belly. But just because she was going to be a mama didn't mean she ceased to be her sexy self.
That being said, what's this nude tulle-covered frock? It seems very reversed and prom dress-y, not very Brit Brit at all.
18. Teen People February 2001
Long, golden locks and a crop top? We've reached classic B at long-last. And that ridiculously strong core never ceases to amaze me.
17. Allure June 2000
Still a fan of this long, swoopy bob. And her natural beauty look is perfectly executed: dewy glow, subtle pink lip, a few coats of mascara, and a perfectly sculpted brow.
16. Rolling Stone February 2008
This black and white close-up is a tad boring. But her face, rather than her body, is the focal point of this shot. And clearly her face is absolutely stunning. The touch of sparkle on her eyes and lips makes it all the more captivating.
15. Seventeen April 2004
Classic, cheesy Seventeen shot. But her smoky eye, dangly earrings, and lioness-like hair are all equally majestic. She's so good at emitting upbeat and effervescent energy.
14. Rolling Stone October 2002
She may be sharing this cover with Shakira and Mary J. Blige, but Spears clearly steals the show in this shot. Standing front and center as confident as ever, with a fabulous peasant-like crop top and jeans ripped every few inches. And are those denim boots??
13. W August 2003
This cover is so strange because it looks nothing like Brit. But the smoky eye is so strong and her eyes are absolutely captivating. Her hair looks so silky, and those bangs just won't quit.
12. Allure September 2007
Spears makes one hot brunette. Topless and locking eyes with readers with her incredibly fierce gaze, she's owning this cover.
11. Rolling Stone December 2001
Spears is looking absolutely lovely whilst chillin on this dock. And — real talk — her bra top look so amazing.
10. Rolling Stone May 2000
This all-leather, all-American look is so silly and cheesy, but totally perfect at the same time. Brit Brit: America's crop top-loving sweetheart.
9. Teen People March 2002
She just oozes cool here with her blown out hair and black halter top.
8. Glamour January 2009
Her ridiculously long and flowing hair here is just so gorgeous. And that cute kissy mark tattoo on her wrist is everything!
7. Rolling Stone September 2001
So classic, video-Britney. A reminder that Spears looks fantastic in hardly anything, and that a fan goes a long way.
6. Rolling Stone October 2003
And in case the last cover didn't remind you of as much, Spears has always been confident in her bod! Bangs continue to be a good look for her, too.
5. Allure April 2005
Her smoky eye look and piercing gaze are to die for. I literally cannot take my eyes off this cover.
4. Rolling Stone December 2008
A very candid-looking shot of Spears giggling. With beachy waves and a cute dressed-down look, she is absolutely adorable. And you can begin to see her tattoo peaking from her flower jeans.
3. Esquire November 2003
Posing and dressing in the style of Marilyn Monroe, another blond bombshell of American history, this cover is so chic and cool. A nod from one talented woman to another.
2. Vogue November 2001
Young Spears made the cover of Vogue!! And she looks positively elegant and radiant. So easy breezy.
1. Entertainment Weekly November 2003
My favorite cover. It's so cheesy and funny, but also so perfect and quintessential Brit. It's half faithful schoolgirl, half "bow down bitches." Sorry EW, but Spears actually is an angel. All that's missing is the halo!
Images: Courtesy Publications