7 Stages Of Getting Ready For A Dance Festival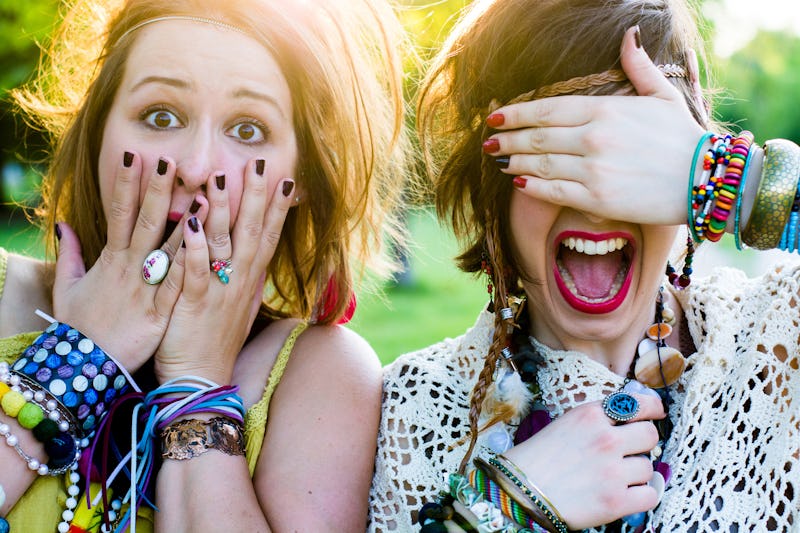 The time for the Electric Daisy Carnival is upon us, which happens to be the largest North American dance festival (ever!), and that means that lovers of EDM (electric dance music) everywhere will be planning their summer dance festival outfits. With summer finally here, it's time to pack away all those sweaters, coats, and winter layers into storage to make room for all your warm-weather gear: sun and maxi dresses, swimsuits, and festival wear.
Dance culture is (and has arguably always been) an essential part of our culture, as people lose themselves in dance and trance brought on by the hypnotic, energetic sound that is electric dance music. Summer seems to bring with it this veil of happiness, energy, and lust for life, and what better way to celebrate it than partying outside with thousands of other people, all dancing together, united by an irresistible music high?
The Electric Daisy Carnival, especially, is so popular and beloved by many that attendants look forward to the event all year round. And the experience is so powerful and transformational that once you get a taste, you plug into this universal groove — and everyone else is on it, too.
So, you're heading to a dance festival this summer, and you couldn't be more excited (trust me, I get it). You're ready to dance, celebrate, and completely lose yourself in the music high (or whatever other high you may be experiencing — just saying). In order to make sure you have the best time of your life, you have to make sure that your outfit is on point. So let's take a look at seven stages of getting ready for a summer dance festival:
1. Preparation
This first step is crucial. You begin weeks ahead — perhaps even months — planning and coordinating your outfit for the festival. Are you going to be a fairy, or some colorful, glowing version of an animal? Or are you simply just going to cover yourself with body paint, sequins, and glow-sticks? Are you co-coordinating your outfits with your friends and doing a group-collaborative thing, or are you flying solo?
Knowing these things is paramount for planning your summer festival outfit, after all. A decision must be made.
2. Assemble Your Ensemble
OK: So you've finally made a decision about what your outfit "theme" is going to be (and you are definitely wearing a tutu this year) and now it's time to collect all the little pieces of your glorious outfit puzzle.
Head out to the stores (or dig through your closet) and track down flowers for your hair, some glow-in-the-dark body paint, some stick-on sequins for your face, maybe a wig, perhaps some wings, and, whatever you do, make sure you have that tutu, dude.
Once you have all your materials, creation can begin. Gauze is cut and strung together to make a tutu. An old bra transforms into something sparkling and glorious as you glue on flowers and rhinestones. You're creating outfit magic.
3. Dress Rehearsal
To make sure that your dance festival outfit is going to work, you have to try everything on first. All aspects of the outfit have to come together, and you need to make sure you know exactly what you're going to do with your makeup, and also know how your outfit is going to feel once it's on.
Unlike going out to a club (where we tend to wear uncomfortable dresses and shoes for the sake of looking sexy), at a dance festival comfort is key. Think about it: You're going to be dancing constantly for hours and hours (in the summer heat), and the last thing you want is to be uncomfortable, too hot, and in pain. You want to feel light, fabulous, and free.
So make sure you try on your dance festival outfit (makeup and all) and that everything feels comfortable, fits well, looks good, and that you're happy with it all.
4. Last Minute Prep
The day has come. You've showered, washed your hair, shaved absolutely everything, put on layers of deodorant (because you know you'll be sweating something fierce), and you're now mentally preparing for the entire day and night of surging energy, sweaty bodies, and hypnotic dancing that are ahead of you — preferably with the help of a drink (or several).
5. Transformation
You're getting pretty pumped up at this point. It's finally time to pull on that tutu, paint that face, stick on your sequins, clip flowers into your hair, put on all your bracelets and glowing jewelry, slip into those fuzzy boots, and transform into an electric creature of DANCE. The time is nigh!
6. Checklist Of Responsibility
You're going to be partying and dancing all day and night, so you need to make sure you've taken care of all the basics. You won't be bringing a purse with you (who wants to carry around a purse while they dance for hours?) so perhaps you have your trusty fanny-pack ready (which, lucky for you, is totally back in fashion), or you have cleverly found a spot in your bra (or even in your underwear, er... somewhere) in which to stash your I.D., money, phone, and keys safely.
7. One Last Look
Before you head out the door to dance until your dreams come true, you take one last look at yourself in the mirror, allowing yourself to completely revel in the glorious transformation from "regular, everyday girl" into "summer dance festival goddess." Your outfit is fun, expressive, comfortable, and summer-heat-friendly, and you look and feel amazing. You're finally ready to dance the night (and day) away.
Images: Fotolia; Giphy