9 Clever Tattoos That Your Boss Will Love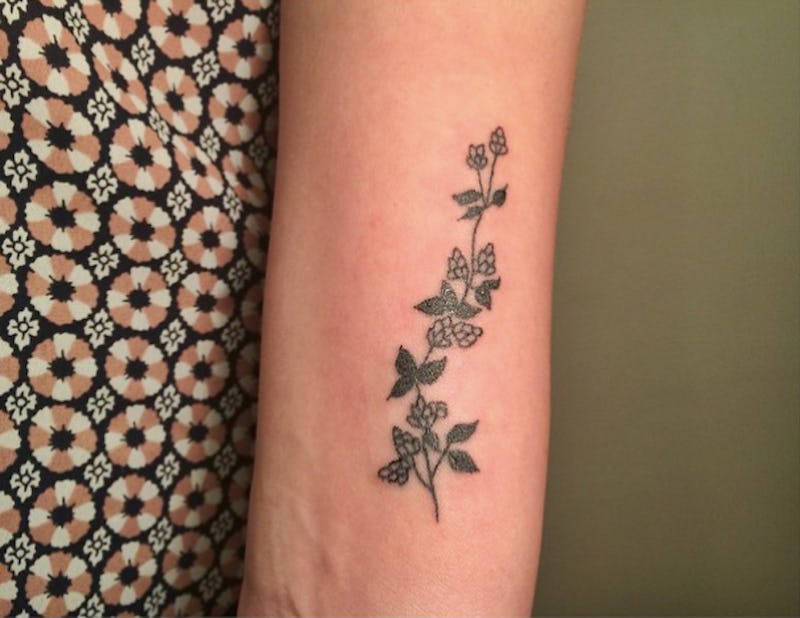 The first person to shame me (unintentionally, of course) for my tattoos was my loving mother who claimed her only concern was what future employers would think about her newly-inked daughter — even though I knew that there are definitely some tattoos even your boss will love. Still today, my mom gasps "But how will you get a job!?" every time I get a new tattoo. In those moments, I resist the urge to shout out a 13-year-old retort because really, it's just practice for when your boss asks about your tattoos. Imagine slamming office doors in an angsty rage claiming that your boss would never understand you and blaring loud angry music in your cubicle? Honestly, if your boss questioned your tattoos that would be a horrifying way to react.
When I first moved to NYC, I got a job temping at an architecture firm, and one of my tattoos laid the groundwork for me to be hired and promoted during my 3-week temping stint. While serving coffee in a meeting, one of the partners of the firm looked at me and said "Is that a black flag tattoo?" and I responded "Yes, yes it is." and carried on. Suddenly, we had something in common: Our love of hardcore and punk music. Suddenly, he wanted to know who I was and what I was doing there. To be perfectly honest, I was supposed to only temp for a week, but no one told me not to come back, so I just kept showing up. I told him so, and was hired that Friday.
Although your boss may not be as accepting of tattoos as your Instagram followers, there are definitely some tattoos that they can't help but love. Sure, they may not be over-the-moon with joy that you are meeting potential clients with a sleeve of ink on your arm, but they can't deny their staff isn't creative and tattoos can often establish a common interest your employers didn't even know you had. Let's face it, not all CEO's are chatting with the receptionist unless...you have a boat tattoo and you are both boat people. Get a tattoo and get ahead is my new motto.
Here are 9 clever tattoo ideas that your boss may just fall in love with.
1. Wedding Rings
One of my favorite types of engagement rings are tattoos, they are a unique way to say "I do" without the stale tradition of spending an absurd amount of money on wedding rings. One major advantage is that you don't have to worry about sizing rings or ever accidentally tossing your ring down a sink drain: It's on you for life, what boss can't help, but tear up over that?
2. Memorial Tattoos
A tattoo to share one last memory with a friend or family member is incredibly powerful and can't be erased over time.
3. Flowers
An intricate flower can be a great accessory to any drab work attire and it's something that boss's can get behind: Inoffensive, beautiful flowers.
4. Historical Pieces
Historical figures and places can share your knowledge and passions without having to engage in a political discussion.
5. Company Name
Love your company so much you get a tattoo of their brand? What boss isn't going to give you the thumbs-up sign?
6. Shapes
Honestly, tattoos of triangles, circles, or any other shape always make me swoon. They are simple and don't require much thought on your boss's part.
7. Smart Quotes
Powerful, fun, or quirky quotes can show off your smarts while giving you some fancy, permanent script on your body. Pick the right quote and the right font, and your boss can't help pay you a compliment on your tattoo.
8. Arrows
These arrows are super sexy and well-done and you can be sure that a well-done tat will speak volumes to everyone.
9. Geometrical Tattoos
Geometrical tattoos are becoming more and more popular; they take incredible skill and bring a unique twist to any tattoo idea.
Images: Deanna Wardin/Flickr; Kristin Collins Jackson