This Dessert Will Win Thanksgiving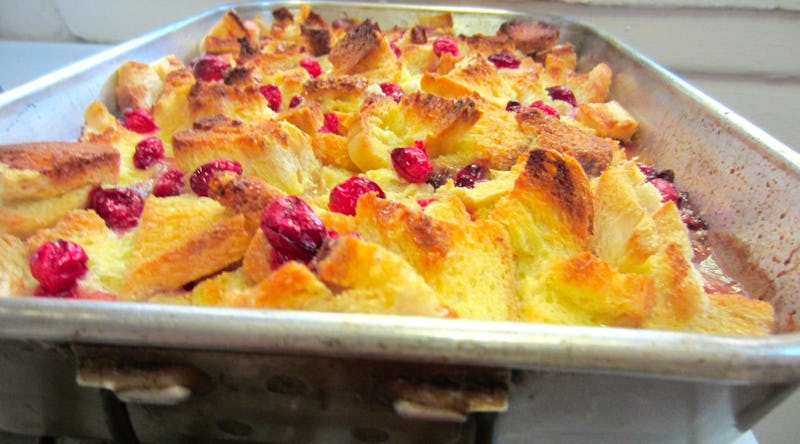 You've spent enough holidays agonizing over crumbly pie crusts and mushy lattices. Why can't the crust come out like the ones in Sing a Song of Sixpence? Then you tried pie pops, but they shrunk into something resembling a q-tip dipped in cookie dough. If only Thanksgiving were as simple as the Easy Bake Oven stuff.
To combat the problem, I made this bread pudding recipe from Chef Daniel Humm and Will Guidara's cookbook I Love New York: Ingredients and Recipes (Tenspeed Press). Everything gets thrown in a couple of delicious layers. Simply bake until golden and then bask in the glow of everyone's praise as they scoop out browned bread that's soaked through with custard and draped in white chocolate. The cranberries cut through the richness so this dessert won't be overkill after everyone's gorged on turkey. It's the perfect mix of crispy and soft, but if you want your bread pudding dripping with custard, whisk in a few more eggs. Either way, you won't have leftovers. Unless you kick the drunk people out.
INGREDIENTS:
8 cups diced brioche (1/2 inch). I kept the crusts on for extra texture.1 1/2 cups (8 ounces) fresh cranberries8 ounces white chocolate chunks4 cups heavy cream2 vanilla beans, split lengthwise and scraped5 egg yolks3 eggs1/2 cup sugar2 teaspoons salt4 tablespoons, softened butter (spring for the shmansy brand)
STEPS:
Preheat the oven to 275 degrees.
Generously grease a 9 by 13-inch baking dish or a 3-quart gratin dish with butter.
Place half of the bread, the cranberries and half of the white chocolate chunks in the pan. For the cranberries, throw out (or eat) the squishy ones.
Cover with the rest of the bread.
In a saucepan, warm the cream to just below a simmer.
Remove from the heat, add the vanilla bean seeds and pods and steep for 10 minutes.
Whisk together the egg yolks, eggs, sugar and salt.
Bring the cream to a boil and add the remaining white chocolate. Remove the saucepan from heat.
Making sure the chocolate is melted, whisk in the egg mixture, and pour it over the bread.
Allow to stand for 30 minutes.
Dot the top with the butter and cover with aluminum foil.
Bake for 45 minutes to 1 hour, until the custard is set.
Remove the foil, and increase the oven temperature to 350 degrees Farenheit.
Return the pudding to the oven and bake until golden brown, about 30 more minutes.
How pretty is that?