Jeggings Is Now A Part Of The Dictionary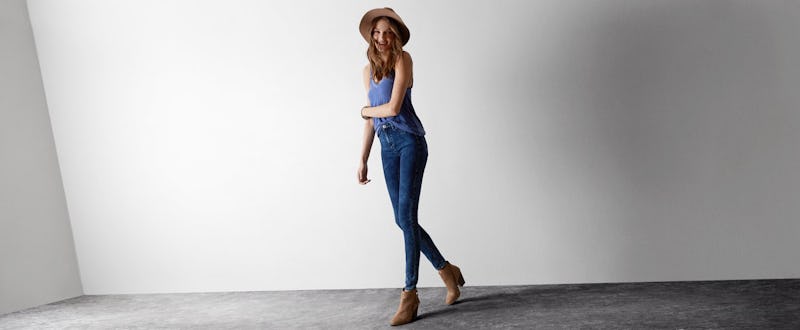 For better or for worse, you can now find jeggings listed in the JE-JI section of the dictionary. As of this week, Merriam Webster added jeggings to its unabridged version, the New York Times reported. Though the jean/legging hybrids might not be as popular as they once were, they'll now be immortalized forever.
Jeggings isn't the only new word to hit the dictionary this week, joined by a slew of others that highlight our internet and social media-centric world. Emoji, meme, photobomb, twerk, WTF, and NSFW also now take up prime page real estate. Sadly, however, the word-picking folk missed a handful of fashion and beauty related slang terms definitely worthy of dictionary status. I took it upon myself to round up 5 of the most dictionary-deserving words of 2015 and, if I do say so myself, they're all totally on point.
Here are 5 fashion & beauty slang terms that should be in the dictionary, too:
1. On Fleek
Viner Peaches Monroe is credited with making "on fleek" on fleek by using the term to describe her eyebrows, and I can't even count how many times I've seen it in the media since. For gollies sake, Ariana Grande even sang about it already. If that doesn't mean dictionary status, I don't know what does.
2. Selfie Stick
I kind of hate that it's a thing. But it's totally a thing and there's no point in fighting it.
3. Basic
"Basic" shot to fame in 2014 and continues to reign as the defining knock-down term for everything from frappuccinos to pink sweats. Yes "basic" is technically already in the dictionary, but its current definition is way too basic and needs an update (hehe).
4. Belfie
A newcomer, "belfie" (butt selfie) was created by Kim Kardashian-West (shocker) earlier this year when she used it to hashtag a photo of her booty looking seriously fierce.
5. YAASSS
While not totally exclusive to fashion/beauty, "YAASSS," the overtly excited "yes," is the go-to phrase my pals and I use when we approve of someone's new make up/hair/outfit choice. And given that my friends and I obsessively use it, that obviously garners dictionary status, right?
Image Credit: American Eagle; Giphy(2)