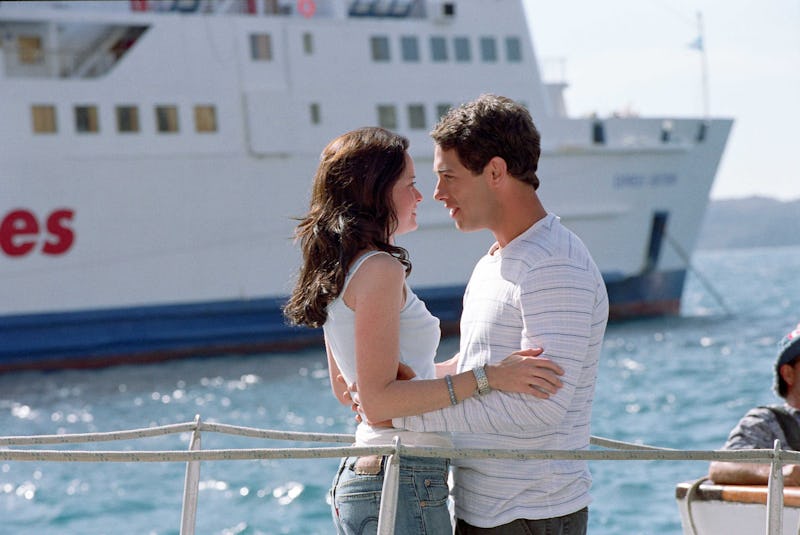 The Sisterhood Of The Traveling Pants has plenty of quality love interests, but I think most people would agree that Kostos really takes the cake. Lena and Kostos' love story is ever so Romeo & Juliet, only without the dying: they meet in a beautiful country and fall madly in love despite their feuding families. Though the two hardly had the perfect romance (see: the sequel, in which Kostos gets tricked into marrying a former lover) but their love was pure. It's no wonder so many girls wanted to book a plane ticket to Greece immediately after seeing this love story play out on the big screen. Fortunately, you don't have to re-watch Sisterhood Of The Traveling Pants again and again (though seriously, feel free to do so) in order to get a glimpse of actor Michael Rady, who plays Lena's other half. Rady is all over your television, even if you don't remember him without that accent.
A lot has happened in Rady's life since the 2008 release of the Sisterhood Of The Traveling Pants 2.The 33-year-old actor is married with a son named Ellington, whom, according to the website SeriouslyOMG, he helped deliver.Here's what he's been up to after the iconic film and in between delivering babies:
Swingtown (2008)
Rady played Doug on this CBS series about the effect of the social and sexual liberation movement on suburban America. It lasted for one season.
Greek (2008-2009)
Rady played Max, Rusty's mentor and Casey's short-lived boyfriend on the ABC Family college dramedy.
Melrose Place (2009-2010)
Rady starred on The CW reboot of this iconic '90s drama, which also starred Katie Cassidy of Arrow and, surprisingly, Ashlee Simpson. The show was cancelled after an (extremely dramatic) first season.
J. Edgar (2011)
Rady appeared in this Clint Eastwood biopic as Agent Jones.
House Of Lies (2012)
Rady had a recurring role on this Showtime series as Wes, Jeannie's ex-fiance. He appeared in four episodes of the series opposite Kristen Bell.
The Mentalist (2011-2012)
The Sisterhood Of The Traveling Pants actor donned a suit to play Special Agent In Charge Luther Wainwright. He appeared in nine episodes of the series, until something happened to his character that I can't talk about without including one major spoiler alert. Check him out at the 2:55 mark above.
Emily Owens, M.D. (2012-2013)
Rady rocked a lab coat for the role of doctor Micah on this short-lived CW series starring Mamie Gummer.
Jane The Virgin (2014)
Here's where you've seen Rady most recently! The actor plays Petra's (everyone's secret favorite character) former fiance on this tongue-in-cheek CW soap.
So what does Rady look like today? Check out these recent pics of the actor and be prepared to swoon.
Lookin' good, Kostos!
Images: Warner Bros.; The CW (screenshot); Getty Images (5)