These 'Sabrina' Outfits Are Unforgettable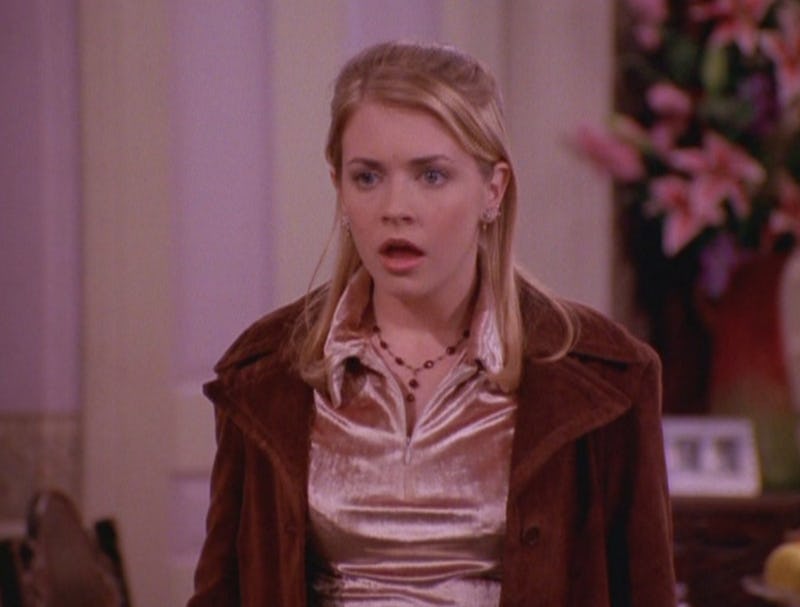 There's no denying it: the 1990s was a magical decade. And by magic, I'm not simply talking about the beauty of slap bracelets, scrunchies, and advent of household internet connections — although those were/are all good things. During our teens, we had a smorgasbord of magic-infused television to indulge in as a reprieve from our homework and teenage doldrums. On The Secret World of Alex Mack, Larisa Oleynik (who played Alex) was transforming into a metallic puddle; on Buffy the Vampire Slayer, vampires and other monsters were being fought in between atypical teenage romances, and on Sabrina the Teenage Witch, Melissa Joan Hart — otherwise known as the Queen B of the '90s — stole all our hearts as spell-casting high schooler, Sabrina Spellman.
Did anyone else decide to change their answer to the question "what do you want to be when you grow up?" to "witch" after seeing the series' pilot? Of course you did — we all did. She could change outfits with a snap of her fingers and make a plate of sugar cookies magically appear! Seriously, what else could you ask for? Sabrina also got to converse with her cat, Salem, on a regular basis, whereas my cat didn't speak a word of english, making for awkward late-night conversations. There were so many unforgettable moments from this delightful sitcom, along with some pretty incredible outfits. Taking a look back, I realize with chagrin how seriously outdated said outfits were — and how much I secretly wish I could rock every single one again. Lets take a nostalgic look back at the most outdated and unforgettable outfits from the witchiest comedy of the '90s.
Faux Fur & Feathered Necklines
We all had at least one (or five) of these numbers.
Lacy Everything & Bared Shoulders
This look was great when it wasn't too warm out, but your shoulders still needed some fresh air. Lace also provided some awesome ventilation for Spring temperatures, amiright?
This...
Where do I even start? There's silk with flowered embroidery and faux pearls are serving as the center for those sewn-on flowers. I'd say this was terrible but, darn it, I love that hue. I also think I have one of these hiding in the back of my closet somewhere.
Velvet Shirts
Remember when velvet shirts, skirts, pants, and the like were totally "the bomb" in the '90s? I still relive this decade in the solitude of my bedroom via some velvet pajama pants. Don't be jelly.
See-Through Shirts Over Tank Tops
A lot of the times the tank top would come sewn into the sheer top so it was like a twofer! And I have to note how Sabrina perfectly matched her lipstick to the heart (strawberry?) embellishments. Well done.
Ribbed Turtlenecks
The fact that this ribbed turtleneck is short-sleeved and pairs blue-on-blue thanks to Sabrina's jeans makes it all the more '90s. Can we bring this look back, please? No? OK...
Hair Clips
In the '90s, butterfly hair clips were either massive or itty bitty — there was no middle ground.
Silk Shirts
Silk and velvet reigned supreme in the world of fabrics during the '90s.
Floral Prints
Back in the '90s, it didn't matter if it was the coldest day of winter — we were all rocking some sweet floral and butterfly prints on the reg.
Solid Colors
No need to mix and match in the '90s. You could wear one solid color head-to-toe and no one would look at you sideways. Can we note how impressive it is that Sabrina matched her outfit to Salem's fur? Nice.
Scrunchies
Duh. How can you have a '90s list without including scrunchies? And I'd like to note that Libby is rocking a pony higher than Ariana Grande's in this pic — quite a feat.
Incomplete Cardigans
Remember back when cardigans didn't extend to the waist or really just functioned as a pair of sleeves? Ah, those were the days.
Sparkly Everything & Bubblegum Pink Hues
Someone's ready for prom!
Everything *NSYNC Is Wearing
Nostalgia overload! I can't.
Denim Jackets
I spy some flannel under that denim jacket, making this look all the more awesome.
Wearing Multiple Outfits In One
Aww, I miss my beloved Harvey along with his ability to layer shirt, over shirt, over shirt. Is that a fleece button-up? I don't know, but this look is fabulous.
Chokers
Otherwise known as the belts of jewelry.
Images: ABC (10); Giphy (8)