Here's What Happened To Harvey After 'Sabrina'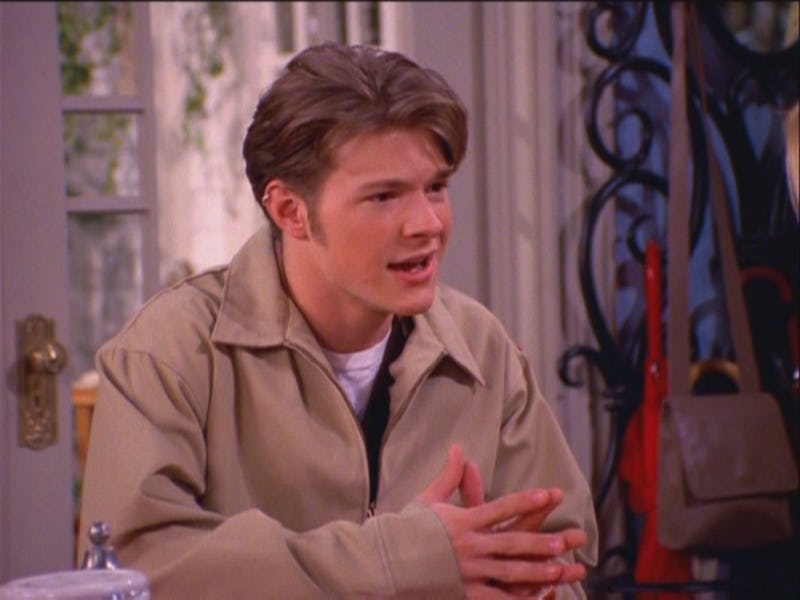 A few months ago, Melissa Joan Hart released a memoir that might have marred the cherished memories of Clarissa Explains It All and Sabrina the Teenage Witch for many nostalgic fans. It's hard to watch Sabrina practice using magic or bicker with Salem when you know she might've actually been on ecstasy at the time. But someone else from Sabrina has remained pretty pure in our minds: Harvey, Sabrina's boyfriend from seasons one through four and (11-year-old spoiler alert) her endgame soulmate. So what ever happened to Harvey, the only Sabrina boyfriend who won not just Sabrina's heart, but the hearts of all the fans watching at home? Here's a hint: it's the last place you'd ever expect to find Harvey Kinkle.
A lovably goofy jock, Harvey was the stuff preteen dreams were made of, but now the man who played him, Nate Richert, is probably more crush-worthy for girls who prefer their guys with a little more edge. Richert did a little bit of acting in the years following Sabrina, which ended in 2003, but since then has focused more on his music career. That's right, I said music career. But first, let's go through Richert's few non-Sabrina roles.
While Sabrina was still on the air, Richert made guest appearances on a few TV shows, including The Tony Danza Show, Fantasy Island, and Touched By An Angel. He also had roles in the films Lovely & Amazing and Demon Island, as well as the short film Are You A Serial Killer? Immediately after Sabrina, Richert starred in 2004's Game Box 1.0, alongside Boy Meet World's Danielle Fishel in what had to be the best 90s pairing of all time. Do yourself a favor and watch the truly phenomenal trailer below.
That same year, Richert appeared with Once Upon A Time's Jennifer Morrison in The Sure Hand of God, before finally starring in the 2006 short film H-E-N-R-Y,
his last movie role. Since then, it seems that Richert has really been focusing on his music. In 2004 he released an album with C. Duck Anderson called Tone Control, followed by 2012's Broken Bottles. His first solo album, mostly consisting of bluegrass music, is called Halogen Moon and was released the same year. Here's a photo of Richert from around that time.
Not quite the floppy-haired, cartilage-pierced boyfriend we're used to, huh? It might be a little reassuring to look at Richert's current Twitter photo, which is more reminiscent of the Harvey we all love.
Despite his music career, Richert has maintained a pretty low profile. Even Sabrina herself wasn't sure if it was the real Harvey on Twitter until March 2013, when she tweeted him to make sure.
But Richert is able to laugh about his disappearance from the public eye, like in a recent tweet.
If Richert ever wants to be on real TV again, I'm sure there are plenty of girls out there who would love to see him again—as long as he slips back into some 90s high school fashion first.
Images: ABC, Nate Richert/Facebook, NateRichert/Twitter,