A DIY Nutella Recipe Even Better Than The Original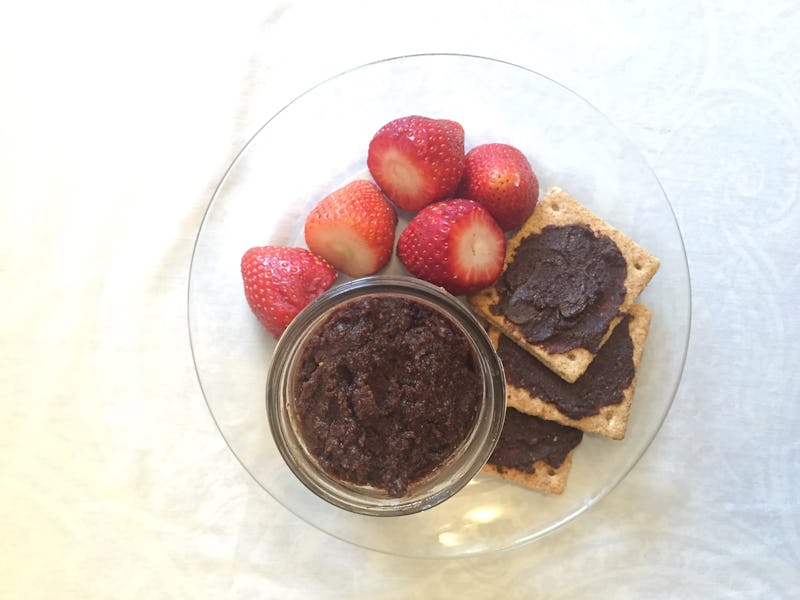 Nutella has been called many things — happiness in a jar, heaven on a spoon, the ultimate foodgasm — and now, you can finally start calling it something else: homemade. That's right, your favorite chocolaty hazelnut spread can be whipped up in your own kitchen, and I have to tell you, this DIY Nutella recipe is just as good as the store-bought jar you most definitely have in your cabinet.
Spread it on toast, bake it into brownies, eat it shamelessly by the spoonful straight out of the jar — no matter what way you serve it, Nutella is a global food favorite. People all over the world indulge in the delights it has to offer, so much so, in fact, that every 2.5 seconds, a new jar is bought. If you've ever had a taste yourself — and let's be real, with those kinds of numbers, who hasn't — then you know why the spread is so deliciously addicting. The bold, nutty hazelnuts complemented by the rich, sweet chocolate creates a flavor that delights the taste buds and warms the soul. (If you think I'm over-exaggerating, then maybe you haven't seen this guy's love affair with Nutella.) It's a great way to enjoy dessert for breakfast, it's the perfect ice cream flavor, and it's even an acceptable burger topping. There's nothing Nutella can't do.
And now, you can try it all using this DIY version. Homemade Nutella, like most homemade nut butters, tends to be grittier than the brand name version. This is due, in part, to the fact that there is no milk in the recipe, unlike Nutella's version, but that means that this spread is totally vegan friendly as well as gluten-free and kosher. See? Nutella really is for everyone, so you have no more excuses. It's time you made your own.
Ingredients
2 cups hazelnuts
1 cup powdered sugar
1/3 cup unsweetened cocoa powder
1/4 tbs. oil*
1 tsp. hazelnut extract
*The best oil for this recipe is hazelnut oil. However, it can be hard to find at grocery stores. Instead, you can use vegetable oil in its place.
Directions
1. Preheat the oven to 375 degrees. Spread hazelnuts on a baking sheet. Bake for 12 to 15 minutes. Halfway though, remove them from the oven, and shake the tray so the nuts are rotated a bit. Cook until the nuts become dark brown and give off a noticeable nutty fragrance. Remove, and let cool for 10 minutes.
2. Transfer nuts to a bowl with a lid (you can use a large plate in place of a lid). Shake for 30 to 45 seconds to remove the skins from the hazelnuts. Transfer skinless hazelnuts to a food processor or a high-powered blender equipped to make nut butters. Process or blend until oil is released, about three minutes, scraping the sides of the processor often to ensure everything gets processed.
3. Add powdered sugar, cocoa powder, oil, and extract. Process until the ingredients are fully incorporated and glossy, about two to three minutes.
4. Serve, or save in an air tight container for up to four weeks.
Images: Giphy; Sadie Trombetta (8)