Caitlyn Jenner Makes A Body Posi Introduction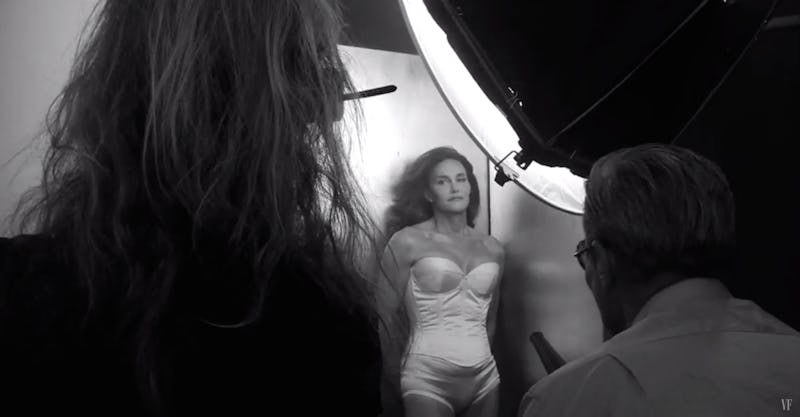 We've been waiting for this day to arrive and it's finally here: Caitlyn Jenner, formerly known as Bruce Jenner, is on the cover of Vanity Fair, wearing a gorgeous silk bodysuit in stunning images shot by the illustrious Annie Leibovitz. Sorry, Kim and Kanye's second baby; sorry, Kendall and Kylie's new line for Topshop: Caitlyn is definitely hogging all of the Kardashian-Jenner fanfare right now, and I'm not mad about it for one second. She deserves it.
"If I was lying on my deathbed and I had kept this secret and never ever did anything about it, I would be lying there saying, 'You just blew your entire life,'" Jenner told the magazine. "Every day [Bruce] always had a secret, from morning 'til night. Caitlyn doesn't have any secrets. As soon as the Vanity Fair cover comes out, I'm free," she said.
The issue will be on newsstands on June 9, but for now there's a sneak peek of the article available to subscribers and a behind-the-scenes video for the rest of us to soak in Caitlyn's glamorous self in the meantime. There are about a million ways that this cover is groundbreaking and body positive — but can we freak out for a second about the fact that there's a woman over 60 on a major magazine cover in lingerie?
Who made Jenner's silk corseted bodysuit is, as of now, still unknown for those who want to slip their equally rockin' bod into it immediately; but the statement it makes is definitely not a mystery. By wearing a silk bodysuit for making her debut in such a huge way, she's forcing everyone to look at her — all of her — and showing her femininity in an undeniable way.
While there are many ways to express a feminine gender identity, and so much transmisogynist stigma around "the right way" to be a woman, Caitlyn seems to favor a full-on glamour approach, and it shows in the photos and the outfits she wears in them. After a life of dressing in clothing typically reserved for men, it must feel so freeing for Jenner to publicly express herself in a way that feels authentic to her.
Caitlyn isn't just a trans woman. She's a woman over 60 years old — which makes her presence on the cover even that more revolutionary and amazing. She's not only showing off and flaunting her full self, but the body of an older woman — and one who was a professional athlete, at that.
These are two types of bodies we often see passed over or underrepresented in the media. Aside from Joni Mitchell's New York Magazine cover, when was the last time you saw someone over 60 on such a globally-renowned publication's cover? Aside from Serena Williams' Vogue cover, when was the last time you saw an athlete on the cover of a celebrity magazine without it being a special "sports" issue? How many of those covers showed those kinds of women as glamorous, vibrant, and sexy? It's OK. I'll wait for you to do the research if you want; but the answer is "not damned near often enough."
While I know that there's more to a person than being sexy and glamorous — especially when women have huge accomplishments and enviable skills to celebrate — I don't understand why it's difficult for magazines to portray women as all of these characteristics at the same time. Jenner on the cover in all of her feminine, sculpted, sexy, knockout glory just eliminated everyone's excuses.
In Jenner's interview with Diane Sawyer, she raised some of the issues within the trans community that she wants to personally help with advocacy. In her first magazine cover, she's providing visibility for women who are often marginalized. So Caitlyn, welcome. I'm excited to see how you continue to shake things up in the best possible ways.
Images: Courtesy Vanity Fair; VanityFair/Twitter; Giphy