Is Andre Braugher Leaving 'Brooklyn Nine-Nine'?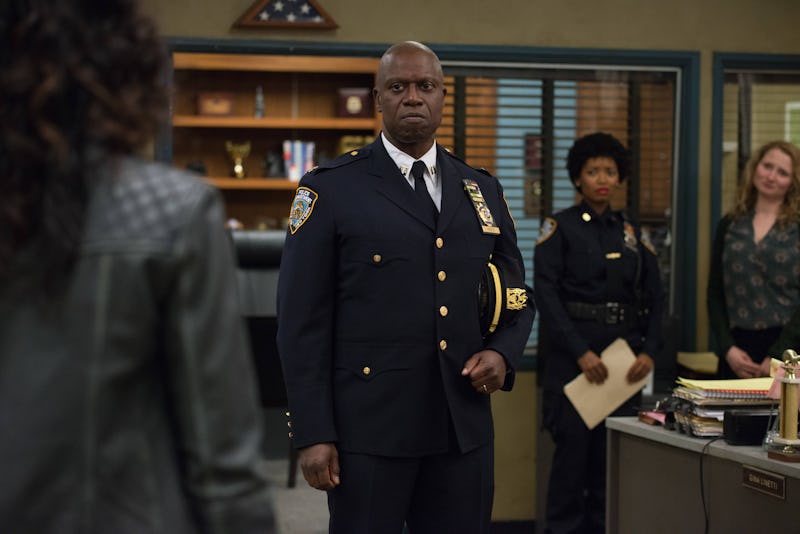 Call me crazy, but cliffhangers are one of the best parts of summer hiatuses. Even sitcoms can have juicy endings, as was the case on Fox this season. Is Andre Braugher leaving Brooklyn Nine-Nine in Season 3? At the end of the season finale, Captain Holt took a new job, leaving the precinct. In the episode's final moment, the gang looked on as their new Captain arrived on the elevator. The identity of this new boss is fun to think about, especially considering the wealth of guest stars the comedy has featured. His departure wasn't the only cliffhanger — Jake and Amy sitting in a tree, k-i-s-s-i-n-g, anyone? However, the fate of Captain Holt is a much more pressing matter. What will Brooklyn Nine-Nine do without its fearless leader?
The actor has been nominated for an Emmy and won the Critic's Choice Award in 2014 for the role. Andre Braugher began as the secret weapon of Brooklyn Nine-Nine, but after two seasons it cannot be denied he is one of the funniest and most talented cast members on the ensemble series. He is a valuable asset, and that's putting it lightly. The introduction of Chief Wunch, his nemesis played by Kyra Sedgwick, was one of the most delightful elements of Season 2. Not only that, but Captain Holt leaving also means that his assistant Gina will go with him. The two of them left together. There's no way that Brooklyn Nine-Nine would get rid of Andre Braugher and Chelsea Peretti, right?
According to an interview with The Hollywood Reporter, the co-creator of Brooklyn Nine-Nine Dan Goor promised that this wouldn't be the case. Neither Andre Braugher nor Chelsea Peretti are leaving the series.
If we got rid of them, Fox would have the right to call the police, handcuff us, and throw us off of cliffs. They are critical, wonderful castmembers who are incredibly funny. They are still regulars and we will be following them. The idea behind Gina going with Holt was to make it as clear as possible that Holt was not leaving the show, but they will be leaving the Nine-Nine for the beginning of the season. You'll see a new captain of the Nine-Nine and you'll see Holt and Gina in their new jobs.
He also said that the precinct would not only have a new Captain, but possibly a new Captain's assistant as well. Nothing has been written yet, so he can't spoil anything for certain. We'll also likely meet new people at Holt's new office, and I have a hunch that we'll see Madeline Wunch again as well. "It'll be very cool to see how the new captain acts like a stone tossed into a lake and see what ripples come from that," said Goor.
What a relief! Though, I'm not entirely surprised. This isn't the first time that a character in a workplace sitcom took a new job for a while. Jim Halpert went to Connecticut on The Office. Andy Dwyer went to London and Ben Wyatt went to DC on Parks and Recreation. We're not losing these two characters, we're gaining a whole bunch more. The world of Brooklyn Nine-Nine is about to get bigger, and that's a really exciting prospect.
Images: Erica Parise/FOX (2)