The Latest Target Designer Collab Is...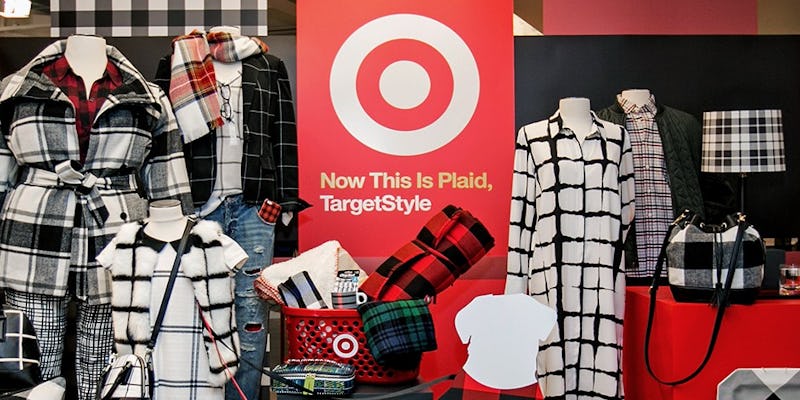 Target is trading Palm Beach prints for Buffalo plaid this fall. Right on the heels of the internet-breaking Lilly Pullitzer collab that had prepster hearts (and carts) overflowing, the price-conscious retailer is now turning to a veteran designer for Adam Lippes x Target, an equally preppy Fall collection, this time centered on plaid.
The designer's been all around the world (he took a gap year after selling his line ADAM in 2011 and traveled to India, South America, and his farm in the Berkshires) and his SS15 collection nods to Morocco, but the upcoming Target collection is clearly inspired by his hometown, Buffalo, NY.
Slated to launch on September 27th, the 50-piece collection is timed perfectly for back-to-school, and will include a range of essentials from clothing ($19.99-$129.99) to shoes and accessories ($39.99 to $49.99). Elsewhere in the store, Target is planning to roll out over 300 items in homage to the print, like plaid coke bottles, paper towels, and a Fitbit, beginning in August and all leading up to the Adam Lippes launch.
"As a designer, I've always admired Target's ability to make beautiful products available to everyone. I was thrilled when they approached me with the challenge of creating an entire collection around buffalo plaid," Lippes stated in a release that went live this morning.
Lippes is known for his ladylike line of dresses and separates, but his Target collection dips into new territory for the designer. "It's also been exciting to design for categories that are entirely new for me," he says, of the shoes, bags, and accessories that will launch early next Fall.
Can't wait for Fall to snap up some designer wears for less? Eddie Borgo has also been tapped to create a customizable line for the retailer, launching in July.
Paging Cher Horowitz: You may want to ditch the mall and head to Target, stat.
Images: Target, Giphy