Teen Made Her Graduation Dress Out Of Homework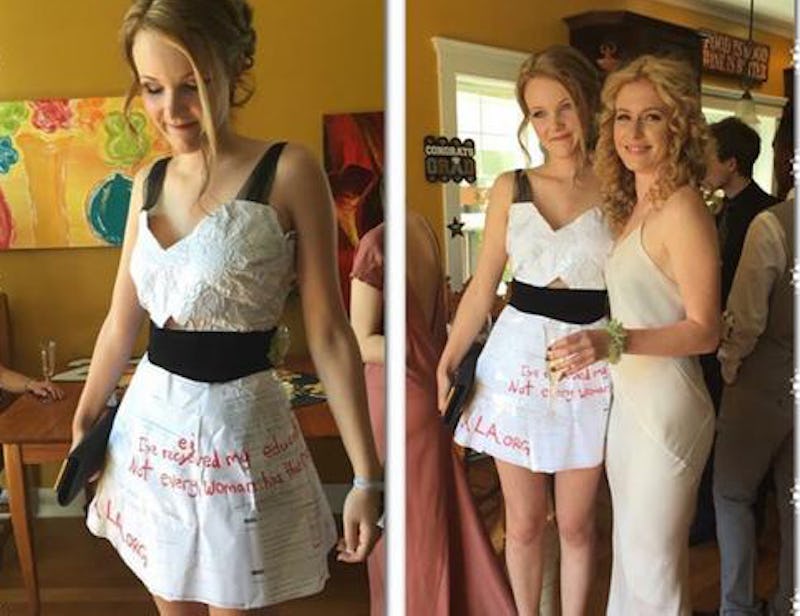 While you're sitting there wondering what you're doing with your life (yes, you), eighteen-year-old Erinne Paisley is busy saving the world. The recent high school graduate wore a dress she made out of homework assignments to Reynolds Secondary School's commencement ceremony in Victoria, British Columbia last month, opting to donate money she could have spent on a store-bought dress to the Malala Foundation in honor of Malala Yousafzai, one of the teen's heroes.
"I've received my education. Not every woman has that right. Malala.org," is emblazoned on the dress in red ink, with a cheeky corrected typo above the word "received." (Because who doesn't hesitate when spelling that word?) It's especially poignant that she chose math homework, since it's a common misnomer that girls aren't good at math.
"I actually just made it throughout one day with my best friend and we used a lot of scotch tape, a lot of ... satin wiring to hold the dress together," Paisley told CBC News in Canada.
This isn't the first act of activism for the eighteen-year-old. In her first month of high school, when most teens are worrying about starting the school year right with perfect hair, she shaved her head for Cops for Cancer, and has a long CV of membership in various leadership, philanthropy, and volunteer groups at school. The outspoken teen also makes and shares videos on her YouTube channel about feminism, bullying (I admit, I teared up at this one), and her love for Steve Carrell.
The dress is up for auction on GoBid and is currently fetching $550 and counting. Proceeds will, of course, go to the Malala Foundation.
Image: Erinne Paisley/Etsy