Lifetime's 'Full House' Movie Cast Revealed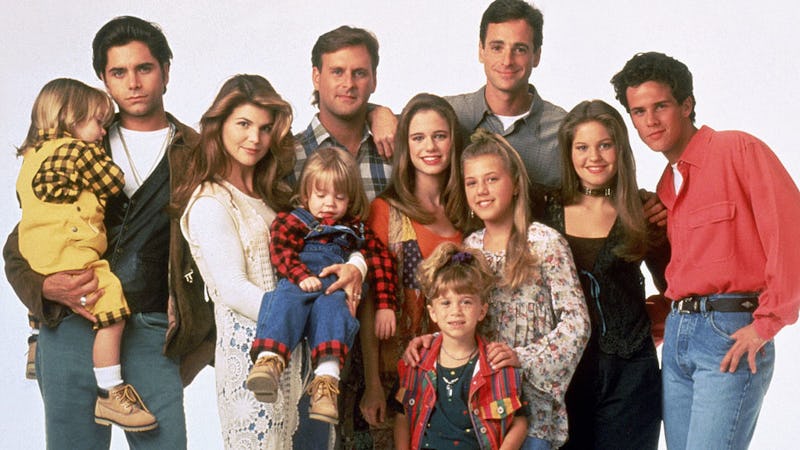 Last month, we got some of the best news EVER: Lifetime is planning an unauthorized Full House biopic, an announcement which just so happened to coincide with Netflix's decision to pick up a 12-part Full House spin-off, Fuller House, featuring much of the show's original cast. And while the latter has gotten most of the attention (for good reason), I'm really stoked for one of my favorite childhood sitcoms to get the Lifetime treatment, because it is going to be so, so good. And while the movie won't air until August 22, we at least have new photos of the Lifetime cast to hold us over.
The Unauthorized Full House Story will apparently be a tell-all, behind-the-scenes look at what went on during the series' run. And while it was penned by the same writer that was behind The Unauthorized Saved By the Bell Story , the focus of this one will be more about the "warm bond" that existed between the cast rather than any sort of scandal. It's unclear whose perspective the Full House biopic will be based on, or where the screenwriter got the inspiration for its content, but what I do know is that this is seriously going to be a highlight of summer 2015, for sure.
Now that you've laid eyes on the cast, perhaps we should rate the cast in comparison to their real-life counterparts on a scale of "Eh, not bad" to "Have mercy!" because there's a whole lot of... something going on here. For instance, Garrett Brawith is taking on the role of family patriarch Bob Saget, and while they certainly got the hair right, the similarities seem to stop there. Obviously it's far too early to judge if he'll be able to transform into the character on screen (thereby making his appearance more convincing), but at the moment, I'm not overly convinced. The same goes for Blaise and Kinsley Todd as Mary-Kate and Ashley Olsen. I don't expect Lifetime to have found doubles of the twins, but this doesn't even look like they tried.
Things get slightly better with Brittney Wilson in the role of Candace Cameron (the older version, anyway). There was indeed a time on the show when Cameron was in that awkward phase of adolescence and I think Wilson — from the look of this photo, anyway — seems to capture it well. John Stamos, played by Justin Gaston, did make me chuckle a little bit (I think it's the hair?) but I can totally see it. It works for me. It makes sense... as much as this whole thing can, anyway.
One of the better castings has to be Dakota Guppy as Jodie Sweetin (again, the younger version) — the look and feel is pretty spot on, and the actresses look similar, as well. But things got a whole lot creepier when I laid eyes upon Justin Mader as Dave Coulier, because REALLY? I mean, he's almost his doppelganger, and that's just weird, right? Whoever hired Mader for the role deserves a pat on the back, for sure.
Image: ABC