14 Books For The Grown Up 'Gossip Girl' Fan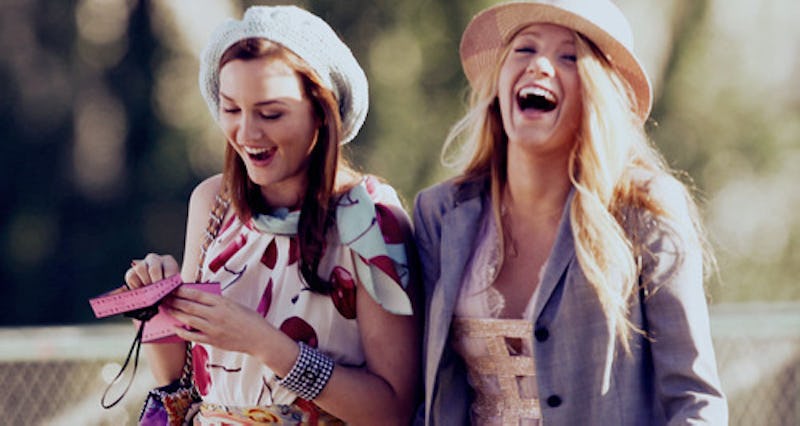 "You know you love me. XOXO, Gossip Girl." Growing up, these words were everywhere. Whether you read the books, watched the TV show, or both, Gossip Girl was almost like religion for some of us in the 2000s. You read that right — the first book came out in 2002! That means the series is almost, incredibly, 15 years old. (Proceed lamenting your age. I'll wait.)
We grew up with Serena, Blair, and Lonely Boy, along with the rest of the Gossip Girl gang, but that doesn't mean we love them any less as adults. In fact, if you're anything like me, Cecily von Ziegesar created a lifelong love of books featuring wealthy kids doing crazy things. The ups and downs in relationships, the drama — we got to experience how the other half lived. And ohmanddidweloveit.
Sure, Gossip Girl might be long over, and we're older now, but that doesn't mean we can keep reading about those things! In fact, they're just as juicy as they were before. To prove it, Here are 14 book recommendations for the grown up Gossip Girl fan in all of us:
Dare Me by Megan Abbott
Megan Abbott knows teenage girls. She knows how they work, how complicated the friendships can be, and how quickly things can spin out of control. Dare Me is a page-turner that will keep you on the edge (the very edge) of your seat, as it follows Addy and Beth, and their very S- and B-inspired friendship.
Bittersweet by Miranda Beverly-Whittemore
Ordinary Mabel Dagmar just wants to belong. She wants to see how the other half lives, and her roommate, Genevra Winslow, gives her an in better than she could have imagined. But Mabel soon finds that the Winslows are hiding some big secrets, and their wealth might not be as spotless as their pristine photos would lead people to believe.
This one has been called Glee meets The Shining , and if that doesn't intrigue you, I seriously can't help you. A high school music festival goes wrong when a student disappears at the site of a brutal murder 15 years earlier. Set in high school and full of pop culture, Bellweather Rhapsody is the perfect read for the older Gossip Girl fan.
You don't need me to tell you that Gillian Flynn is a master at what she does. She can write a creepy, twisty-turny thriller like none other, and Sharp Objects is the perfect example of that. A woman returns to her hometown and is forced to face her past, and her scary new half sister.
High school can be an awkward time. We've all been there: everything feels like the end of the world as it's happening. For Ani Fanelli, high school was where she was shockingly humiliated, and desperate to reinvent herself. Years later, she's a new person, free of that prestigious school, but not of the secrets and memories that haunt her.
A mother gets a call from her daughter's elite private school: her daughter is dead. Kate is determined to sift through every piece of her daughter's life and find out what really happened that night, but what she finds might surprise her. The private school setting is so Gossip Girl , and you won't be able to put it down.
Cartwheel by Jennifer DuBois
Eerily similar to the Amanda Knox Aruba case, Cartwheel tells the story of Lily Hayes, who spends the semester abroad in Buenos Aires. Sounds great, right? Wrong: Lily's roommate is found murdered in their room, and guess who the prime suspect is? This psychological thriller will keep you guessing what happened in that room until the very end.
For me, this is the essential "rich kids doing questionable things" read on your post- Gossip Girl reading list. Set at a college rather than a high school, a group of extremely high brow literary types get together to practice an ancient Greek practice that gets out of hand to say the least.
The friends you grow up with are different than the friends you have later in life. Sometimes they're the same, but other times, left gets in the way. In The Girls From Corona Del Mar, Lorrie Ann and Mia are those childhood best friends. But when things can hard, Mia finds herself wondering if she ever really knew her best friend at all.
Nothing says summer like a wedding, and Maggie Shipstead takes that idea and runs with it. The rich person aesthetic is alive and well in this one, just like in our teen favorite Gossip Girl.
Yes, Megan Abbott again. What can I say, she writes the perfect teenage characters. Deenie doesn't know what to do when her best friend Lise has a seizure in class. It's so surreal — like it's not even the friend she's always known. When other girls start experiencing the same thing, panic immediately sets in, but Deenie is left to wonder — why not her? The intense high school friendships will remind readers so much of the ups and downs of Serena and Blair.
A group of kids meets at a camp — pretty basic stuff. But they decide that they are the most interesting people in the world, and decide to call their group The Interestings. They stay friends long after that summer at camp, though, The Interestings follows the group through the rest of their lives, as things become less black and white, less all for one, and much more complicated.
In Port Sabine, an alarming discovery leads to a witch hunt among high school girls. Mercy Louis is the star of the basketball team, the golden girl, but when she is afflicted with a mysterious illness that begins to spread, the town begins to unravel.
Best friends Perry and Baby Girl are high school girls with a less than typical friendship. Their loyalty is fiercely strong, but their power struggle is just as intense. The girls spend their time sneaking out, meeting boys, and taking on the world together — until that world becomes dangerous.
Image: Warner Bros. Entertainment