Shawn & Angela May Not Get A Happy Ending On 'GMW'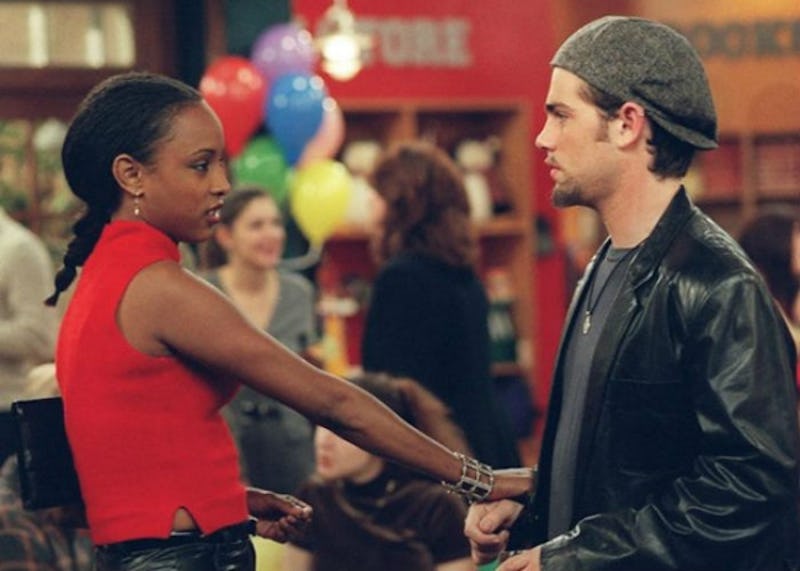 Anyone who grew up watching Boy Meets World was likely ecstatic to hear that Angela would appear on Girl Meets World, the Disney Channel spinoff series that has already brought Shawn Hunter back to our TV screens. Unlike Cory and Topanga, the series' other key couple didn't get a happy ending in the finale, but unfortunately, it now seems like they never will. At the ATX Television Festival's "Girl Meets Boy Meets World" panel on Friday, the creator of both shows, Michael Jacobs, tells the audience, "you guys are gonna kill me for what we decided to do with Shawn and Angela, but it is right and it is real." It might not be the most reassuring statement, but I don't think fans should lose all hope just yet.
Jacobs spends much of the panel discussing the realism of both Boy Meets World and its spinoff, which is why he, along with stars Ben Savage, Rowan Blanchard, and Sabrina Carpenter, think the original series has made such a lasting impact. The lessons the shows teach are applicable to viewers from many different generations, and they don't shy away from difficult topics, with Jacobs using the "Girl Meets Belief" episode, all about religious belief, as an example of that. So to everyone involved with the show, realism is important, and it seems that focus may prevent Shawn and Angela from having the romantic reunion of fans' dreams.
But maybe it's not that simple. After all, real relationships are complex, and while Angela and Shawn may not run into each other's arms after not seeing each other for years, that doesn't mean a fresh start is completely off the table, right? Later in the panel when asked about the future of main character Riley and her love interest Lucas, Jacobs remarks that "there is a method to all of the relationships...I have a plan, but it is through the end of the series."
Maybe Shawn and Angela are part of that plan, and finding their way back to each other will be a long, complicated journey. Or maybe they're not, and we'll see that there's someone else out there more compatible with the grown-up Shawn. Either way, we should be thankful that Jacobs is staying true to his mission of creating a sitcom "grounded in reality." It's part of what made Boy Meets World so great, and why, as Savage explains, you can watch the same episode at different stages in your life and glean something new from it every time.
Besides, Jacobs assures fans that he won't let us down, and after seven years of Boy Meets World and another of its spinoff, I think we can trust him. He even references the character who has always been there for us, Mr. Feeny, recalling his classic exchange with Topanga from the Boy Meets World finale. "Believe in yourselves, dream, try. Do good," Cory's teacher and mentor said. When Topanga asked if he meant, "do well," he uttered the classic line that fans will never forget. "No, I mean do good."
Jacobs hasn't forgotten that moment either, and implores fans to give Girl Meets World a chance to explore the present day lives of the characters we love so much. "We will do good for you," he says, and I believe him.
Images: Disney Channel; Cameron Cooper/ATX Festival