And You Thought Netflix Couldn't Get Any Better...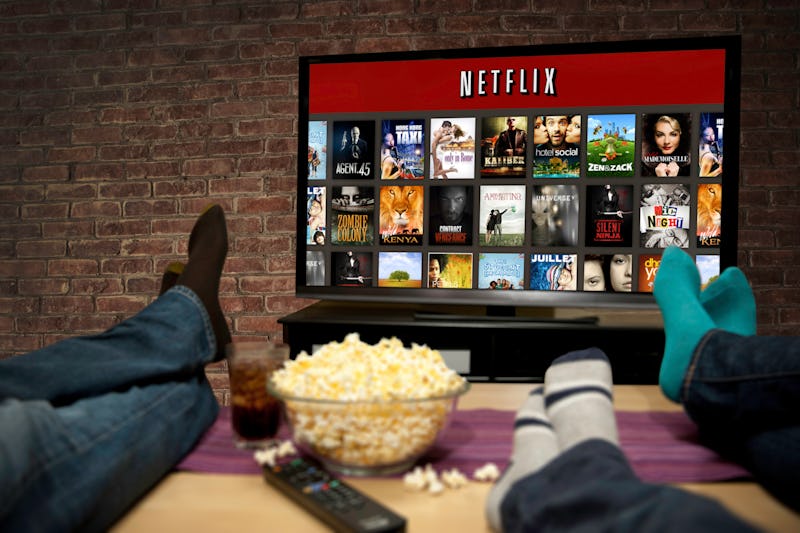 Netflix is revving up to take over your TV cable box: Today, Netflix debuted a new, unified user interface for its TV users. The content provider, a.k.a. your best friend when you're home alone, calls the reboot the "the biggest update in Netflix history," and boasts that the new browser is cleaner and has a better search system. The makeover also streamlines the use of Netflix between devices, and upped the visual experience for its users. Netflix's overhaul, which was nearly two years in the making, comes as numbers released yesterday revealed Netflix's massive bite of Web traffic.
At the moment, Netflix makes up a whopping 30 percent of downstream Internet traffic (in plain English, data that goes from a source to a computer) in North America. YouTube makes up about 18 percent of that traffic, and all other other video-streaming competitors, from iTunes to Facebook to BitTorrect, command only a negligible share of the traffic. Sorry, guys.
The brand-new Netflix "television experience," as it's been dubbed, is set to be rolled out in the next two weeks, supporting the PlayStation 3, PlayStation 4, Xbox 360, smart TVs and newer Blu-ray players. Older Roku boxes and new TiVo boxes will be added to the list in the next year, Netflix says. Unfortunately for Apple users, Apple only allows its third-party apps to function within a grid system, which the new Netflix no longer has — so Apple devices will be sticking with the old Netflix. Womp, womp.
Most of Netflix's streaming content is watched on televisions, and its content accounted for 5 billion hours in the last three-month quarter. (Be honest, now: how much of that was you and Breaking Bad?) To prep for the makeover, Netflix tested the update on a select few users, and saw an increase in viewing time. (Oh, good!) A sneak peek of the new interface can be seen on the Netflix media site.
So, could this signal the future of a Neflix "network" and hint to the end of channel-surfing as we know it? Possibly. "We wanted to think about 'What is the future of television? Where is the future of television in an on-demand world?'" says Chris Jaffe, Netflix's vice president of product innovation.
Apparently, it's all about appearance. "If its goal is to be HBO, it's on its way," writes Wired's Angela Watercutter:
So while Netflix still has a ways to go before it's consistently producing the volume and quality of content that most cable channels do, it already comes in a much sleeker container. And one day — if cable ever steps up its interface game — it might be hard to tell the difference between the two.
Neflix has already seen a lot of success (14 Primetime Emmy nods!) from its original series', like Orange is the New Black and House of Cards. And with the announcement that it and ABC Studios are developing four Marvel superhero programs, Netflix is on a roll.
Which brings us to Blockbuster, which sputtered out its last breath last week with a final rental of This Is The End. Please, a moment of silence. OK, that's enough — especially because not all Blockbusters have been abandoned, in case you really need to go. (But, seriously: Why?)
Anyway, with these new Netflix developments, are we living in the future now? Or will the streaming service go the way of the video store in 20 years?
Time will tell, but it seems like this puppy's got it figured out for now.
Images via Netflix and Flickr/Taro the Shiba Inu