Get To Know 'Bachelorette' Contestant Justin Reich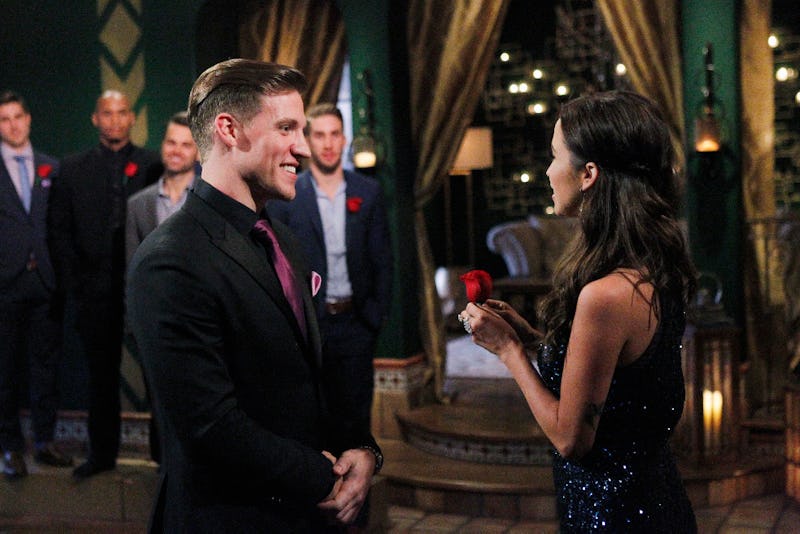 We don't really know anything about Kaitlyn's Bachelorette contestant Justin Reich yet. To be perfectly honest with you, until I wrote this article, I was pretty sure he and Joshua were the same person, but that's why I am here to teach you a little bit about him. (Basically so you don't have to creep on him yourself.) From his handy-dandy ABC bio, we know that Justin Reich is a personal trainer from Naperville, Illinois, which kind of means nothing considering three of Kaitlyn's men this season are personal trainers. Maybe she listed that as something she really wants in a man? I don't know, but if she wants a personal trainer maybe former contestant Cody Sattler should have come back this season instead of Nick Viall.
Anyway, Justin Reich is 5'11 and in five years he would like to own a personal training company, and he's a fan of Limitless, Goodfellas and The Big Lebowski, which I'm on board with, except Limitless because meh. Based off his Bachelorette bio, he's also not a fan of awkward silences on dates, which is pretty reasonable. Oh, and he's got a tattoo. But, I'm not here just to tell you things you've already read about him in his bio. I am here because I found out a lot more about 28-year-old Justin thanks to social media and my keen ability to stalk Bachelorette contestants. You're welcome.
His Kid Is Absolutely Adorable
Look at him! For the most part I run away from kids, but his kid is so cute! According to Reality Steve his five-year-old son's name is Aurelius (Aury) and his mom's name is Autumn Pippenburg. She's a CEO of an advertising company, super pretty, and seems nice too, you guys. I dunno what happened, but he should try dating her again if this doesn't work out. Oh, also Aury was born in 2010, which means that Justin became a dad when he was 23-years-old. So, he learned how to be responsible early on, always a good trait in a potential husband.
His Other Ex Is Super Pretty, Too
After he and Autumn broke up, he started seeing Francine, who's a fitness model. Basically Justin gets all the ladies in Naperville. Good for him.
He Can Skateboard
Or at least that's what it looks like from this picture. Maybe he's just really good at taking pictures that look like he skateboarding. A good skill either way.
He's Good At His Job
On his training profile he brags that he's helped people get healthy, gain muscle, and become "fitness fanatics." Dear Justin, come to New York; I need a trainer!
Where Can You Find Him?
On Tuesdays and Thursdays he teaches a Surfset class at NEXT Yoga, which basically seems like you're surfing but with a machine in a workout room. So, next time you're in Naperville, you know where to go.
He Uses A Selfie Stick
That's a strike, Justin. Sorry, but the selfie stick needs to die immediately.
In Case You Were Wondering Though...
This is under his shirt, and it's very fun to look at.
Images: ABC/Rick Rowell