Britt & Brady Are Still Together, Guys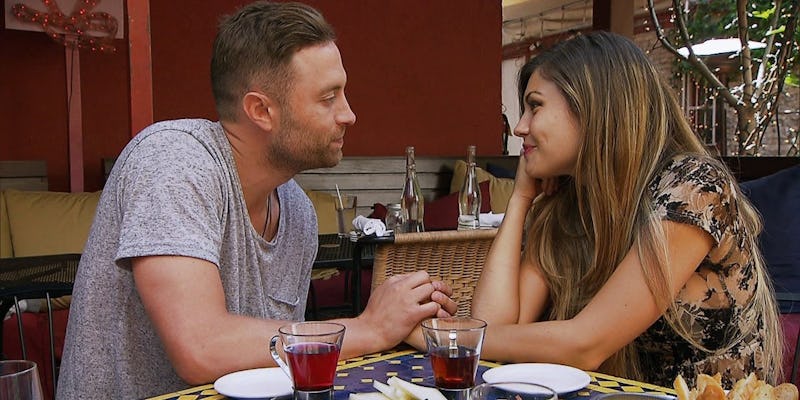 Between The Bachelor and losing the Bachelorette vote to Kaitlyn Bristowe this season, Britt Nilsson has been through a lot in such a short amount of time. The good news? It looks like there are no more tears in her foreseeable future. After she returned to her hotel when Chris Harrison broke the news that she wouldn't be sticking around to find her potential husband, Brady hurried to meet her and the rest is history. Since then, Britt and Brady's relationship has been perfect, and ABC's latest update on the couple proves that they're still going strong.
So what are they up to these days? Just gallivanting on beaches and being an adorable couple together, NBD. According to Britt herself, she and Brady are definitely still boyfriend and girlfriend, and it's getting pretty serious. Britt is going to bring Brady to meet her family soon, and they're already talking about how they see a future with each other. OK, so they're definitely getting married, right? Like, it's OK for me to start making a Pinterest board for their reception?
"I wouldn't be dating Brady if I didn't think I could marry him," Britt said, while Brady added, "How did I get so lucky? I don't know what's going to happen but this feels right."
Obviously, Britt lucked out. This guy is clearly crazy about her and she didn't even have to go through the formalities of dating 25 guys at once. It's a win/win.
I love that Britt found love so quickly and easily after everything she's been through. You know what they say — when it's meant to be, it's meant to be. Fingers crossed this one works out, because after Chris Soules and Whitney Bischoff announced they were ending their engagement, my Bachelor loving heart can't take another split!
Image: Screengrab/ABC