Bullied Teen Creates Gorgeous Prom Dress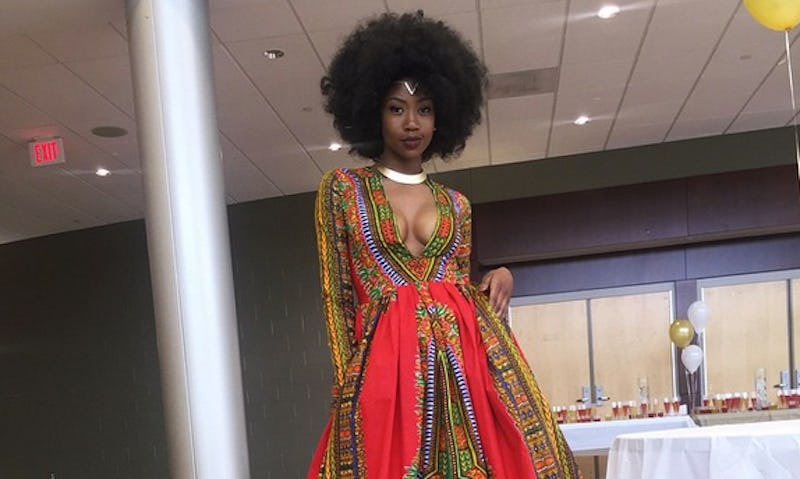 With prom comes the search for the perfect dress. It can be hard to find the perfect combination of sexy, comfortable, and unique, so Kyemah McEntyre made her own prom look that could easily walk any red carpet.
After being bullied throughout high school, McEntyre got the ultimate revenge by showing off not only her killer style but her incredible talent as well. I'm confident that she quieted the haters in her one-of-a-kind red patterned creation. The full skirt and plunging neckline brings some high drama, while the long sleeves add a touch of elegance. McEntyre embraced her own personal style, which really is the key to any winning look.
But what really brought this prom outfit to life was her styling. She stepped out for the big night in a silver choker necklace and a geometric headband that perfectly complemented her design. With natural hair and the confidence to back up her creation, she positively glowed in her prom night photos, posted to Instagram.
McEntyre showed off her gorgeous creation on social media in a photo captioned, "This is for always being labeled 'ugly' or 'angry.' Thank God, stereotypes are just opinions."
The teen used the hastag #KyeBreakTheInternet, and it seems like she's doing just that.
Support from the social media community has been overwhelming for the 18-year-old artist.
She'll even be sporting her creation down the runway and auctioning off some of her original paintings for the C.O.O.L Foundation (Children Overcoming Obstacles In Life).
Oh, and did I mention she's also prom queen?
This bold and beautiful teen has shut down the haters, and there's no telling what else she will accomplish post high school.