Which 'Degrassi' Characters Are Leaving?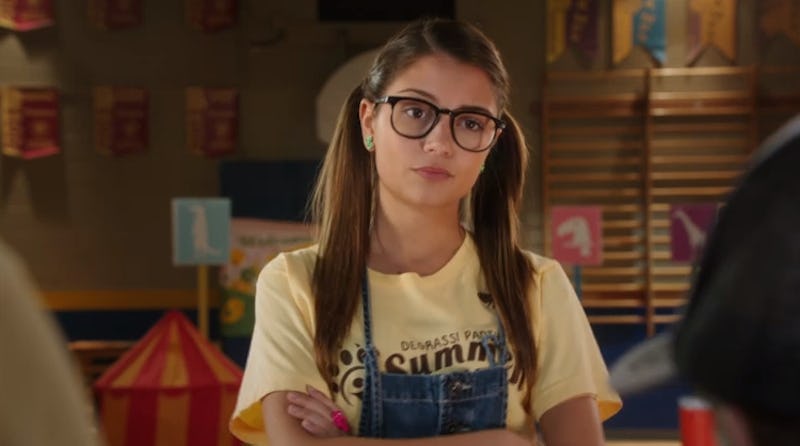 The world received some particularly stressful television news last week: TeenNick announced they were officially cancelling Degrassi after 14 seasons on the network — news that many fans took as meaning Degrassi Community School would shut its doors forever. Fortunately, diehard Degrassi fans don't have to find a new television school to enroll at just yet: According to Entertainment Weekly, new Degrassi episodes have been picked up by both Netflix and Canada's The Family Channel, and they're scheduled to air in January 2016 under the title Degrassi: New Class. As a diehard fan, this news is enough to make my Canadian teen soap-obsessed heart sing.
Though Degrassi is getting a subtitle change, many characters from its TeenNick days are sticking around, which means that their stories won't be over once the final summer season airs on TeenNick. That's the best news fans have gotten in a while, so go Degrassi Panthers!
Sadly, though, it can't all be good news: Though many are sticking around, not every Degrassi student will remain on the show after the summer season. Though this makes some sense, considering some of them are on the verge of graduating (hey, they can't all be Spinner, who still occasionally pops up to interview students for part-time work at the Dot), it's still devastating news. Though the fates of these characters are not yet 100% certain, it seems that Clare (Aislinn Paul), Alli (Melinda Shankar), Drew (Luke Bilyk), Eli (Munro Chambers), Imogen (Cristine Prosperi), Becky (Sarah Fischer) and Mike (Demetrius Joyette) are not yet scheduled to return to Degrassi: The New Class.
So who will? Here's who is sticking around, according to Entertainment Weekly — as well as what we need from their characters when Degrassi returns.
Shay (Reiya Downs) & Lola (Amanda Arcuri)
It's good that these two are returning, because we really know very little about either of them except for their role in the Power Squad nude photos scandal. We know that Shay has the hots for Mike (because really, who wouldn't at this school) and that Lola has pink hair and probably acts a lot dumber than she actually is. (At least, my God, I hope so.) My Degrassi wishlist for these two would be a whole lot more character development — especially development that has nothing to do with whom these two have crushes on.
Zoe (Ana Golja)
Well, Holly J was really the New Paige, but Zoe can have the New-New Paige title. Zoe is a relative newcomer to the series, and yet her character has faced some particularly devastating storylines, including a sexual assault and a subsequent trial. When we last left Zoe, she was facing consequences for organizing a nude photo distribution app, which seemingly stemmed from her desire to have more control over her own body. Personally, I hope that Zoe channels her attention toward something positive and empowering in the new season — like, say, running for school prez?
Hunter (Spencer MacPherson), Frankie (Sara Waisglass), & Miles (Eric Osborne)
The Hollingsworth family has been through the ringer, mostly due to their father's less-than-awesome parenting. Frankie and Hunter finally saw through their dad's selfish ways, though, and banded together with their brother — whom has seen through their father's lies for quite some time. The Hollingsworths definitely need to deal with their family situation in a way that doesn't involve Miles smoking pot instead of going to class, so maybe some family counseling could be in order for the new season. Either that, or a Fiona Coyne-style emancipation.
Tiny (Richard Walters) & Grace (Nikki Gould)
Grace and Tiny have acted as Zig's sidekicks for way too long — especially because it seems that both have the potential for powerful storylines. Zig helped Tiny get out of drug dealing, but why was Tiny involved in dealing in the first place? What's his background like? As for Grace, the only things we know about her is that 1) she's an amazing feminist hacker and 2) her hair is the coolest thing I've seen outside of Pinterest. We don't know these characters very well, but they have the potential to be really great additions to the main cast. Let's give them enough story to work with in the new season!
Winston (Andre Kim)
Who is Winston when he's not Miles' best friend? Who is he when he's not Frankie's boyfriend? I have no idea. I'd like to find out.
Zig (Ricardo Hoyos) & Maya (Olivia Scriven)
They date other people but always end up making out with each other or living together in the same house. They're basically Sean and Emma 2.0., so let's give them a happier ending this time around, OK?
Tristan (Lyle Lettau)
Tristan's romantic life has been a mess, which seems perfectly inverse to how his hair looks on a regular basis, which is to say it's always flawless. The poor guy was manipulated by both his teacher and Miles in the span of a few months, and it's just too sad. Here's hoping Tristan finds a new love interest who doesn't suck in the new season — or at least a barrel of self-confidence so he doesn't fall for the wrong ones in the future.
Jonah (Ehren Kassam)
He's new, he's religious, and he wears a lot of denim vests — so basically he's like Eli mixed with Craig mixed with Darcy. I just want more of him on screen is all I'm saying.
Images: TeenNick (8)