Susan's Help Was Not Wanted On 'Secrets and Wives'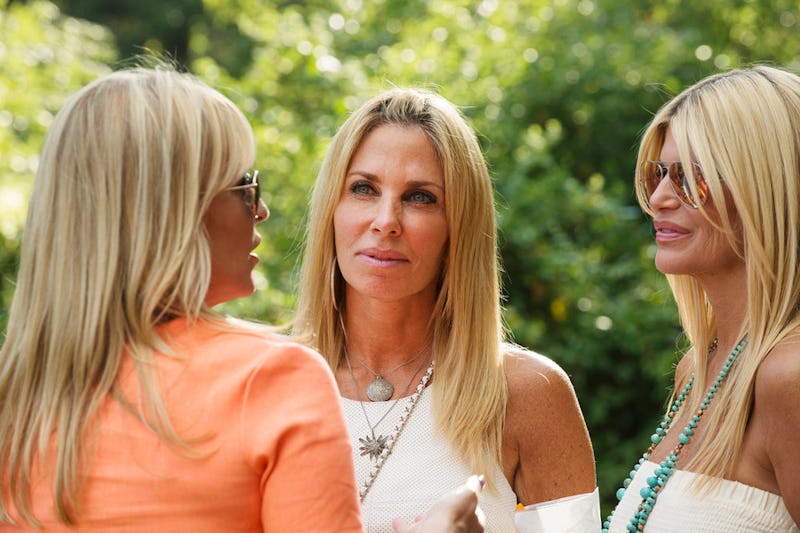 When you see someone like Secrets and Wives ' Susan Doneson insert herself into someone else's business, it's almost like a scene in a horror movie where you know someone is about to get murdered, and you yell at the screen to try and tell the character to not open that door, but he or she does anyway. No, Susan! Don't try to help Liza Sandler!
Unfortunately, Susan could not hear me. This scene from Tuesday night's Secrets and Wives was also filmed last summer, so my attempt to get Susan to stop telling Liza to not worry so much about losing her home was futile. But perhaps I should have known better than to help a reality TV star who is about to dig her own grave.
This drama in Tuesday night's episode of Secrets and Wives actually originated in last week's pilot episode when Susan told Andi Black that Liza was overreacting about having to sell her home as part of her divorce settlement and that now that she's divorced and empty nesting, she should get a job. Susan thinks a job is the solution to everything, by the way.
Of course this got back to Liza in a mangled way, and she was upset about Susan's lack of sensitivity. And of course Liza took the opportunity to address this with Susan during the first dinner in the Hamptons with the ladies (and, oh hey, Dr. Greenberg). Susan explained that all she said was that she thought Liza was being too materialistic about having to sell her house and that there are more important things in life. She was simply trying to help you get through this new chapter in your life, girl.
Well, Liza was highly offended, as was her bestie Andi. They then turned the tables on Susan by calling out her husband Jonathan for his white collar crimes, essentially stealing money from innocent people. Susan surprisingly didn't flinch too much when these ladies ganged up on her. Maybe that's because she knows they have a point. But hey, this is just like The Wolf of Wall Street, so it must be OK!
It looks like Liza's beef with Susan will continue in next Tuesday night's episode and probably all season since it seems like everyone thinks it's a chore to interact with her. When you're a brunette with a job from the South Shore of Long Island, you're basically on the same level as a leper to the rest of the Secrets and Wives cast.
God speed, Susan. God speed.
Images: Barbara Nitke/Bravo