Meet The Men Of 'Secrets And Wives'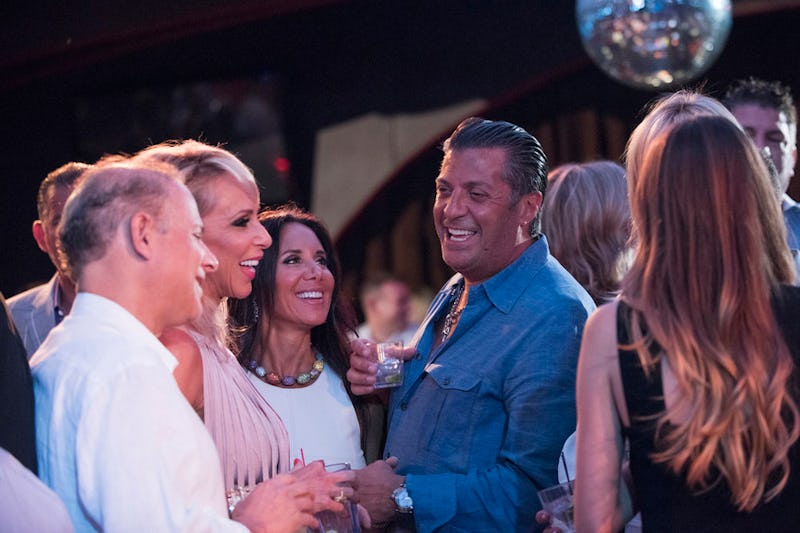 Bravo's newest summer reality show, Secrets and Wives, certainly has its entertaining moments. However, the worst part of Secrets and Wives is the chauvinistic way the husbands and boyfriends treat their respective partners in the show's cast. Before Secrets and Wives premiered, I wondered why it wasn't just titled The Real Housewives of Long Island. It seemed to have all the same elements as the many incarnations of Bravo's most famous franchise: a cast of well-to-do middle-aged women with big houses, big closets, and big... hair.
However, after watching the first two episodes of Secrets and Wives, I now realize why this series wasn't a part of The Real Housewives franchise. The Real Housewives series is far from being a beacon of feminism, but I don't think most of those ladies would put up with the way many of the men of Secrets and Wives treat their significant others. Several of the husbands and boyfriends of the cast treat their partners as if they are there to serve them, and then they throw them away when they're done with them. Unfortunately, the women seem more than happy to please, having their lives revolve around these men and always making excuses for them when they don't treat them right.
So, who are these men and are they really as bad as they seem on TV? Meet the men of Secrets and Wives below, and decide for yourself.
Arthur - Amy Miller's Fiance
We've heard soooooo much about Arthur on Secrets and Wives, and not much of it has been good. Arthur is Amy's on-again, off-again fiance, who seems to be quite the douchebag. And that's not just my opinion. None of Amy's friends like him either. In the pilot episode, Cori Goldfarb described him as being very controlling, and Andi Black and Susan Doneson have both had heart-to-hearts with Amy, basically saying that she deserves better.
Unfortunately for Arthur, every time it seems like he's going to redeem himself on Secrets and Wives, he ends up digging the hole deeper. The first time we met him on the show, he cursed Amy and Andi out while they were drinking iced coffee and eating froyo. That kind of behavior is unacceptable when you're surrounded by such a delightful combination of food. During last Tuesday night's episode, Amy and Arthur were supposed to go on vacation to the Bahamas to work out their issues, but their trip was canceled due to Hurricane Arthur, the storm, not another one of this dude's temper tantrums, although both seemed equally likely at the time. Arthur seems to be some kind of doctor, as a shot of him in the preview of this season shows, but it just seems like Amy's is one broken heart he's not even trying to heal.
Adam - Andi Black's Boyfriend
We caught a brief glimpse of Adam in the second episode of this season when he joined Andi in the Hamptons for the group's weekend getaway. But, all in all, we haven't heard too much about him on Secrets and Wives. That's probably a good thing because reality TV doesn't have a great track record when it comes to relationships. And, neither does Andi, who has been married and divorced three times already.
However, Adam and Andi's relationship is progressing. Andi is staying with Liza Sandler on Secrets and Wives while Adam closes on a house for the both of them. But, if it doesn't work out for Andi and Adam, at least she can just go live with Liza again. I'm sure Liza will be more than happy to have her back.
Sandy - Cori Goldfarb's Husband
In the first episode of this season, Amy described Cori and Sandy as "the It Couple" because they've been married for 20 years. As you can see by getting this far in this article, that is quite the achievement for this social circle in the North Shore of Long Island. What's even more amazing is that these two work together as the owners and operators of the Truth + Beauty Spa in Roslyn, N.Y. But, as we saw in last Tuesday night's episode, that may not be the case much longer as Sandy seemed to be clueless and disruptive during an important business meeting. Nobody ever said working with your spouse was going to be easy, Cori.
In fact, opening up the spa has put a bit of a strain on their relationship. The couple sold their Hamptons home in order to start their business, which Sandy didn't seem too happy about during last Tuesday night's episode. Before operating a business with his wife, Sandy worked on Wall Street as a commodities trader, and his nickname was Trot, which was probably because he owned racehorses. Sandy was the 12th highest-earning trader of 2005 on the Trader Monthly 100 list, taking in $10 to $15 million that year, although he told the publication he made less than $10 million.
It looks like there will be more drama between Cori and Sandy this season as she discovers some suspicious contacts and text messages in his phone. If Sandy is being unfaithful to Cori, he is crazy, because does he really think he's going to find another woman that will tolerate his manscaping like Cori does? I don't think so.
Stephen - Gail Greenberg's Husband
Gail's husband Stephen has been named one of the best cosmetic surgeons on Long Island, and, even before Secrets and Wives, he made his name known across the country. You may have seen Stephen lending his expertise to Good Morning America, Entertainment Tonight, and Fox News. He has also been featured in The New York Times, Cosmopolitan, and Elle.
All of that success and notoriety hasn't come without a price. Stephen's work is his life, which sometimes makes Gail feel like she doesn't get enough attention from him, even if she helped plan his bizarro plastic surgery fashion show. But when Stephen does hang around Gail and her friends, as he did when he was the only significant other at what was supposed to be a girls' dinner in the Hamptons, it was super weird and uncomfortable. Stephen clearly has the plastic surgery down. Now if he only understood social cues.
Andrew - Liza Sandler's Ex-Husband
Liza and Andrew were high school sweethearts, but now Andrew, who is Liza's ex-husband, isn't on Secrets and Wives at all. In fact, whenever someone brings up his name, it gets bleeped out probably because he doesn't want to be associated with the show. Unfortunately for him, his ex-wife was involved in a high-profile affair with ad exec and TV personality Donny Deutsch in 2008, which put both of their names in the gossip press. According to Page Six, Andrew, who is a hedge fund manager for Sandler Capital Management, reportedly hired a private detective who took photos of Liza smooching Donny.
Andrew soon filed for divorce, and as part of the couple's settlement, Liza has to sell her home now that both of her daughters have grown up and are moving out, which is something we're seeing her cope with on Secrets and Wives this season. One phone call with Andrew regarding a showing during the first episode of the series even brought Liza to tears. Liza and Andrew may not be together anymore, but they are certainly still a part of each other's lives.
Jonathan - Susan Doneson's Husband
Liza actually grew up with Jonathan, but she didn't have great things to say about him. It's unclear if Liza really thinks Jonathan is crude, or if she just doesn't like Susan. I think it's a little bit of both.
Well, Susan must like him a little, although they do bicker a ton, which is kind of a shame because she stood by her man when he went to prison for two years for securities fraud. They dated all throughout Jonathan's incarceration and then had a baby and got married upon his release. These days, Jonathan is a partner for the health food company Chia Bagels by Decision Nutrition and the co-owner of the solar energy company Innovated Energy Solutions, according to his LinkedIn profile. However, the other ladies of Secrets and Wives still see Jonathan as a crook, but at least Susan and Jonathan own it.
Well, there you have it. The men of Secrets and Wives really aren't all that bad, but they're not all good either.
Image: Barbara Nitke/Bravo; Bravo (6)