Here's The 'True Detective' Season 2 Synopsis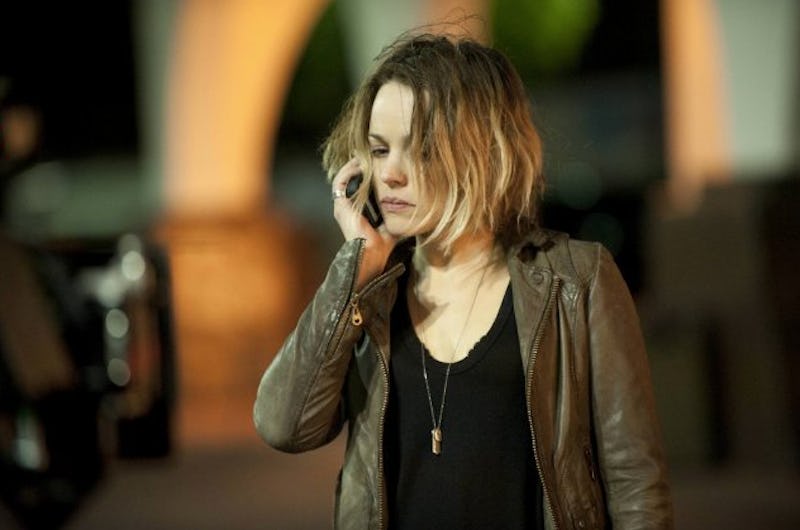 Does anyone else feel like the gods of film and television just don't want us to be able to breathe for the entire beginning of this summer? Not only do we have Season 3 of Orange Is The New Black coming at us June 12, and Amy Schumer's movie Trainwreck dropping July 17, but right smack-dab in the middle, we have the premiere of Season 2 of True Detective , on Jun. 21, which will be followed by seven blissful Sundays when we can watch it on HBO at 9 p.m. ET. (Or 10 p.m. ET on HBOGo.) But if that feels like too long to wait, because everything else this summer already has you so close to the edge of your seat, I have great news for you: The powers that be have just released an "extended synopsis" for True Detective Season 2, include Episode 1 details. We get into the nitty gritty right away.
And this is a total relief, because up until now, HBO has been so tight-lipped about Season 2, that all we really knew were the names and occupations of the four main characters: Rachel McAdams, Colin Farrell, and Taylor Kitsch — law-enforcement officials — and Vince Vaughn — a career criminal working against them. We've seen the True Detective Season 2 trailer, and gotten wind of a few spoilers of course, but the only real information that had filtered down to us was the maddeningly cryptic tidbit that all four main characters would be brought together by "a bizarre murder." Now, finally, we get some actual deets, like the fact that the United States' transportation system gets looped in somewhere, and this full synopsis for Season 2:
Colin Farrell (Golden Globe winner for "In Bruges") plays Ray Velcoro, a troubled detective whose allegiances are torn between his masters in a corrupt police department and the mobster who owns him. Vince Vaughn ("Wedding Crashers") portrays Frank Semyon, a criminal and entrepreneur in danger of losing his empire when his move into legitimate enterprise is upended by the murder of a business partner. Rachel McAdams ("Midnight in Paris") plays Ani Bezzerides, a sheriff's detective whose uncompromising ethics put her at odds with others and the system she serves. Taylor Kitsch (HBO's "The Normal Heart") portrays Paul Woodrugh, a war veteran and a highway patrol motorcycle officer, running from a difficult past and the sudden glare of a scandal that never happened.
Finally! Ugh, you guys, you've been withholding this from me for a long time.
And as if this embarrassment of riches wasn't enough, we also get a tease of the first episode, which is called "The Western Book of the Dead," and comes with the following blurb:
The disappearance of a city manager disrupts a lucrative land scheme and ignites an investigation involving three police officers and a career criminal who is moving into legitimate business.
I can literally feel my heartbeat slowing down with relief at finally getting some insight on this season... only to speed back up in anticipation of the premiere. We also know that the second episode is called "Night Finds You," and that's about all I can take, I'ma need to lie down.
Images: Lacy Terrell/HBO; giphy (1)