Will Jake Johnson Be In 'Jurassic World 2'?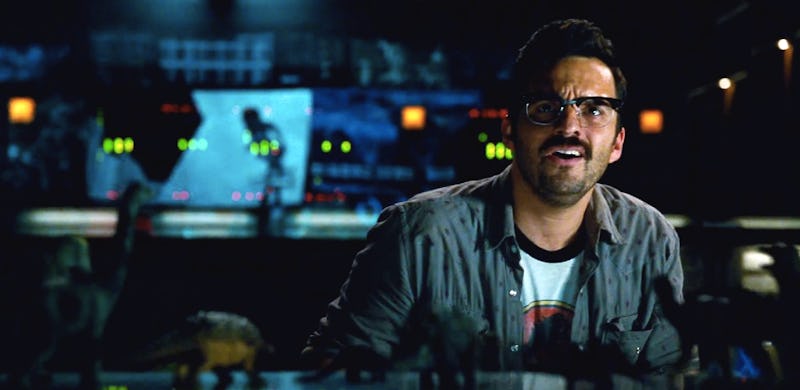 If you're seeing Jurassic World when it's released on June 12, you're probably coming for the dinosaurs and nostalgia for 1993's Jurassic Park, but you're definitely staying for Chris Pratt and Jake Johnson. And, if the latest Jurassic World trailer is any indication, you're not going to be disappointed. A thrilling film experience aside, however, you'll probably be asking yourself a few questions when you walk out of that IMAX 3D theater — the first of which being: Will there be a Jurassic World sequel? And the second (and almost more important) question will be: Will Jake Johnson be in the Jurassic World sequel? ***Warning: there are Jurassic World spoilers ahead.***
Johnson plays control room techie Lowery Cruthers in the Pratt-starring film and, if you're a fan of the actor's role on New Girl, you're going to love him in the movie –and you're going to adore the fact that SPOILER ALERT Lowery doesn't die in Jurassic World, which means there's plenty more Jake Johnson to come if the film gets a sequel. Which, hopefully, it will. On Wednesday, ahead of the film's theatrical release, Johnson did a Q&A on Entertainment Weekly 's Facebook page where he basically confirmed that he is 100 percent on-board if Jurassic World gets a sequel:
OK fine, he just echoed what any fans of Jurassic World will say after seeing the film — they hope a sequel will be in the works. But, as for whether or not Johnson will be in it, it seems highly likely considering his character survived and how excited the actor was to join the film in the first place. In an interview with The Huffington Post in March 2014, the actor said that, even if two of his good friends weren't writing and directing the film, Johnson is a huge fan of Jurassic Park and he would've jumped at the opportunity to be a part of it anyway.
And, really, it'd be a true crime to let Johnson's screaming skills go to waste.
Images: Universal Pictures; facesofnickmiller/Tumblr