A Hot Dog-Stuffed Crust Pizza Could Be Lifesaving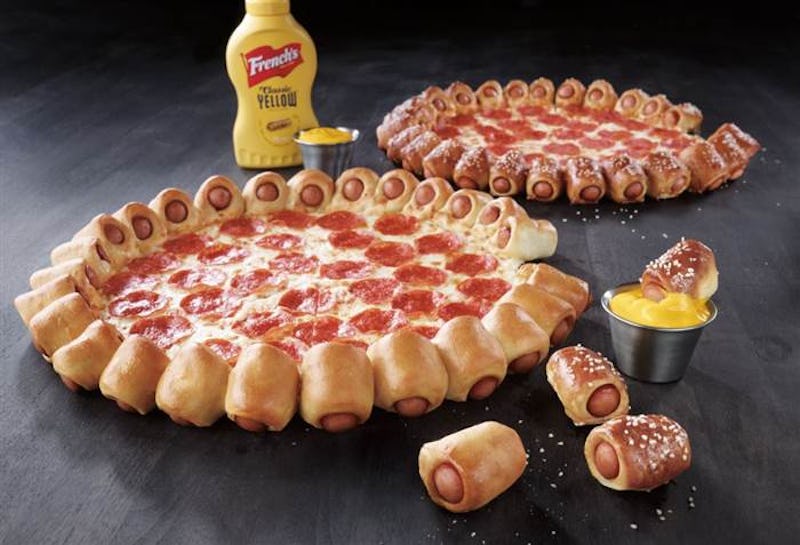 As delicious and life-affirming as good pizza can be, sometimes a single slice (or three) isn't enough. If you've ever looked at a slice of stuffed-crust pizza and thought, "That looks delicious, but it needs a little something," buckle your seatbelt. Forget cheese or even bacon. Earlier this week, a rumor began circulating that Pizza Hut's hot dog stuffed crust pizza would be coming to the U.S.
Well, we've moved past rumor into hot, delicious fact. On Wednesday, Today.com confirmed that the geniuses at Pizza Hut are planning to bring a pizza with mini hot dogs stuffed into the crust stateside. Available in the United Kingdom since 2012, the hot dog/pizza combo is coming to the U.S. on June 18.
Why did it take three years? The spokesperson told Today.com reporter Claire Lower that the chain needed to adapt the combo to suit how Americans would eat hot dogs and pizza together. The smaller U.K. version featured a single ring of hot dogs and a mustard drizzle. Amateurs.
Today.com reported that the U.S. version has 28 individual hot dogs baked into the crust and a side of mustard for dipping. Because: America.
There are times in life when ordering a pizza stuffed with hot dogs might actually make sense. In fact, I can think of three times in my own life when all of that cheese, meat, and salt might save me or my loved ones from disaster.
1. To send my daughter and her four-year old companions into a meat coma at the next play date.
Kids love pizza. Kids love hot dogs. I love quiet. This sounds like the perfect way to keep everyone happy and alive until their parents arrive for pick up.
2. To recover all the calories I burn while surfing Netflix over a long weekend.
Keeping up with an entire season of Orange Is the New Black or House of Cards takes tremendous concentration, which of course burns calories. Plus, there's the ongoing exercise of looking for the remote— not to mention having to confirm to Netflix every few hours that I'm still alive.
3. To bribe my friends and family when I need to move something heavy.
Thanks to the scientists at Pizza Hut, I can overload my loved ones with enough joy and salt that they don't notice that the "party" I've organized is actually a plot to get help rearranging my living room. Before this, I had to rely on old fashioned tactics like begging and alcohol.
Images: Giphy (3)