I Posted A Granny Panty Selfie On My Social Media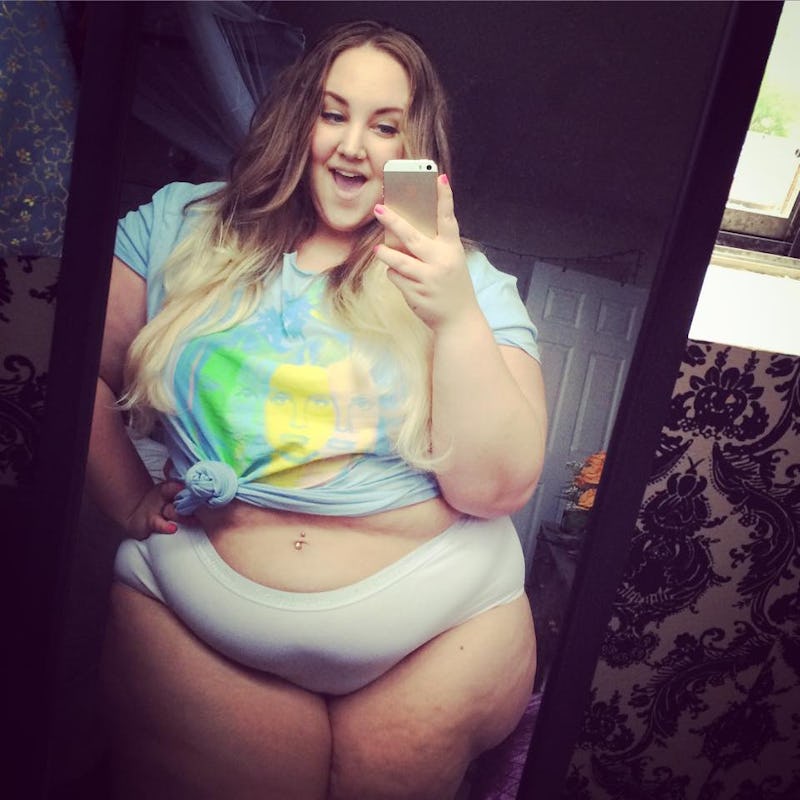 When it comes to lingerie and underwear, granny panties tend to get a bad rep, ranking pretty low on the sexy scale (or so we tend to assume). So is it such a far fetched notion to think that a granny panty selfie could be sexy?
As young girls, when our sexualities started to bloom and life began to demand the desire to, you know, actually start having sex, many of us immediately headed out to shop and hunt for some racy, lacy panties and thongs to fill our underwear drawers. We'd slip on some lace booty shorts or slide on a thong, suddenly transforming from normal, everyday women into sex goddesses. There was a skip in our steps, a glimmer in our eyes, a smile on our faces, and a readiness to rock the world.
But "sexy" underwear, as pretty and enticing as it may look, falls short when it comes to comfort. It doesn't usually take long before you grow tired of the itching. Before you grow tired of the wedgies. So you start saving your lace underwear and your fancy thongs for special occasions: Nights where you're going out on a date, or days spent alone with your partner. It becomes not only uncomfortable to keep up with wearing sexy underwear every day, but really impractical.
For all the other days when strutting around in Sex Goddess Mode isn't necessary, we breathe a sigh of relief as we pull out our good ol' trusty pair of granny panties, and bask the day around in comfort. Ahhh, my bum is in bliss. But these are panties we usually save for our "bummy" days, or our period days, or laundry days. They're not what we often think of wearing when we want to feel sexy. But really, why can't we be both?
Personally, I have no qualms with revealing to you that I have #grannypantypride. I love my full-back undies. Not only are they profoundly comfortable (something that being plus-size also makes extremely important), but they make me feel sexy, too.
Wearing my full-back panties gives me the same "sexual" feeling as walking around in my boyfriend's shirt. It emits the sense of ease, comfort, and a greater intimacy. I feel at my sexiest sometimes when I am walking around the house in nothing but a cute pair of full-back "granny" panties and a t-shirt, or maybe a tank top. There's something so simple, so natural and comfortable about it. I love the way it feels, and I love the way it looks. And the more I thought about this all, the more I knew that I couldn't be the only one who felt this way.
The Experiment
Needing to know that I wasn't the only one who loved my granny panties, I took my question to the only place where I knew people would be forthcoming and honest with their opinions: social media. I decided to post some selfies on my Instagram account of myself wearing granny panties, just to see what kinds of comments, opinions, and reactions I would get. For this experiment, I chose to wear what I consider to be a "traditional" pair of granny panties: They were pure white cotton, full-backed, and came up to my waist.
In the caption, I mentioned my love for wearing granny panties, and I also asked people if they, too, had #grannypantypride, and proceeded to wait for the comments to come in. I also made sure that I posted a photo from the front and also from behind, so that commenters got a full understanding of what they looked like (and view of my big, sexy booty, might I add). There were no low-rise surprises, no cheeky-cheeks exposed. I was fully covered by giant underwear.
The Results
Aside from the few comments I received about my "health" (because heaven forbid a fat person posts a photo of themselves in their underwear), which I've already addressed here, the comments were overwhelmingly positive! Not only did people chime in that they also love wearing their granny panties for comfort, but they also agreed with me that granny panties are sexy. Some of the comments were as follows:
From Fellow Women
"I only wear 'grannies panties.' So comfy and I have tons of colors, patterns, etc! The more comfortable you are the sexier you feel!"
"Yasss! Same. TBH I feel way sexier when I wear them too!"
"Omg! I thought I was the only one!"
"Best underwear ever, all day everyday yes ma'am."
"Looooove my granny panties! I can't stand thongs... And I hate wedgies. So these are AMAZING!!"
"Honestly I think granny panties are way cuter than thongs #Ihatethongs."
"I had a fella who had a thing for granny panties, while I'm more the commando type... I'll give props to the full bottomed, bottoms."
There was really only one woman who didn't agree:
"I personally do not find them comfortable! Maybe I'm weird."
From The Dudes
"Sexi.""Sexiest grannie ever ;) <333."
(That one was from my boyfriend.)
"Sexyyy.""Still looking good.""She got that.""STILL ATTRACTIVE.""Look fine to me.""Nice panties."
The Conclusions
After conducting this little granny panty social media selfie experiment, it became overwhelmingly evident that a lot of people, both women and men, actually love granny panties! Women find them comfortable and sexy, and they seem to be the underwear most worn and preferred by us ladies. And the guys? Do they find granny panties sexy? Not to imply that we should be interconnecting validation with the male gaze and all, but the answer is hell yes — if some of their comments are any indication.
The thing is, there are so many kinds of "sexy." With fashion being at a point right now where retro style is just as celebrated and loved as the contemporary, we live at a time where sexy is what we say it is. It's not just about how you look, but also how you feel. And when we feel comfortable, we feel sexy. So when we dress comfortably, we look sexy.
Gone are the days when "sexy underwear" only included lace, thongs, and anything crotchless or low-cut. Now, humans of all genders are beginning to see that when a woman dresses in something comfortable, that makes her all the more sexy.
Confidence and happiness that stem from being comfortable in your body are the most powerful tools we can have when it comes to feeling like the goddesses we are. So go ahead and flaunt your #grannypantypride!
Wanna learn how to contour? Check out some tips here (and subscribe to Bustle's YouTube channel for more awesome tutorials!):
Images: khaleesidelrey/Instagram; Giphy