7 Christina Aguilera Award Show Performances From 1999 & 2000 That'll Make You Wish You Never Got Rid Of That Iridescent Cropped Tube Top — VIDEOS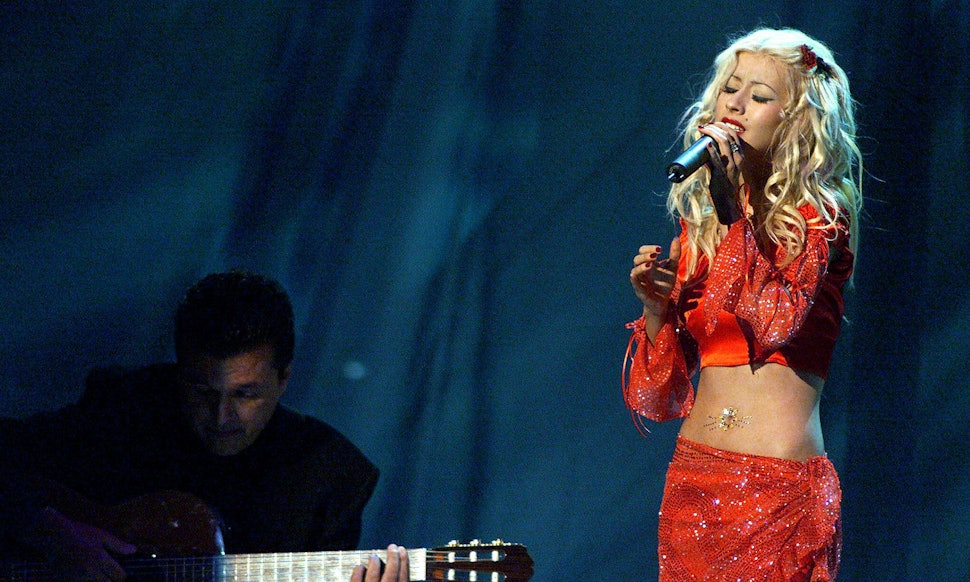 HECTOR MATA/AFP/Getty Images
Before she was wailing along with Patti LaBelle to "Lady Marmalade" or hitting notes I didn't know existed during the Aretha Franklin tribute at the 2011 Grammys, Christina Aguilera was making her first splash onto the award show scene. In 1999 and 2000, the diva-in-the-making performed hits from her debut self-titled album at several award shows. While she sang hits like "Come On Over" and "I Turn To You", her voice would run laps around the stage, into the audience, and up and down the aisles. Anyone who had doubts about whether or not the teenaged vocal powerhouse was the real deal was set straight immediately. From day one, Xtina was the realest of real deals, and she keeps gettin' better.
Bustle's own Kenya Foy put together a terrific list of Aguilera performances that will make you wonder whether or not Xtina is actually a normal mortal like you or I, because how else are we supposed to understand and/or explain how she makes her voice do those otherworldly things? Following Kenya's lead, I rounded up some noteworthy award show performances from '99 and '00. Trust me, you're going to want to crank the volume on your computer and grab your handheld fan for these videos.
"I Turn To You" at the American Teacher Awards in 1999
Casper Xtina on YouTube
Cropped tube top? Check. Choker charm necklace? Check. Impressive ad libs throughout the final chorus? Checkcheckcheckcheckcheck.
"Come On Over" at the 2000 Radio Music Awards
tinchitovip1 on YouTube
Christina Agu-hair-a is in the building.
"I Turn To You" & "What A Girl Wants" at the 2000 American Music Awards
This is a medley of jams, and a medley of jams is always a win in my book. (Seriously, you can't compete with a peanut butter and raspberry jam and strawberry jam sandwich.) "I Turn To You" and "What A Girl Wants"? Please AND thank you!
You know what else is always a win in my book? A mid-routine costume change. Spoiler alert: That skirt isn't your run-of-the-mill iridescent periwinkle blue skirt you might see in a dELiA*s catalog. That is a tearaway skirt.
"Contigo de la Distancia" and "Genio Atrapado" at the 2000 Latin Grammys
DivaXtinaA on YouTube
Another jam medley! Another mid-routine costume change! Too many vocal runs to count!
"Come On Over" at the 2000 My VH1 Music Awards
Literally me every time Xtina nails a note during this performance:
GET IT.
"Genie In A Bottle" at the 1999 Teen Choice Awards
kia112 on YouTube
Baby Xtina!!!!!!!
Speaking of youngsters, who are the three youths who introduce Xtina? Oh, just the stars of a short-lived series called Get Real. Their names: Anne Hathaway, Jesse Eisenberg, and Eric Christian Olsen. Maybe you've heard of 'em?
"Come On Over" at the 2000 VMAs
NonAlejandria on YouTube
FRED DURST SHOWS UP. THEY BATTLE SING-RAP. YOU ARE BEAUTIFUL, VIDEO, NO MATTER WHAT THEY SAY.
Image: Ms79Miranda/YouTube; Kristie Rohwedder/Bustle