SmartGlamour Releases The Greatest Swim Lookbook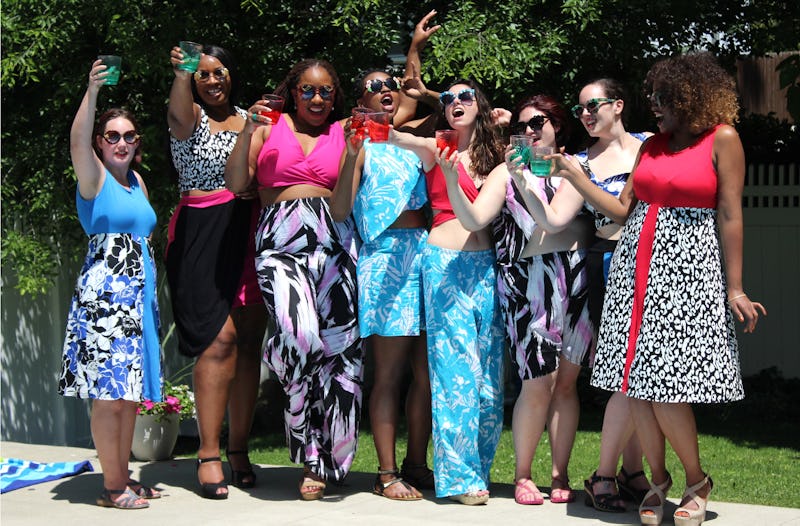 Summer is all about spending time outdoors, soaking up the sunshine, and relaxing with friends. And to be able to do that in beautifully inclusive, customizable clothes in bright colors and fun prints is exactly what Mallorie Carrington of SmartGlamour has set out to do with the brand's newly released summer lookbook video.
The two-minute video features women of all shapes, sizes, and ethnicities enjoying some time by the pool, all clad in amazingly gorgeous clothes tailored to fit any and every size. SmartGlamour, which sells clothing items from the sizes XXS to 6XL as well as made-to-measure options, takes into account that women of every body type and shape deserve quality and tailoring without having to break the bank.
And it's safe to say that every piece in the lookbook is extremely lust worthy. From the floral print skirts to the sheer printed coverups, prepare yourself for some major style envy as you watch the breathtaking clothes in action. And the good news is that every piece is available to order online at this very moment. So run, don't walk, to the SmartGlamour online shop to order the alluring swimwear now.
SmartGlamour's objective is to not only provide every woman with the chance to own quality, custom clothing when on a budget, but to also "help them on the road to body acceptance," whilst "cut[ting] away at women on women hate that stems from insecurity and the belief that beauty and brains cannot go hand in hand," according to the website.
It's clear from the lookbook that the brand bans exclusivity. Instead of ignoring plus sizes, for instance, SmartGlamour opts to include them every step of the way. Rather than making the excuse that it's "impossible to cater to all unique bodies," Carrington proves that even small, start-up businesses can be all inclusive, providing service and merchandise for every type of customer.
This lookbook, besides celebrating every woman's unique shape and size, also highlights the beauty of being able to enjoy summer, fun, and relaxation without having to worry about being self-conscious in your skin. Since the lovely clothes are designed to make you feel comfortable and confident, worrying about how you look ceases to be a problem. Plus, wearing stunning, custom garments is always something to be happy about.
Personally, I'm pretty much obsessed with the Brody Romper and the Helen Faux Wrap Crop Top, but I think it's the Harriet Colorblocked Mini that has my heart. Imagine wearing that skirt next to the pool, sipping a martini, and laughing with friends. Can my life just be the SmartGlamour lookbook? Because honestly, that would be a dream.
This inclusive, body positive collection is another effort by Carrington and SmartGlamour to help move society and fashion towards tolerance. Because as SG loves to say, #AllBodiesAreGoodBodies.
Amen to that.
For NYC residents: SmartGlamour will be hosting pop-up shops around the city throughout the month of June, including one this weekend! For more information and pop-up shop dates and locations, follow SmartGlamour on Twitter, Instagram, and Facebook.
Images: SmartGlamour/YouTube; SmartGlamour