What's The 'OITNB' Theme Song?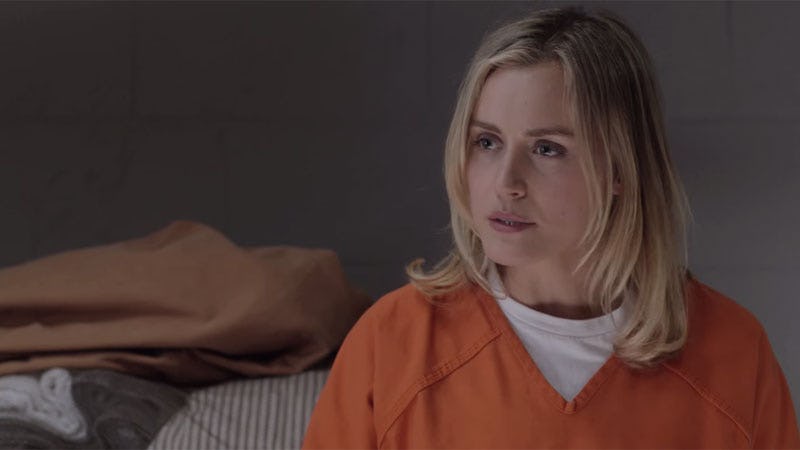 If you've seen even one episode of Netflix's amazing original series Orange Is The New Black (although, I'm gonna guess it's likely you've seen a lot more), then chances are the theme song is permanently stuck in your head. As obsessed as I am with how stinkin' adorable the cast is, the show's infectious theme song is part of what makes it so awesome. But, with Season 3 having just dropped on Netflix, many may be wondering: what is the Orange Is The New Black theme song, and who sings it?
Luckily, the answer is just as simple as the question itself is — and the singer may be just as recognizable as the show itself is, as well. Regina Spektor is behind the show's theme song track, which is titled "You've Got Time." (Perfect title for a song about a prison, right?)
If you're wondering why you've never heard the track on one of Spektor's many albums, don't worry — it wasn't a song you just so happened to miss on What We Saw From The Cheap Seats or Begin To Hope: According to Buzzfeed, Spektor actually wrote "You've Got Time" just for Orange Is The New Black, and it wasn't released as a single until Season 1 of the show actually premiered on Netflix in 2013.
Spektor shared the inspiration behind "You've Got Time" in an interview with Rolling Stone, saying, "I started to get some ideas and then as they were shooting, [Kohan] would send me some rough, unfinished episodes, and so I got to really experience the world of the show and got to see what the characters were really like and it kind of helped me finish the song."
The theme song is set to montage of inmates' faces, but the lyrics take the track to a more intense place:
The animals, the animalsTrapped, trapped, trapped 'till the cage is fullThe cage is full
It's a tough metaphor to address, especially given the stark way in which the show approaches its subject matter. However, later in the song, Spektor addresses redemption, something many of the OITNB characters grapple with in one way or another.
Think of all the roadsThink of all their crossingsTaking steps is easyStanding still is hardRemember all their facesRemember all their voicesEverything is differentThe second time around
Spektor's other well-known tracks include "Fidelity," "Better," and "Us." Her following has been growing since her major label debut in 2004 — but I have a feeling the success of "You've Got Time" brought her an entire new group of fans.
Images: Netflix