This 'Jurassic World' Theory Changes Everything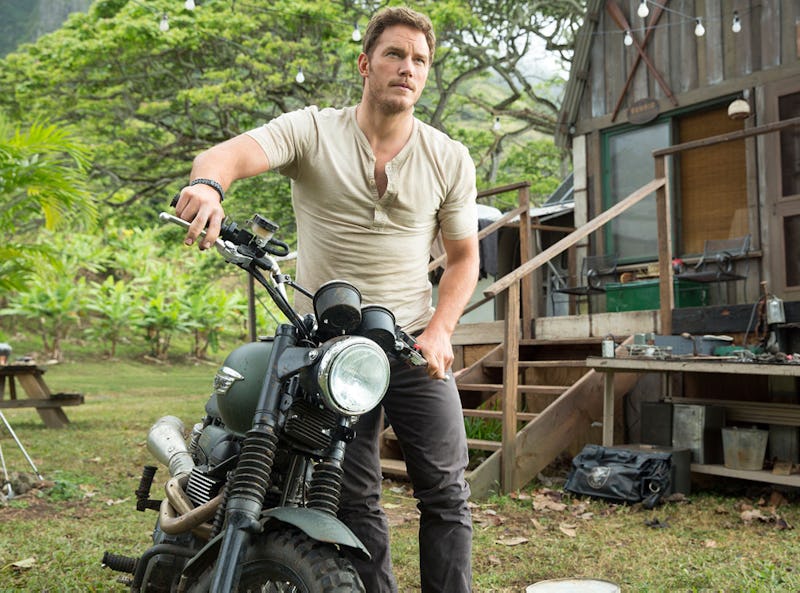 Jurassic Park fans, prepare to have your minds blown. I'm sure most of you are all still high from seeing Jurassic World in theaters after it hit screens Thursday night, and trust me when I say that this will only heighten those feelings by, like, a million. According to Mashable, an interesting theory about Jurassic World has begun floating around the Internet since the film's release — and it has nothing to do with the dinosaurs that dominate the film. Specifically, the theory asks whether or not Chris Pratt's Jurassic World character has been seen before in the Jurassic Park franchise — it gives evidence indicating that he may actually have been.
Told you: Mind. Blown.
It seems that the theory originated thanks to Reddit user farceur318, in a thread on the site asking for popular fan theories. In farceur318's comment, they point to a scene from the original Jurassic Park film which includes Sam Neill's Dr. Alan Grant scaring a young boy and schooling him in respecting dinosaurs. Specifically, Grant tells the boy to show the raptors "a little bit of respect" In the the 2015 sequel, Jurassic World, Pratt's character, Owen, says something extremely similar: "I don't control the raptors; it's a relationship. It's based on mutual respect."
In the original scene, the kid looks to be around 10 to 12 years old — so, considering the film was released in 1993, it's not a total stretch to theorize that the boy was actually Owen. Add 22 years to any age around that, and the boy would now be in his early 30s; although Owen's age isn't specified, Pratt is 35, so it would make sense. It would also certainly be a great reference to the origins of the franchise.
Plus, consider this: there seems to be a pattern with the Jurassic Park and casting really talented kids. After all, Ty Simpkins, who plays Bryce Dallas Howard's character's younger nephew, already has an impressive resume. (Also, don't forget, a young Camilla Belle appeared in The Lost World: Jurassic Park!) Who's to say that these characters aren't significant in the longevity of the franchise?
You can check out the "annoying kid" — aka the possible Chris Pratt of movies' past — from Jurassic Park in the video above.