15 Times Kourtney's Shoe Game Was The Strongest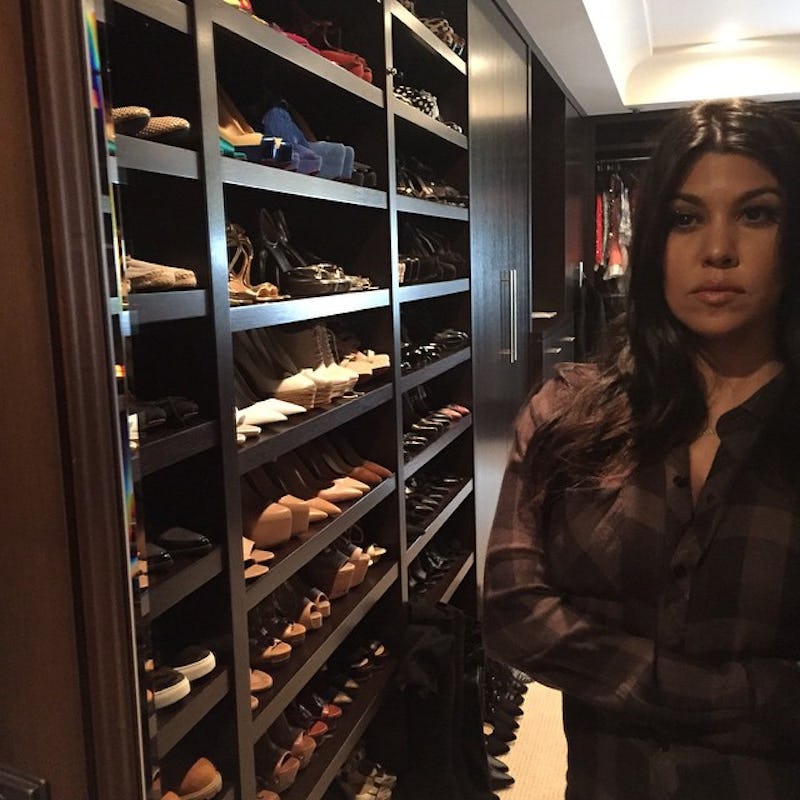 Although she's perhaps the quietest in the Kardashian clan, when it comes to her shoes, Kourtney Kardashian makes the biggest statement. Yes, even compared to Khloe and Kim and Kendall, you can always count on Kourt to keep her shoe game strong. Trust.
From boots to strappy heels, Kourtney is unafraid to try every style of shoe there ever was, and when she wears them, it looks like she was born to walk in them. While Kourtney may seem to be pushing the Kardashian Collection the most, I can definitely see that it's more than a just business to her — she just actually loves and believes in their fashion so, so much.
In other words, Kourtney's niche is definitely her style sense. While makeup is Kim's thing and hair is Khloe's, Kourtney is happy to be sharing her outfits and shoe collection online. I mean, have you seen her closet? It's pretty fabulous. Like rows and rows of fabulous. It's so incredible that it makes me want to literally cry.
Even though Kourtney has a busy schedule being a mom, reality star, and fashion designer, she still makes time to keep her outfits and shoes on point. Whether she's working out, having lunch with friends, or starring in fancy photoshoots, Kourtney's shoes are definitely next level. Clearly, her Instagram posts explain it all. Let me walk you through what I'm talking about. Kourtney will give you major shoe goals for life.
This is her closet full of shoes. Told you it was glorious:
Even while she was pregnant, she still had on the most perfect shoes, like all the time:
Loyal to one pattern? Kourtney's got you covered:
She's definitely always traveling in style:
And knows the perfect shoes for denim-on-denim:
She also likes to get experimental:
But also knows how to keep her shoes classic:
She's always super on top of the shoe trends:
And can rock the strappy heel like no other:
See what I mean?
She's also got a great collection of boots including these ones:
And these booties:
Her shoe game tends to outshine her sisters at times:
This time too:
Last, but not least, she definitely knows how to workout in style. Period: