Shots Fired Outside Dallas Police Headquarters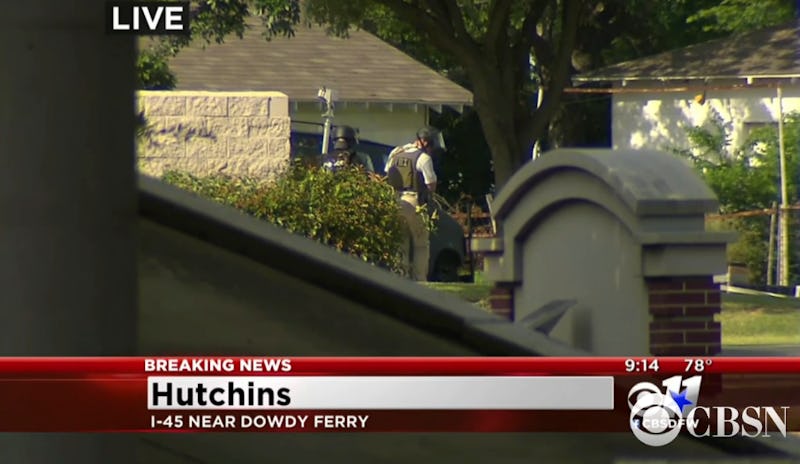 Several gunmen carrying automatic rifles attacked Dallas Police Headquarters early Saturday morning, prompting a chaotic chase and tense standoff near Hutchins, Texas. According to Dallas Police Chief David Brown, the incident occurred at around 12:30 a.m. CT. No immediate injuries were reported.
Police indicated that at least one of the gunmen had fled the scene in an armored van, crashing into a police cruiser before driving to a nearby parking lot where a standoff between the suspect and officers dragged on for hours. Brown indicated that there had also been two explosive devices left near the police headquarters as well, but that one had already been detonated by bomb units. The other, he explained, had exploded when an ordinance robot moved in to dispose of it.
"The suspect ... told our negotiators that we took his child and we accused him of being a terrorist, and that he [was] going to blow us up," said Brown in a news conference on Saturday. "[He] then cut off negotiations."
By 7:30 a.m. CT, the alleged gunman — who identified himself as 35-year-old James Boulware — had not been heard from in hours, leading many to speculate that he had been killed by police. Officers would not confirm or deny the rumor, although Brown stated at 9 a.m. CT that a police sniper had shot Boulware, but that officials were not yet able to determine if he was still alive.
Police confirmed that Boulware had a history of family violence. When media reached out to his mother, however, she refused to comment.
"I don't want to talk to the media," said Jeannine Boulware to Dallas Morning News reporters. "I want to talk to my son [and] I want my grandson to talk to his father."
In May 2013, Boulware was arrested and booked into the Lamar County Jail on multiple assault charges for "impeding a family member's breath or circulation" and "causing bodily injury to a family member." According to court records, the incident occurred in Paris, Texas. Boulware was later moved to Dallas County Jail.
Police reported on Saturday that Boulware and as many as three other shooters, some positioned strategically in elevated positions, began firing on one of their downtown buildings before fleeing the scene, although no officers were injured.
The incident rocked the otherwise quiet suburb, according to locals who told the AP on Saturday that they had never seen anything like it before.
"We don't see too much going around here at all," said Ladarrick Alexander, who said he and his fiancée Laquita Davis were driving home and were passing police headquarters when they heard between 15 and 20 successive gunshots.
Just after 9 a.m. CT, police reported that they were attempting to open the armored van to confirm whether Boulware had been killed, but were concerned that the man had packed the vehicle with C-4 and were approaching with extreme caution.
Images: CBSN/screengrab