Is A 'Kindergarten Cop' Reboot Happening?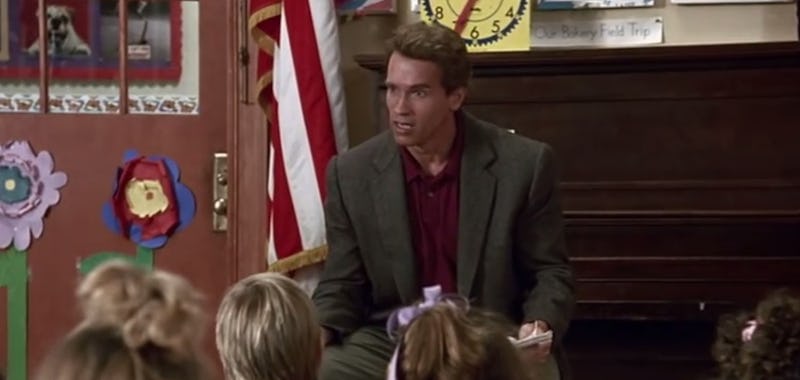 Prepare to take yet another trip back to the land of '90s films. Entertainment Weekly is reporting that a Kindergarten Cop remake may currently be in the works at Universal's 1440 division, with plans for a Blu-ray/DVD debut. If you don't remember (and if you don't, just sayin' — it's probably time for a re-watch of this classic) the original 1990 film starred Arnold Schwarzenegger as a police officer assigned to pose as a kindergarten teacher in order to keep tabs on another teacher and her son, who are being tracked by her crazed, drug-dealing ex-husband. Despite such grim circumstances, the film featured some rather funny moments — like the famous scene when Schwarzenegger loses his mind upon realizing he's totally unequipped to be a teacher. Somehow, in the midst of all the kid-induced chaos, a love story eventually blossoms.
In all honesty, the original film is such a classic, I'm a little skeptical at the thought of a remake potentially happening. If you're hoping to see more of Schwarzenegger going totally bonkers trying to teach a group of rambunctious 5-year-olds (because flicking the lights totally doesn't work), bad news — it looks like we're going to have to settle for a substitute teacher, because EW reports that the actor isn't set to return for this potential remake.
While the lead role remains unfilled, Michael Don Paul is reportedly set to direct the project, and American Pie writer David H. Steinberg reportedly will pen the screenplay. Another notable departure from the original is the reported plot for the reboot — though the original film featured a no-nonsense, feisty female partner (played by actress Pamela Reed) for Schwarzenegger's character, EW details that the potential reboot will include a cop with a male partner named Sanjit, and that the two of them will be hunting down a lost flash drive.
Honestly, while I'm keeping an open mind until the potential project actually happens, I've got a few concerns about his news — mainly because of Schwarzenegger's absence. His participation made the original film what it is, so the thought of a reboot without him is difficult to imagine.
Additionally, in order to pull this thing off seamlessly, there absolutely must be a love story somewhere along the way, along with some major effort put into recreating the classic classroom scenes to keep the comedic current flowing.
One recommendation? If this project does happen, the studio should totally take a cue from the current crop of female-led reboots on the way (21 Jump Street, Ghostbusters), and cast a woman in the lead role. It could inject the remake with the right amount of freshness and charm it needs to hold up to the original — and we all know Hollywood can always use more female representation in television and film.
Image: Universal Pictures; Giphy