You Can Build The Ultimate Pair Of New Balances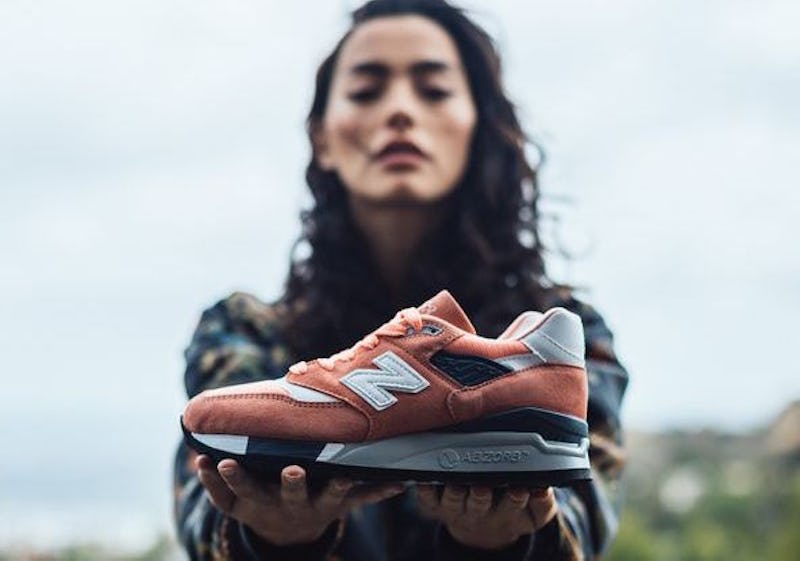 It's no secret: New Balance sneakers are so trendy right now as staples of the normcore aesthetic and athleisure wardrobe. And this week New Balance customizable sneakers launched to make things even better! The brand is offering its iconic 998 style to its customers — in men and women's sizing both — so that they can put their own spin on it, too. So whether you're a hardcore gym rat or you just like to look like one, you can now have the ultimate pair of NB kicks: A pair designed and customized by you. I mean, I'm pretty stoked about being able to customize my fro-yo, so making my own pair of sneakers is kind of next-level.
There are 16 different components to the shoe that can be customized, from the color of the tiniest inserts to embroidery on the heel, and pairs go for $199-210. The move capitalizes on securing the brand's spot as a performance and fashion retailer that's just as at home in street style photos as it is running laps on the track, tapping style bloggers Aimee Song, Adrianne Ho, Dapper Lou, and Dan Trepanier to participate in the advertising campaign and create their own custom 998s.
Thanks to the excuse to actually be comfortable and the versatility of the trend, I don't think athleisure is going anywhere anytime soon — a pair of custom NBs is probably a really sound investment in your footwear wardrobe. Or, you know, you can just get 'em to wear comfortable shoes because you want to.
Images: Courtesy New Balance; New Balance/YouTube