Models Get Athletic For Givenchy Fall 2015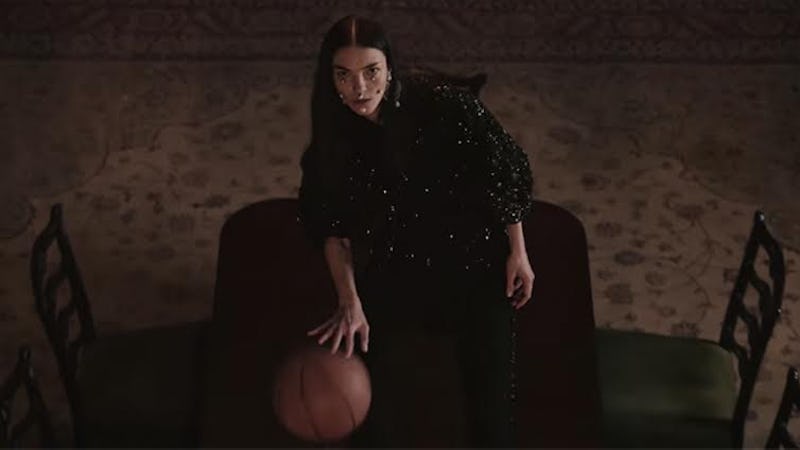 Playing pinball, jumping rope, dribbling a basketball, and riding bikes in gorgeous couture and while inside a mansion decked out in the most gorgeous decor? Givenchy's Fall/Winter 2015 video covered it all, and starred Candice Swanepoel, Frankie Rayder, and other models engaging in such athletic pursuits. The people starring in and who are behind this clip, which is 30 seconds of fashion fabulousness (yes, there is face jewelry involved), read like a "Who's Who" of fashion: With Mert Alas and Marcus Piggott directing, Carine Roitfeld styling, and of course Givenchy's Riccardo Tisci creatively driving the entire thing.
I know Tisci is BFFs with Kimye, but I am glad he didn't resort to recruiting any Kardashians or their satellite members for this particular clip. Givenchy is keeping things mysterious, as that's the overall vibe of this spot. I personally love how the video is bathed in dark tones and dark clothes, which is a stark contrast to the usually fun and sweaty activities in which the models are engaging. I love the juxtaposition of a basketball being dribbled by a someone whose face is adorned with jewelry. It really allows the viewer to make any connection they want between action and fashion.
Here are the best looks (and accompanying sports activities) from the video.
Yes, that's model Frankie Rayder and her cleavage, but check out how her arms are so toned... perhaps from all that pinball playing.
Playing pinball in a black strapless dress? How glam! Fashion needn't always be serious.
Face jewelry, a center part, and a mean dribble! #Crushing
Jumping rope inside? That's usually not allowed? But who cares when you look this good and have face adornments.
What a set of wheels!
More rope jumping action!
Popping wheelies while well-dressed! These is something so irreverent and fun about messing around and doing gym activities while looking so fabulous.
Watch the totally fabulous video in its entirety below.
Images: YouTube (8)