7 Things To Wear To Celebrate Jon Snow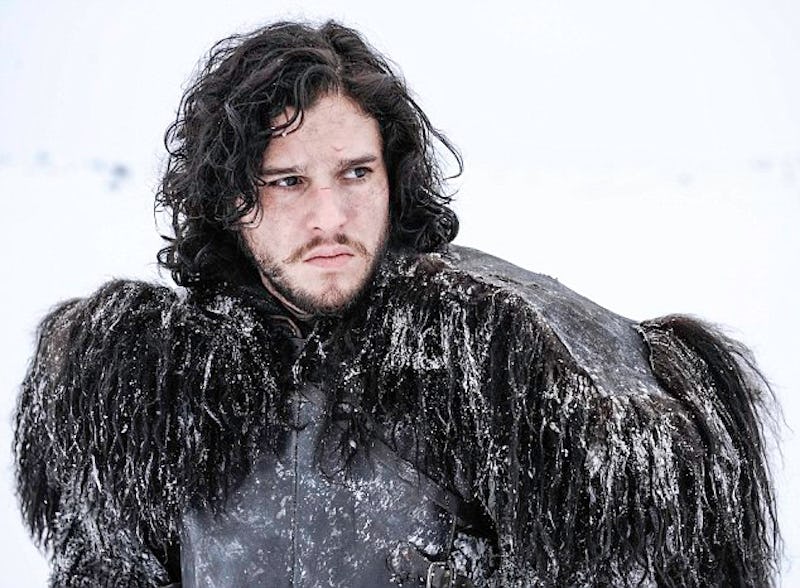 OK, I know everyone is still hyperventilating from last night's season finale of Game of Thrones. The tenth episode of this gut-wrenching season had a boatload of emotional incidents going down, including Jon Snow's (possible) death.
As the "hottie" of the series, Jon Snow's death (however much we care to deny said death) has left most of us (especially me) extremely heartbroken. But judging from the heft of Internet debate surfacing since the episode concluded on June 14, it seems that the majority of Game of Thrones' fans aren't buying it. R + L = J theories are getting more airtime than ever, and with just cause. I mean, who wants to believe that Snow is really off the show forever?
Nevertheless, Jon's potential death has got me thinking about what I would wear to his funeral if he, you know, actually was dead. I do not have an official invitation to his funeral, but I believe that I (and every loyal GoT viewer) deserve to attend the mourning ritual and say my final words to him.
Being the former Lord Commander of the Night's Watch, I am certain that Jon's service would be rather luxurious (except... maybe not... because of the whole "traitor" thing). The weather by The Wall is, of course, rather cold — which means heavy faux fur coats and sweaters are the key attire for the everyday.
My dream for this wretched event is that Jon's half sisters Arya and Sansa Stark will show up donning luxe fur coats with fur-lined, long black gloves. But that's probs not going to happen. For the benefit of my morbid imagination, though, here are seven items perfect for Jon Snow's very frosty funeral.
1. Faux Fur Coat
Brave Soul Plus Size Faux Fur Jacket, $99, asos.com
Black fur coats are definitely the outerwear of choice for Jon Snow's funeral. Don't worry, animal-lovers, this coat is faux. Sadly, the citizens of the Seven Kingdoms are not so animal-friendly when it comes down to wearing fur. Nevertheless, this faux fur number will keep our hearts warm during an otherwise cold time in our lives.
2. Faux Fur Stole
Faux Fur Stole, $7, forever21.com
If you haven't noticed already, faux fur will be everyone's best friend while attending this funeral. Rock this faux fur stole as a stylish layer over a fur-lined blazer or a wool coat. Why not stay warm in style at Snow's home-going ceremony?
3. Mittens
Faux Fur Mittens, $7, accessorize.com
While everyone is always screaming "winter is coming," I believe that winter has already arrived, especially at The Wall. Keep your fingers nice and toasty at the funeral by wearing mittens. I know mittens can sometimes make you feel like a toddler, but trust me, these faux fur ones will have everyone at the funeral chatting it up about your hand accessories.
4. Black Wool Blazer
Wool-Blend Blazer, $60, hm.com
This blazer is for the guys (and girls) who like to layer things up. Since black is the standard funeral color, this wool blazer is perfect. You can just never go wrong with a black blazer, and Jon would gladly appreciate you showing up to his funeral looking quite simple yet elegant.
5. Navy Blue Maxi Dress
Only One Navy Blue Lace Maxi Dress, $57, lulus.com
The ladies of the Seven Kingdoms are known to wear long gowns at all times (due to certain gender standards, unfortunately). Why not add a little twist to your usual attire by wearing a lace maxi dress with a nice slit? Plus, the dress is in navy blue instead of the usual black, which is a little more risky and fun.
Some may say that this dress is a little too sexy for a funeral, but in your heart, you know it'll be an ode to Jon's hotness (wink, wink).
6. Black Veil
Black Veil Fascinator, $20, etsy.com
Veils are not just for weddings, my friends. Black veils are rather appropriate for mourning in the Seven Kingdoms. This piece will be great to hide your tears, since most of us will undoubtedly be bawling at this funeral. I can picture Sansa Stark wearing a veil with a long, black gown while saying goodbye to a half-brother she never really tried to get to know. Hide those tears, Sansa!
7. Black Sweater
Oversized Sweater, $20, hm.com
Layers are essential for this cold funeral, and this black sweater is a great addition to the layering party — and knit sweaters are a stylish way to keep you warm. Layer this sweater over a black button-down shirt with a similarly dark maxi skirt or black pants. I know that Arya would wear this sweater with trousers, as a statement against the gender binaries women face throughout Westeros. And props to you for doing you, Arya!
Images: HBO; Courtesy Brands