9 Times Dark Matter Broke The Binary Through Style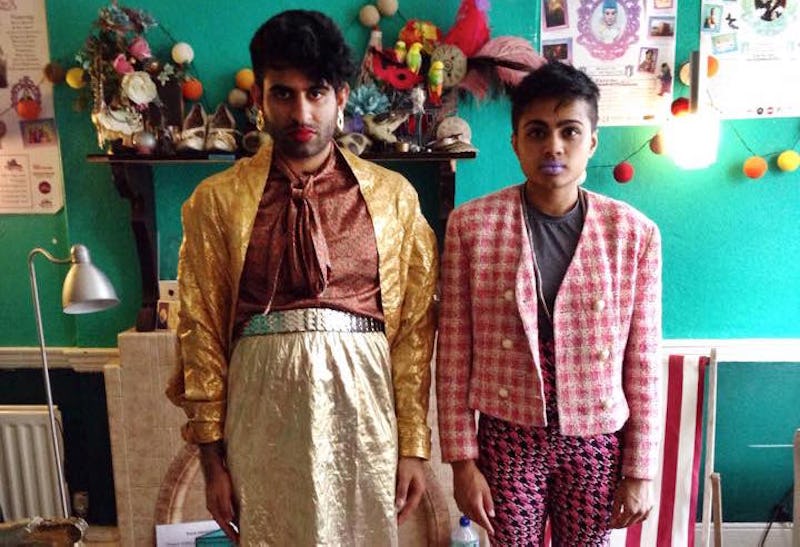 This year, I was introduced to the perfect and magical slam poetry group Dark Matter. I was hypnotized as members Janani Balasubramanian and Alok Vaid-Menon passionately recited pieces revolving around their queer/trans South Asian identities. Their intersectional feminist themes about queerness, race, trans identities, and colonialism effectively point out the ugliness of a cis and heteronormative society while delivering gut-wrenching anecdotes about their experiences growing up as queer/trans South Asian people in America. Their anger was infectious, unapologetic, and had me leaving the show more humbled by and understanding of the ways in which my queer white identity is oppressive and oppressed. But being a fashion and beauty writer, I also couldn't help but take note of their amazing outfits.
I've always looked at fashion as an extension of my politics, and was pleased to see that the members of Dark Matter felt the same. In their performances and on their social media accounts, Vaid-Menon has discussed society's pressure on feminine people, specifically queer/trans individuals, to be "fierce," and needing to look or act a certain way in order to "pass" in the mainstream's eyes.
Despite both Vaid-Menon and Balasubramanian's privilege to afford such beautiful clothing and makeup, society's unreasonable and oppressive expectations for transfeminine people are still very much felt by them. Because of and in spite of this, Dark Matter's queer and colorful outfits deserve recognition. Vaid-Menon and Balasubramanian challenge gender expectations and binaries by queering the world of fashion and style. Plus, they just really know their way around bold patterns, platform shoes, and a pastel lip. Here are some of their best outfits:
1. Pattern Mixing Pastels
Balasubramanian looks so regal here, and proves that two patterned pieces can go very well together with similar color themes (in this case, pink). The flawless purple lip achieves and surpasses all of my pastel goals.
2. Bold Prints And Lips
They both look great here, but Vaid-Menon's bright get-up certainly steals the show. Their vivid mixing of florals (down to their bowtie) is so fun. I especially love the bolder pleated skirt. Vaid-Menon's pastel lip complements the blues in the floral patterns, while also proving they're an expert at rocking a blue lip.
3. '90s Hipsterism At Its Best
They both look so '90s here, each rocking graphic tops with black and white accent pieces. Again, Balasubramanian rocks the fancy young businessman shoes I adore, while Vaid-Menon continues to kill it in platform high top sneakers.
4. Grandma Chic
Vaid-Menon's layering of graphic leggings, a long striped top, and a collarless blazer is further proof that they've perfected the art of layering and mixing patterns.
5. That Jumpsuit, Though
They rock the hell out of earth tones, too! Balasubramanian in a delicate small print sleeveless frock, and Vaid-Menon in a green and white romper I would kill for. Vaid-Menon breaks out the purple lip for this one, and the look is impeccable.
6. Quintessential Grunge Vibes
Here Vaid-Menon is rocking the coolest denim/romper/suspenders hybrid. The bright orange in their top complements the blue-green shade on their lips. And there's no better statement piece than a collar, am I right?
7. Embracing Their Roots
Balasubramanian and Vaid-Menon go back to their roots, rocking more traditional Indian ensembles. Balasubramanian's hair is perfectly coiffed and voluminous here, while Vaid-Menon pairs gold nose jewelry and earrings with their floral frock.
8. Gender Non-Conforming Promwear
Vaid-Menon's "gender non-conforming prom" look makes me wish I could go back to senior year of high school for a moment to do it right. I just love the wide leg trouser and those amazing zigzag platform shoes. And what better way to tie the look all together than with a pastel lip?
9. Taking Brooklyn By Storm
This was the day of their amazing performance at the Brooklyn Museum — a performance I was lucky to be present for. Looking dapper as hell for the occasion, they're both rocking their signature florals. Balasubramanian is sporting a fresh cut and my favorite shoes. Their black and white floral button-up perfectly complements their formal black shorts. Vaid-Menon pairs their very fancy floral getup (those structured shoulders are everything) with a more casual white platform sneaker and a matching white manicure.
Images: Dark Matter; Hari Patel/Flickr; darkmatterpoetry/Instagram