The Truth Behind 'Clueless' Most Iconic Outfits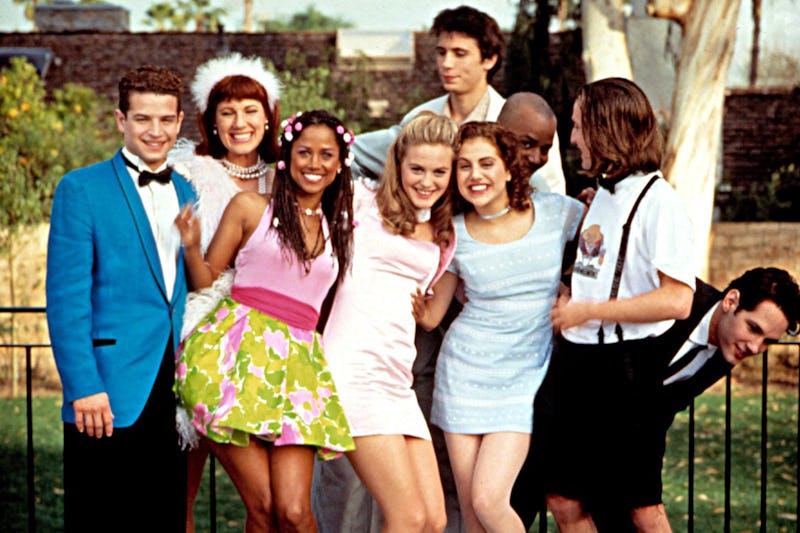 Whether you're fashion forward or "ensembly challenged," there's no denying the impact that Clueless has made on so many wardrobes in the last two decades. Director Amy Heckerling and costume designer Mona May revealed the inspiration behind Clueless outfits to Vanity Fair in celebration of the film's 20th anniversary. While some of the film's iconic costumes came straight from the runways, others have a much more interesting back story. Even more amazing is the fact that the filmmakers had a truly positive vision for creating the fashion for Cher, Dionne, and their Beverly Hills High crew.
"I wanted the movie to have a fresh innocence," Heckerling said. "Not, 'Hi, I'm 15 and I'm in five-inch heels and here are my breasts.' I find that repulsive." To make Cher's world come to life through her high-end wardrobe, Heckerling and May looked to various sources of inspiration. What they created became a major part of the movie's appeal and one of the reasons, along with its killer soundtrack and quotes, why Clueless has remained so timeless.
"It was about taking fashion from all different sources and predict what would be on the street six months ahead, like a fashion designer would," May said. One of Cher's favorite clothing items (worn by several characters throughout the film) was even inspired by another Hollywood classic.
"Over-the-knee socks remind me of the 1920s, silent films, and the stars of the era who wore the rolled-down stockings," Heckerling said. "They sort of referenced that in Cabaret, when Liza Minnelli was singing 'Mein Herr,' and I love the way she looks in that scene." Another unlikely source of fashion inspiration for Clueless? Raves. Heckerling credited club kids for influencing some of the movie's key garments.
"Hats are a thing that are really stylish, but you have to have the confidence to pull it off. And Cher and Dionne do," she said. "At the time there was that rave culture, where for a brief moment in time people were being more creative with their clothing. And you would see a lot of crazy hats at raves—like a top hat or Dr. Seuss hat, and Mona found a way to make them stylish."
For more Clueless fashion secrets, like why Dionne's skirt was shorter than Cher's, visit VanityFair.com.
Image: Clueless