How To Rock The White & Beige Trend In +Sizes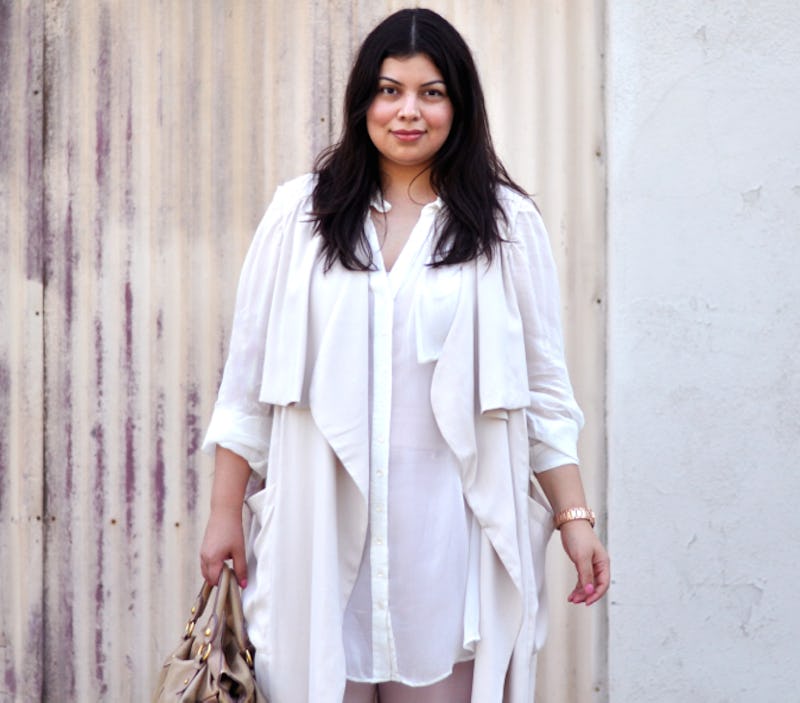 Though there are some things about my personal style that remain untouched (I will always ride for a vintage '90s floral dress), I'll admit that I am seriously into trends. And as far as I can tell, my favorite summer 2015 trend is the never-ending wonderfulness of white and beige clothing.
I know, I know: Trends are silly, trends drastically reduce the size of your bank account for only a brief period of wearability, trends don't really reflect your personal style. I've heard it all before. The fact of the matter is, I don't care. For me, following and obsessing over trends is like being a fairweather sports fan: I am 100 percent here for it while it shines. When it starts to lose, I just stop paying attention to the game.
And there's something else: This particular trend is personal. Wearing white (or light colors in general) used to be considered one of those plus size dressing rules that women shouldn't break. In university, I once wore a white dress and was told by a middle-aged woman that it made me look "expansive." A few years ago, I remember Googling "why fat women shouldn't wear white," and coming up with endless results about "why white doesn't flatter your body." It's not all bad news, though: Today, I Googled the same thing and only found links to articles telling plus size women which rules they should break. However slowly, progress is being made. Chin chin, ladies.
So, how easy is it for plus size women to access this trend for the summer? Well, one thing I will say is that it's not exactly easy to find pieces that are equally fashionable, of good quality, and affordable. In fact, I'd contend that most of the white and beige plus size clothing I've found is on the expensive side. While it's not ideal, some of these pieces are so killer that it might be worth the investment. If not, it's only a matter of time until slightly being to see more affordable options on the market.
First, let's discuss what's great about the white and beige look...
I first realized that I was fully committed to this look after I saw this Instagram from former Lucky Editor-in-Chief Eva Chen. Her white pants and beige/peach accessories really illustrate what I think is so versatile about the look: You can include a lot of different interpretations of the word "beige." Tan, dusty peach, greige, or light blush could all be contenders. This is great for people who don't like to have or buy a lot of the same colors in their wardrobe. And, if you're the matchy-matchy type, that totally works, too.
Which plus size women are wearing it?
There are two plus size bloggers who come to mind when I think about this trend, and the first is the flawless Jay Miranda. I love how subtle the difference is between the sleeveless trench and the white button down, and the light pink pants add a lot of charm to the look. This is a classic example of why it's so important to see clothing on real people instead before you dismiss it on a hanger: I would have never bought these pieces off a rack, but when I see them here, I know for a fact that I would absolutely wear the entire outfit.
Another blogger who is killing me softly with her white and beige song is Kellie Brown of And I Get Dressed. I love the bright pop of color on her shoes, and the dress/bag combination is wonderfully simple and perfect for a hot summer day. Kellie is skilled at rocking minimal looks with light neutrals, so if you're into this, you should definitely give her a follow.
Now that you've seen it executed by the pros, here are some of my ideas about how to get this look yourselves.
Tops
I love the modern, longline interpretation of the preppy, polo-inspired colored shirt on the left, and might even consider wearing it as an extremely short dress on days that I don't have to worry about exposing my flesh to the plastic on the train seats. The maxi shirt in the middle is a fresh take on the side-split maxis we've been seeing for months, and the mesh shirt on the right would basically look great with everything in my wardrobe.
Asos Curve Longline Polo Blouse, $51, ASOS | Eloquii Cross Front Maxi Tee, $70, Eloquii | Asos Curve T-Shirt in Stripe Grid Mesh, $36, ASOS
Co-Ordinate Sets
I love matching my tops to my bottoms, and these two ideas are pretty amazing. I don't know how well I'd fare in an all white suit, but I'd like to think that I'm the type of woman who wouldn't spill wine/coffee/cheese sauce on herself while wearing it. I'm also loving the faux suede finish of the coordinate set on the right.
Jessica London Tailored Vest Suit, $119, Jessica London | Missguided+ Faux Suede Midi Skirt & Crop Top, $86 for the set, Missguidedus
Bottoms
Wearing white on the bottom half of your body used to be the Number One Fat Girl No-No. All I'll say about that is, I'm glad we live in different times now, because I would love to have each and every one of these pieces in my closet.
Eloquii Studio Open Knit Midi, $99, Eloquii | Asos Curve Wide Leg Pant with Origami Pleat, $63, ASOS | Jibri High Waist Flare Skirt, $120, Jibri Online
Summer Jackets
You might recognize the sleeveless trench on the left: That's because it's the same one that the lovely Jay Miranda wore in her above Instagram post. It's basically the most perfect summer outerwear imaginable, and the option on the right is pretty great, too.
Open Front Sleeveless Trench Coat, $129, Nordstrom | Plus Size Stretch Crepe Sleeveless Blazer, $60, Missguidedus
Dresses (And A Romper)
A dress or romper is a great way to mentally check out of the dressing process: Just put it on and get out of your house so you can start shining. These three looks are all totally unique and easy to style up with some great beige accessories.
Asos Curve Dress in Stripe Grid Mesh, $73, ASOS | Charlotte Russe Plus Size White Romper, $33, Charlotte Russe | Jibri Sleeveless Scoop Neck Maxi Dress, $170, Jibri Online
Accessories
Though it's certainly not always true, the majority of the time, this trend is done by dressing in head-to-toe white with a variety of beige, tan, or dusty peach accessories. If that sort of look suits your fancy, you might be into one or two of these. If not, there are a ton of options out there.
Clockwise from top left:
Madewell tote, $168, Madewell | Asos Foster Leather Flat Sandals, $40, ASOS | Faux Suede Avarca Sandals, $20, Forever 21 | Round Edge Tassle Detail Clutch, $46, Missguidedus
If you love these looks, don't be afraid to experiment for yourself. If nothing else, the world needs more plus size women breaking arbitrary fashion rules. And as you can see, we totally look good doing it.
Images: Courtesy Jay Miranda; Courtesy Brands; Giphy (1); evachen212, itsmekellieb, pinklip/Instagram