The 'A Deadly Adoption' Cast Is Top-Notch, So Get Ready For Your New Favorite TV Movie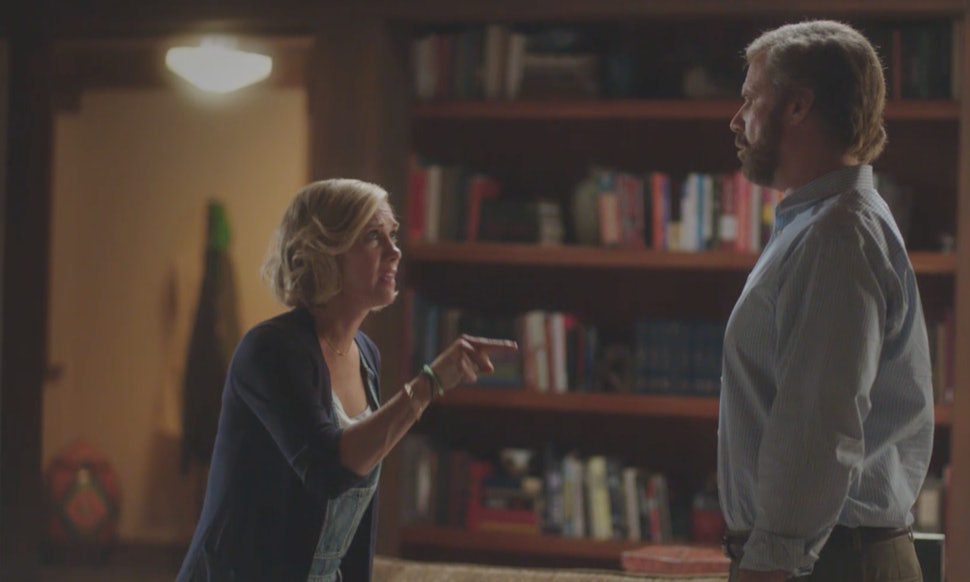 So, what is A Deadly Adoption, exactly? A Lifetime Channel original movie that happens to star two A-list actors? Or a parody of the network's past original movies? The TV movie, premiering Saturday night at 8 p.m., appears to blur the lines between these two possibilities, resulting in what appears to be the most committed, straight-faced pastiche of all time. But no matter how it's classified, one thing that cannot be disputed is the collective awesomeness of the A Deadly Adoption cast
Starring Will Ferrell and Kristen Wiig, the TV movie is "a high-stakes dramatic thriller about a successful couple who house and care for a pregnant woman during the final months of her pregnancy with the hopes of adopting her unborn child."
Before we dive head-first into this incredible "true story" this Saturday night, take a look at what other familiar faces you can expect to pop up and deliver saccharine monologues or steal somebody's baby. Or both.
Image: Lifetime
Will Ferrell
Ferrell stars in A Deadly Adoption as Robert Benson, one half of an unsuspecting couple that embarks upon a, well, deadly adoption. You may know him from such underrated indie cult films like Austin Powers, Zoolander, Old School, Elf, Anchorman, Wedding Crashers, The Producers, (pause for breath) Talladega Nights, Blades Of Glory, Step Brothers, The Other Guys, The Internship, The Lego Movie, and Get Hard. Oh, and seven years on a little show called Saturday Night Live.
Image: Lifetime
Kristen Wiig
Wiig studied at the Lorne Michaels School of Comedy from 2005 until 2012. Previous credits include small passion projects like Knocked Up, Bridesmaids, The Secret Life Of Walter Mitty, The Skeleton Twins, and of course, Her, in which she played the meaty role of SexyKitten (voice only). She previously shared the screen with her co-star Ferrell in the 2013 production of Anchorman 2: The Legend Continues.
Image: Lifetime
Jessica Lowndes
Lowndes stars as the expectant mother who brings, not just a baby, but danger into the lives of the Benson family. She's most famous for her role as Adrianna Tate-Duncan in all 114 episodes of The CW's 90210 . She has plenty of experience in the thriller genre thanks to roles in horror movies like Autopsy, Altitude, and The Devil's Carnival, an episode of Masters Of Horror, and — no joke — a Lifetime Channel original movie called A Mother's Nightmare, in which she played a vindictive girlfriend opposite The Flash himself, Grant Gustin. She is also supposedly set to appear in a movie called Larry Gaye: Renegade Male Flight Attendant which, you know, just can't be a real thing.
Image: Lifetime
Alyvia Alyn Lind
Seven-year-old Lind has somehow amassed an impressive 15 credits, including A Deadly Adoption, in the two years that she's been acting. Her first role was as "Young Daughter" in the Keri Russell alien flick Dark Skies. She plays another young daughter in Amazon's Transparent. She played a traumatized young daughter in eight episodes of Revenge. And she played Adam Sandler's young daughter in last year's Blended. And now she's playing Ferrell's and Wiig's young daughter. Lind's agent seriously needs to work on breaking his client out of this box Hollywood has type-cast her into.
Jake Weary
Like many young, good-looking actors in Hollywood, Weary got his start on a soap opera, acting in 58 episodes of As The World Turns as Luke Snyder. (When he decided to leave the show, the character was recast and immediately came out and became famous as one half of the soap opera's first gay supercouple, "Nuke." Bad luck, dude.) More recently, Weary starred in last year's acclaimed indie horror film It Follows and guest starred in four episodes of ABC Family's Pretty Little Liars. Interestingly, this won't be his first time appearing onscreen with his Deadly Adoption co-star Lowndes: they both starred in the 2010 direct-to-video horror movie Altitude.
Brooke Lyons
Lyons has appeared in at least one episode of pretty much every show on TV, including That's So Raven, Desperate Housewives, Royal Pains, The Crazy Ones, Psych, Two And A Half Men, and Anger Management. Her longest stint was as Peach in six episodes of Season 1 of CBS's 2 Broke Girls. But Lyons also has an abiding connection to Deadly Adoption's two headliners: she studied with The Groundlings, the same L.A. improv troupe that Ferrell and Wiig were both members of before moving to SNL.
Bryan Safi
A Deadly Adoption may be the first time you see Safi on your television screen, but you've likely been exposed to his work before. He's most famous as a writer, having penned countless sketches for Funny Or Die and even winning an Emmy for his work on The Ellen DeGeneres Show. He's also the creator and host of a segment called "That's Gay" on the channel Current TV, which earned him a spot on Out Magazine 's 2009 "Out 100" list.
Debra Christofferson
Christofferson has over three decades worth of credits on her resumé, including films like Changeling and White Oleander and TV shows like American Horror Story, Grey's Anatomy, Carnivàle, and The X-Files — but I'd really like to focus on two titles here that really stood out to me: 1997's MouseHunt and 1999's Wild Wild West.
These are really two touchstones of American cinema. In the former, Nathan Lane battles an adorable mouse. In the latter, Will Smith battles mechanical spiders. Now, thanks to A Deadly Adoption, we finally know what these two gems have in common: one Debra Christofferson. Fingers crossed that this parody will be half as hilarious as either of those classics.