I Tried Men's Products & Here's What Happened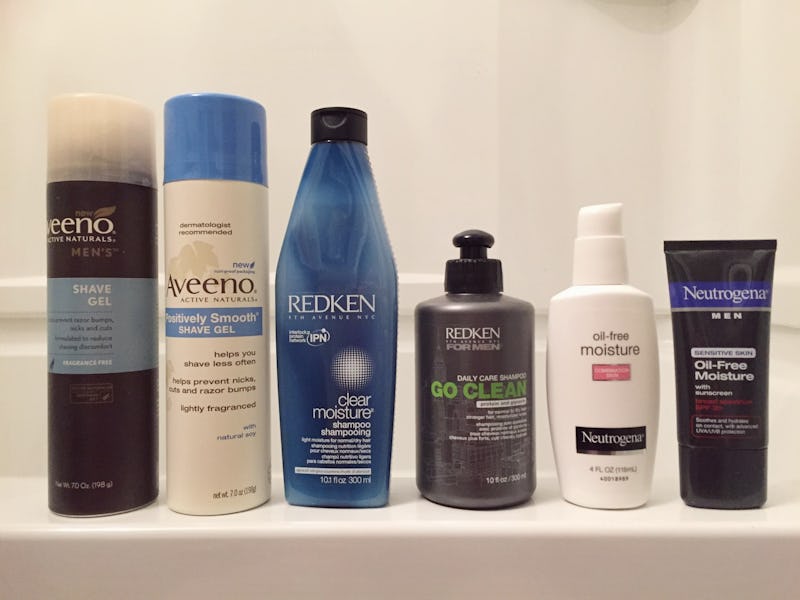 When my boyfriend spends the night, he's treated to four-star accommodations, including high-end night cream, salon-brand shampoo, and just about anything else you'd find stocked at a major drugstore. When I stay at his place, the pickings are slim. Two-in-one shampoo and conditioner is my only option in the shower, bulk-size body lotion is my best bet for moisturizer and men's shaving cream leaves me smelling like a bottle of cologne (and not the woodsy, unisex kind). But at the end of the day, aren't men's and women's beauty products the same? If you take away the boys-only packaging and hot-pink bottles, wouldn't you find nearly identical ingredients that do nearly identical things? Yes and no.
Dr. David Colbert, founder and head physician of New York Dermatology Group, and Dr. Rachel Pritzker of Chicago Cosmetic Surgery and Dermatology weighed in and confirmed my preliminary thoughts.
"Much of the difference between men's and women's products is purely how it's marketed," Dr. Colbert said. "Colors and shapes of bottles to attract their attention and, of course, fragrance: Leather and musk may grab men versus flowers and fruit for females. There are a few exceptions, but ingredients are predominantly similar."
But not all skin is created equal. Dr. Pritzker explained that men's skin naturally produces more oil, which can account for severe acne, larger pores, and dandruff. And because men have thicker facial hair, they spend a lot more time shaving their faces. (Hey, it sounds easier than childbirth.)
These biological differences make men and women crave different end results when they reach for skincare products. While many women scan products for anti-aging ingredients (think retinoid and antioxidants), men often gravitate toward products to help tame oily skin and replenish cells from shaving.
In the name of science and shackers everywhere, I put men and women's products head-to-head to see if these theories stacked up. Here's what I found.
Shaving Cream
Men's: Aveeno Active Natural Men's shave gel
Women's: Aveeno Positively Smooth shave gel
Aveeno Positively Smooth shave gel, $24, Amazon; Aveeno Active Natural Men's shave gel, $15, Amazon
There are a few surface-level details that make these products different. The women's shave gel is formulated with soy complex and promises to help you shave less often, while the men's formula boasts soothing oatmeal and promises to reduce shaving discomfort.
Here's the thing though: These products are basically the same. They smell the same, feel the same and get the job done whether you're shaving your face or legs. Both gels left my legs feeling smooth and moisturized, so I'm chalking this one up to marketing.
Verdict: Double the shaving cream for me!
Shampoo
Men's: Redken Go Clean Daily Care Moisturizing Shampoo For Men
Women's: Redken Clear Moisture Shampoo
Redken Clear Moisture Shampoo, $16, Target; Redken Go Clean Daily Care Moisturizing Shampoo For Men, $23, Amazon
Both products promise to strip away dirt and leave hair feeling moisturized and refreshed. While neither fell flat, there were a few major differences I couldn't ignore. The men's shampoo smelled very manly, like a straight-from-the-bottle sniff of cologne. I'd love to catch a whiff of it on a guy, but I wasn't too fond of the fact that it lingered in my hair for days.
But here's the biggie: The ingredients in each shampoo are different and quite noticeable over time. Both have glycerin, which adds moisture and shine to locks. However, the women's shampoo boasts apricot oil and glucosamine (another moisturizer) while the men's product is formulated with protein. Maybe guys enjoy the stripped-down, super-clean feeling they get with this shampoo, but I needed those extra oils in the women's shampoo to replenish my curly hair and prep it for heat treatment.
Verdict: I'm donating this one to my boyfriend's shower, but I wouldn't hesitate to use it in a pinch.
Face Lotion
Men's: Neutrogena Men Sensitive Skin Oil-Free Moisture
Women's: Neutrogena Oil-Free Moisture for Combination Skin
Neutrogena Men Sensitive Skin Oil-Free Moisture, $10, Amazon; Neutrogena Oil-Free Moisture for Combination Skin, $13, Amazon
The most noticeable difference between these oil-free moisturizers is consistency. The men's formula is thick and not easily absorbed—a lot like sunscreen—while the women's is creamy, smooth, and totally blendable.
Despite their gender-specific packaging, I was pleasantly surprised that the men's formula didn't make me smell like a teenage boy. The major difference here is SPF power. The men's lotion offers SPF 30, which is awesome for everyday wear. Not so much if you're getting ready for bed. Moisturizer is a huge part of my nighttime routine, so there's no way I could use the men's formula before bed.
Verdict: It's already in my purse. As far as SPF-filled face lotions go, this one gets two thumbs up despite its boys-only label.
So, Should You Be Reaching For Men's Beauty Products?
Dr. Colbert said he recommends using your nose rather than your eyes when looting your man friend's medicine cabinet.
"Women tend to have more sensitivity to fragrances," he said. "Men have thicker skin and are more resilient to aggressive ingredients and perfumes. Therefore, I'd recommend women stay away from men's products that are heavy on scent."
And while you may not want to share your $50 face cream, there are two products Dr. Pritzker recommended all couples share.
"Daily sunscreen and moisturizer—the need for both of these products is the same for men and women," she explained. "Women may desire a thicker, more emollient product, but men should be encouraged to use this every morning."
So, what have I learned from my experiment and the doctor's orders? You may want to skip out on your man's shampoo, but don't be afraid to slather on his skincare goods.
Images: Author's Own