Your Before Bed Beauty Routine Just Got Revamped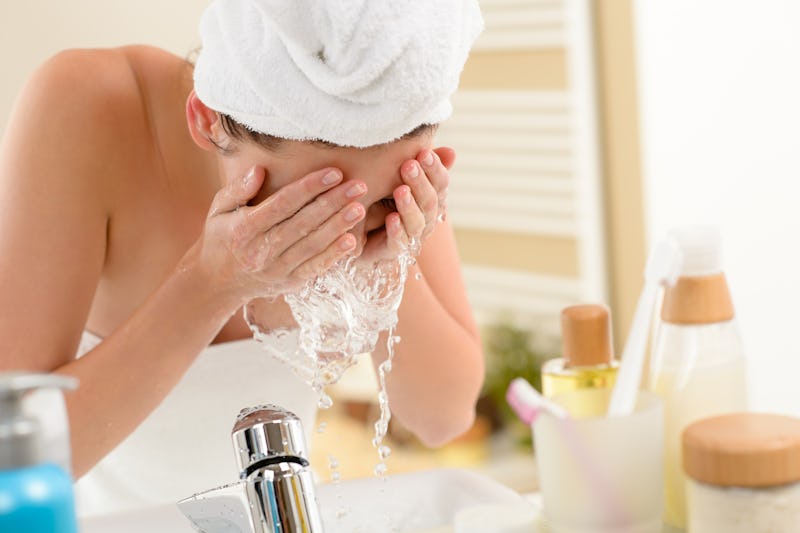 At the end of the day, the last thing I want to do is think. After a long eight hours of work, meetings, running errands, and listening to my phone ding every five minutes, all I want to do is wear stretchy yoga pants, have a cup of tea and watch the latest episode of Keeping Up With The Kardashians with hopes of spotting Kanye. Those three things are guaranteed to have me asleep and drooling within an hour. But considering that studies have shown that what you do before bed has a major impact compared to other times of the day — from your ability to retain info to your tendency towards anxiety — one should also consider their beauty routine. Because when you finally hit your head to the pillow and close your eyes, your mind may sleep into unconsciousness but your body still functions. Thus, the creams you apply and the exfoliation you do before you call it a night can have a major effect on how you look in the morning.
Instead of sleeping in your makeup whilst letting the face mask rot in the back of your bathroom cabinet, develop a beauty routine to benefit your skin, oral health, and overall beauty habits. While your soft, comfortable, cloud-like bed calls your name, resist the temptation and implement a few steps into your nightly routine. Whether it's simply applying hand cream or even flossing, your body still soaks up creams and appreciates clean gums even when you're busy sleeping and dreaming of Ryan Gosling. Even if such a beauty routine keeps you from your bed for a few minutes, you're guaranteed to be feel refreshed in time for a good night's sleep.
While everyone might not be much of a sleeping beauty, preparing for bed with a routine — whether it includes all of these steps or just a few — not only reaps many physical and psychological benefits, but is also super easy to do. So here are seven steps to your new bedtime beauty routine.
SPOILER: Prince Charming not included.
Step 1: Remove Your Makeup
If there's one thing you should do before bed, it is washing your face free of makeup. Sleeping in your makeup can clog pores, make you break out, and just make you regret being lazy the night before and not taking three minutes to remove all your foundation and mascara. No matter how sleepy or tired you may be, using a makeup remover, wipes, or a gentle cleanser to wash away all that gunk will be worth it. Plus, this way your sheets will stay clean. And who doesn't love clean sheets?
Step 2: Tone
Toning your skin after you cleanse is something that may seem useless and redundant, but is actually is very beneficial. Lots of toners contain ingredients that are anti-irritants and get rid of redness. In addition, toners can not only pick up any dirt left behind after cleansing, but also renew skin and get rid it of dead skin cells already on your face. Toners can be tingly and refreshing, and are perfect in preparation for the next step.
Step 3: Moisturize
Moisturizing may or may not be the most important part of your bedtime routine. While it's arguably as important as removing your makeup, the two go hand in hand. Once your face is clean of heavy makeup and refreshed with a toner, your skin is craving some moisture. Reaching for your favorite everyday moisturizer is fine, but night is the time to lather on the thick stuff. Whether it's specifically catered to nighttime use, or is just a thicker cream that focuses on lightening dark circles, reducing fine lines, or diminishing wrinkles, the ideal time to apply them is right before bed.
Step 4: Draw A Foot Bath
While it's easy to neglect your feet, they're equally as important as everything else you pamper when it's time for bed. One of the most relaxing things, at least for me, is to dip my feet into some warm water, wash and exfoliate them with some sweet-smelling soap, and moisturize them with thick cream before finally wrapping them in soft, cozy socks. Doesn't that just sound heavenly? The thick skin on the bottom of your feet is prone to roughness and cracking when they aren't taken care of, so make sure to be on your foot-game.
Step 5: Brush & Floss
This one is a no brainer. It's easy to slack on brushing and flossing during the day, especially when mints and gum easily make your breath smell like a peppermint breeze. Although, nothing is as good for your oral health as a thorough brush and floss at the end of the day.
Step 6: Exfoliate Your Lips
After brushing your teeth, your lips are almost guaranteed to be tingling from the toothpaste. They need to be shown a little love. Exfoliating your lips at night will leave them plush and moisturized in the morning, and you'll have already prepped them for the next day's lipstick as well. Invest in a scrub from brands like Philosophy or LUSH, or even make your own. Scrubbing thick sugar on your lips may seem strange, but it is recommended to help chapped and dry lips. This might be a lot for every night, so on the nights you're looking for something more low key just apply a soothing chapstick.
Step 7: Sleep
Rejoice! The moment you've been waiting for has finally come. Now that you've moisturized, brushed, and toned, it's time for beauty sleep. But before you hit the hay make sure your sleep schedule is set, because there are many pros to determining how long you need to sleep to feel energized and ready for the day to come. If you have trouble falling asleep, developing some kind of a evening routine (including this one) might be beneficial. Using a silk pillowcase should also help you fall asleep, and leave your face and hair smooth and crease-free come morning.
By this time in the evening you're probably craving some rest. And now that you've put so much effort into preparing for it, it will be well worth it.
So snuggle up under your covers and enjoy your snooze. After all that hard work, you deserve it!
Images: Fotolia; Giphy