This Instagram Will Restore Your Faith In Romance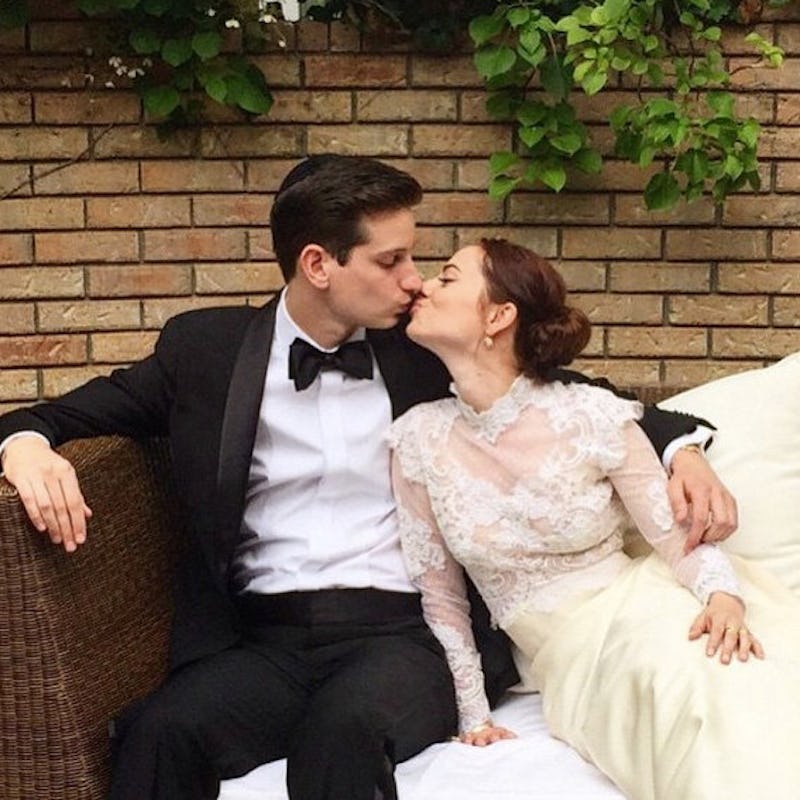 Almost every couple is asked "So how did you did you two meet?" at some point in their relationship. Now the new Instagram account The Way We Met is documenting these stories from all sorts of couples — and they're so good, they're going viral. They go way beyond simple "meet-cutes"!
The account was started just two weeks ago by Brooklyn Sherman, a native of Los Angeles who is a sucker for a good "how we met" story. She started by asking people in a Facebook group of which she's a member if any of its other members were in a serious relationship — and if so, whether they would share the story of how they met their significant other. The stories came pouring in quickly. "I realized there were too many great stories and I didn't wanna keep them to myself," Sherman told Cosmopolitan, "so I started the Instagram as a way to put these stories back into the world and give people hope that there is someone for everyone and you will find them!"
Sherman herself isn't in a relationship, and as The Huffington Post notes,"The single folk among us might initially think it's a bit cringe[worthy]." But, she remains hopeful about her love life and shared a story with Cosmopolitan about one such single who found herself sad looking at stories on the account at first — but who was soon changing her tune. "There was a woman who told me she wouldn't follow my Instagram because it was too depressing, but then the next week, she met a guy and started falling so hard for him, and now she loves the account. It's really inspiring to people," she said.
On her website, she says that she believes social media has become the downfall of dating, with too many options leaving us all unsatisfied. "Social media has made it hard for us to commit to one person because we are overstimulated with alternatives. One swipe to the right is all it takes to replace one pretty face with another," Sherman writes. She also cites studies that have found that social media has left us feeling anti-social and more alone than ever before, like this 2013 study from the University of Michigan that found the more time people spent on Facebook, the less happy they were.
The Way We Met Instagram account has quickly gained international attention, with media outlets flocking to report the story. As a result, the Instagram profile now has over 10,000 followers and counting. There are so many inspiring stories to share from the account; here are five of my favorites. Head on over to The Way We Met for more.
1. The Old Friends Who Reconnected
I love how this couple met in high school and not only reconnected in college, but also discovered that their dads were former college roommates! The world really is smaller than you think.
2. The Unusual Facebook Encounter
It's amazing how just a happenstance friend request turned into a long-term relationship. Maybe social media can bring us together after all?
3. The High School Sweethearts Who Got a Second Chance
I always think it's so cute when couples have been together since high school, or even before then. These two met in the fifth grade and dated in high school, but grew apart. After both ending up in the same city years later, they reconnected and fell back in love. Aww.
4. The Random Street Encounter
Normally I scoff when someone approaches me in public to ask me out; this story, however, proves that some chance meetings can end in wonderfulness.
5. The College Crammers
Finals season is normally the last time I'd be thinking about dating, but I can see how such an intense experience could be the perfect time to bond with someone else going through it at the same time.
If you want to read more of the 30-plus stories shared so far on The Way We Met, make sure to follow the account on Instagram.
Images: The Way We Met/Instagram (6)