14 Shop Jeen Pieces So Outlandish They're Great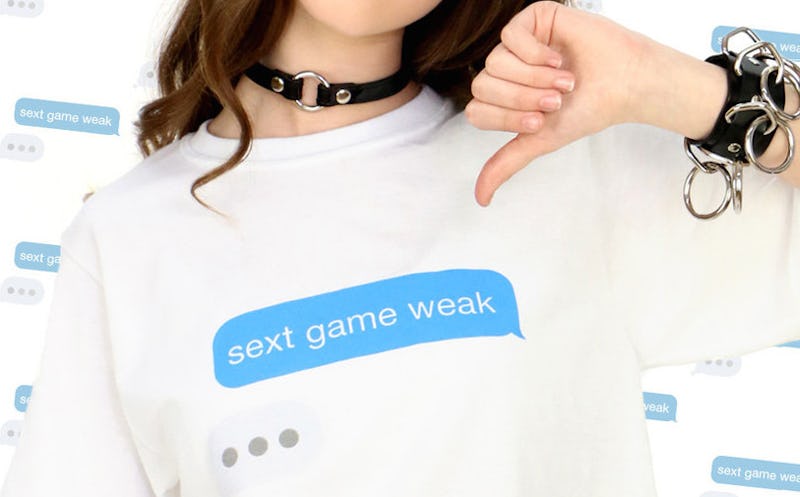 I'm comfortable with my age, but nothing makes me feel super old more than going to Shop Jeen. Although the brand has some fun and funky pieces that I would rock the hell out of, it also has items that will make you clutch your pearls in horror. If you're not familiar with the edgy e-commerce site, feel free to click over there now so you can acquaint yourself — I'll wait. That uncomfortable feeling you get when you scroll through the site, that modern-day Gummo -meets- Kids vibe, might have to do with the baby-faced models — who were probably all born well after Clueless came out — posing suggestively in cringe-worthy bucket hats, thongs, and crop tops decorated with overt sexual suggestions.
Like an updated Spencer's for the emoji generation, Shop Jeen echos the ethos of the ubiquitous off-color mall mainstay that most of us frequented in our tween and teen years. I remember hiding in the back of the store with my girl friends, giggling as we threw packages of edible underwear, naughty dice, and rude baby tees at each other. But now, instead of embarrassing each other in person, teens are posting links on their friends' Facebook walls or tagging them in Instagram posts on Shop Jeen's widely-followed account. One scroll through the page confirms my assumptions. The more things change, the more they stay the same.
I won't even lie; if I was 15 I'd most likely be buying sassy t-shirts and whatnot from Shop Jeen too, as evidenced from this photo of my teenage self. Yes, my hair is in Princess Leia/Gwen Stefani double buns. Yes, the words are made of tiny pink crystals. And yes, that's a candy necklace.
(I honestly can't believe my parents let me out of the house in this.)
If you're looking for 24K gold rolling papers, pizza-shaped pool floats, and vibrators disguised as lipsticks, all in one place, then Shop Jeen is your dream website come true. If you've read this far and are truly horrified, then steady yourself, because I pulled together a curated list of the most outrageous, very NSFW, might-give-your-Granny-a-stroke pieces that you can purchase at Shop Jeen.
1. Every Father's Worst Nightmare
Come Here Daddy Crop Top, $26, Shopjeen.com
2. Tells The Aliens Exactly Where To Land
Space Bitch Leggings, $63, Shopjeen.com
3. Just In Time For Father's Day
Hot Dads Thong, $14, Shopjeen.com
4. I'm Disappointed They Don't Light Up
Holo High Cyber Sneaker, $228, Shopjeen.com
5. The Answer Is: Better Than That Face He Is Making
Ask Your Boyfriend Tee, $21, Shopjeen.com
6. This Is What I Imagine Entering Heaven Is Like
Cat Galactica Sweatshirt, $46, Shopjeen.com
7. Finally, An Option For Short Ravers
Qozmo Lo Rainbow Platform Sneaker, $100, Shopjeen.com
8. Heading To A Kwik-E-Mart Near You!
Thank U Cum Again Crop Top, $26, Shopjeen.com
9. You Shouldn't Be Permitted To Buy This Bag If You Never Sat Through The AOL Dial Up Sound
Windows 95 Backpack, $52, Shopjeen.com
10. Subtle
Vajazzle Crystal Tattoo, $5, Shopjeen.com
11. The One Shirt To Destroy All Dress Codes
I Have No Tits Top, $36, Shopjeen.com
12. That's One Way To Show Your Appreciation
Thanks for Eating Me Out Tee, $21, Shopjeen.com
13. Avoid Carpel Tunnel And Wind Up On An FBI Watch-List, All At Once
Dat Booty Mouse Pad, $23, Shopjeen.com
14. Why Visit The Red Light District When You Can Bring It To You?
Pleasure Seeker Leggings, $100, Shopjeen.com