Usain Bolt Stops By 'The Voice'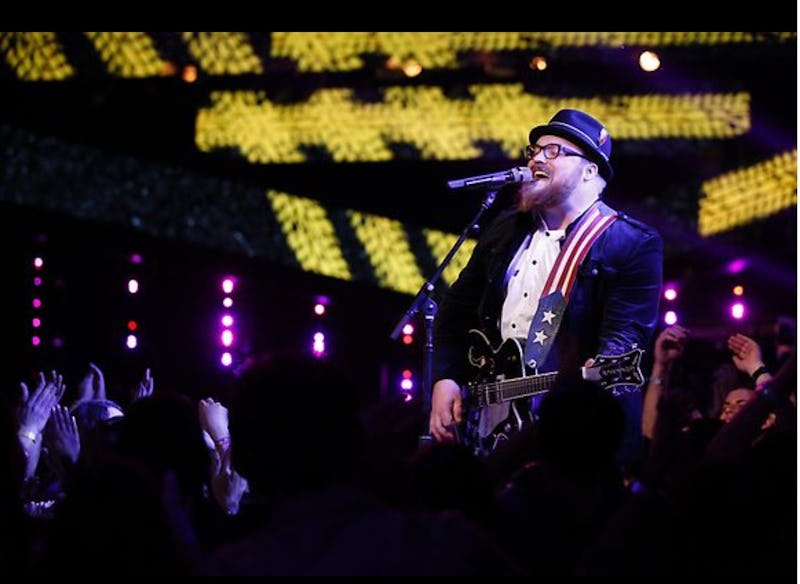 Last week, we lost two singers on The Voice. This week, we will watch the top 10 continue to compete for The Voice crown. Wait, no. There isn't a crown. There should be a crown. Christina Aguilera and Cee Lo Green could be in charge of designing it. Blake Shelton could weld it or whatever. (That seems like something he'd know how to do.) Adam Levine could model it. He'd look so cah-yoot! Carson Daly could get super stressed out over handling it. Yep. There should be a crown. But I digress. Tonight's show! I mentally divided the competitors into two groups of five: The performances I "Liked A Lot" and the performances I "Liked Just Okay." The following are the five that I "Liked A Lot":
TEAM BLAKE
Austin Jenckes singing "Your Love": This was wonderful throughout, but I was worried it was too mellow of a performance to stick in the voters' minds. However, the song brewed to an epic climax. YOWZERS, did he go nuts on the ending. Xtina commented that he did a great job slowly building to a big moment, and I totally agree. The ending was such an awesome surprise and really, really elevated the performance. Austin has a phenomenal voice.
TEAM XTINA
Jacquie Lee singing "Clarity": During her coaching session, Xtina took Jacquie Lee to a private yoga lesson. You don't even understand how envious I am of Jacquie Lee. "Yoga with Xtina" is on my bucket list. Oh, I didn't have a bucket list until I saw this episode of The Voice. I remedied that IMMEDIATELY. Jacquie Lee's performance? It was incredible. It was a more vulnerable, less witchy performance, but she killed it. All of the coaches remarked she sounded a little uncertain at the beginning, but they conceded that she crushed it regardless.
Matthew Schuler singing "Beneath Your Beautiful": Xtina and Matthew yoga'd as well. UGH. Seething with jealousy over here. This performance was very cute. He interacted with the crowd a little, which was fun, and his voice sounded great, per usual. When the song started, his voice sounded like it was in unfamiliar territory, but not in a bad way. I like hearing the singers work in ranges we're not used to hearing them in. Was it my favorite Matthew performance? No. The intense drama of "Hallelujah" was more my speed. But did I think tonight's performance was amazing? Of course.
TEAM CEE LO
Caroline Pennell singing "Leaving On A Jet Plane": Okay. This might've been my favorite Caroline performance. It was so nice. I really liked the kitschy backdrops and the smoke machine, too. Kudos, set designers! Caroline showed off a different, fuller part of her voice that I don't think we've heard before. Dug it a lot. Cee Lo commented that he hopes she continues to open up more with her voice. Yeah!
TEAM ADAM
Tessanne Chin singing "If I Were Your Woman": A Gladys Knight & the Pips song for Tessanne was an A+ choice. Before I comment on the actual performance, I must address the light fixtures. I couldn't take my eyes off of them. Kudos again, set designers! As for Tessanne's actual performance? I love, love, LOVED it. I wouldn't be mad if Tessanne did an entire album of Gladys Knight covers. She just sounded so strong singing that song. Hot dang dagnabbit (hey, everyone! I'm Blake Shelton), she can't be stopped.
HIGHLIGHT OF THE NIGHT
Usain Bolt was in the audience showing his support for Tessanne! Aww. Very sweet. But that's not all. At one point, Bolt joined Carson in the Sprint Skybox and Carson challenged him to a footrace. In the teeny, tiny Sprint Skybox. I was not ready for that one.
Image: Trae Patton/NBC