6 Tips For Selling Your Plus Size Clothes Online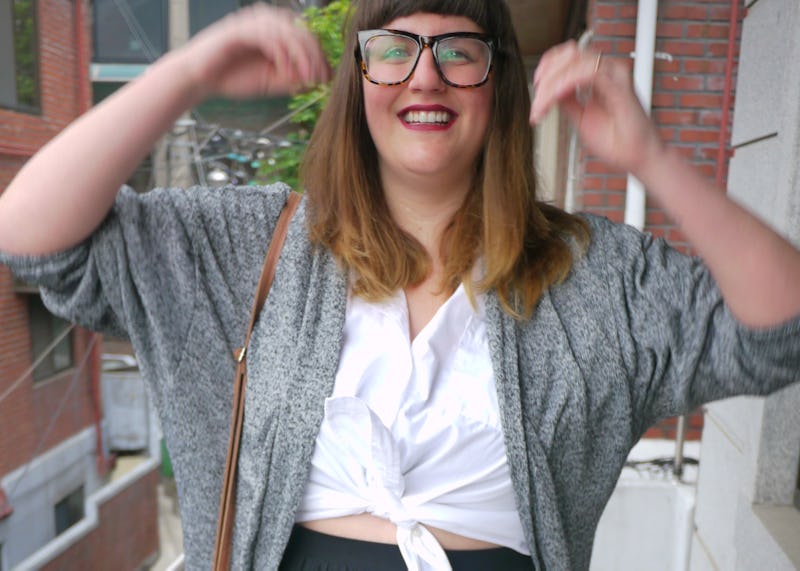 I'll admit it: I like to shop more than I like to do most other things: I'm the kind of person who likes to have an ever-changing variety of items in my wardrobe, so I shop a lot. Since I don't like letting ignored clothing go to waste (and I don't have a trust fund), I often share my wardrobe and recoup some of my expenses by selling my plus size clothing online.
Of course, I'm not the only one who's had this idea. However, because I've had a ton of experience doing this and know what to look for, I often keep my eyes peeled for others who are doing the same. Sadly, I often find myself disappointed: Not at the lack of options, but at the quality of clothing being sold, the exorbitant prices they're being sold at, and the haphazard, opaque methods people are using to sell. And while I don't fault plus size sellers for trying, I often think of ways that people could improve upon their online shops, which would ultimately lead to all of us being able to procure lovely secondhand clothing from likeminded plus size women who love fashion just as much as we do.
So what's a plus size hustler to do? Well, I've put together some handy guidelines that will help any experienced seller improve their store, or to help new sellers get started. Here's all you need to know about prepping your stuff for sale, making room in your closet, and ultimately paving the way for some new plus size pieces to spice up your life.
1. Take An Inventory
Taking inventory of the amount of stuff you've accrued is frustrating (see photo above) and might even make you feel a little guilty for being such a clothes horse, but it's important that you go into it methodically. If selling clothes on the Internet is something you're serious about, it's important to treat it as such. When I first started doing this, I was living in Seoul with a huge wardrobe. In fact, it was so large that my boyfriend eventually asked me, "Hey, do you think you could spare half of a small corner of your EXTRA ROOM THAT YOU USE AS A CLOSET for, you know, me?"
Moments away from being asked to rent a separate apartment just for my midi skirts, I started taking an inventory of what I had to sell by writing down what I had, and noting how much I would sell if for. I did this to determine if I had things that people would actually want to buy. In other words, if all you can bear to part with is a bunch of cute t-shirts that you wouldn't sell for more than $5 each, it might be better to spare yourself the time, because you'll need a lot of it. As it turned out, I had tons of vintage, barely worn, or new stuff from various plus size brands in a range of sizes, a pile of accessories, and more — a perfect variety of clothing to start an online shop.
2. Be Reasonable And Adjust Expectations
I get it: It doesn't matter if it was an inspired, fashion-forward moment at a vintage shop, or a huge sale at Forever 21 — at some point or another, your purchases meant a lot to you. However, that doesn't really matter now. Assume your buyers are coming at this with fresh eyes that don't share your exact fashion vision. Also assume that if they are shopping secondhand, they want to find high-quality, fashionable goods at reasonable prices.
It might be hard to hear, but people will not be willing to pay $10 or more for your piled H&M sweaters, or dip into their savings account for the sequined bolero jacket you bought from a kooky consignment shop. Full disclosure: I did eventually sell the above jacket, but it took me quite a long time to find a like-minded fatshionista. Patience and fair prices are key.
3. Don't Sell People Damaged Goods
It seems easy enough to understand, but I can't tell you how many times I've been enraged when people send me things with holes, stains, or deeply entrenched pet/cigarette/possible baby vomit smells. A good rule of thumb? Don't ever sell anyone something you'd be unhappy to receive yourself.
If you are doing the selling and a buyer complains about something you've overlooked, offer a partial refund (or a full refund depending on the damage). Finding plus size clothing is incredibly difficult, and you don't want to discourage people who are looking for other, more affordable outlets to stock their wardrobes. The bottom line here is: Don't be a tremendous dick, and your buyers will remain happy and purchase from you again in the future.
4. Understand That Plus Size Women Have Specific Needs From Their Clothing
If it's difficult for people who are a size 6 to find clothes that fit properly, then imagine how exponentially more difficult it is for plus size women to feel good and comfortable about the clothing that goes on their bodies.
As an act of solidarity, don't shy away from taking extra measurements for your buyers if they request them. Also, take the time to be real with people: If you're selling a bodycon dress and the buyer voices their worries about how the dress will cling, be honest about the fit. If they're coming at the purchase with an open mind, try showing them how you would style it on your own body and see how they feel after that.
It might seem like a lot of work, but I can promise you that there is nothing more satisfying than being a part of helping another plus size woman find a great outfit that she loves. In the end, everyone leaves the transaction feeling a little bit better about purchasing clothing than they may have before. With such limited plus clothing options in the world at large, this is a valuable thing.
5. Take Good Pictures Of What You're Selling
I can't stress this enough: It's a lot harder to sell a grainy photo of a tank dress lying limp on a hanger than it is to get creative and take pictures that will actually get people to notice. I've had success doing this a few different ways. The first way is to model the clothing yourself. I'm not a natural model, but I've found that taking slightly unusual (awkward as f*ck) photos of myself in my clothing has gotten people's attention. The photo above is a great example.
Secondly (and especially if you're selling prints or fabrics with texture), take closeup shots of the print and other details of the garment so people can see all aspects of it without having to ask. Here's an example:
Here's another, taken directly from my former plus size Instagram clothing shop:
Don't these images intrigue you, or at least catch your eye? That's the goal: Get them to notice and start asking questions. And, for the love of god, don't use a flash: It has the power to make even the most gorgeous frocks look like a still from a horror movie.
6. Implore Your Customers To Send You A Photo Or Feedback When They Receive Their Garment
Maybe it's just me, but beyond receiving payments or taking fun photographs to sell the clothes, this is by far my favorite part of selling things online. If you're using social media to sell things, ask your customers to share their photos (if they feel comfortable doing so), and then share them on your own page. It not only gives your store a vote of confidence, but also allows plus size women to see each other looking great in clothing that was sold to them in a straightforward, fair, and transparent way. Shopping for clothing online can be the absolute pits if you're fat, and this is one way that we can take the reigns and make the landscape of online shopping a little brighter.
Images: Amanda Richards; amapod/Instagram, Giphy (2)