It's Cool That Kaitlyn Is Breaking All The Rules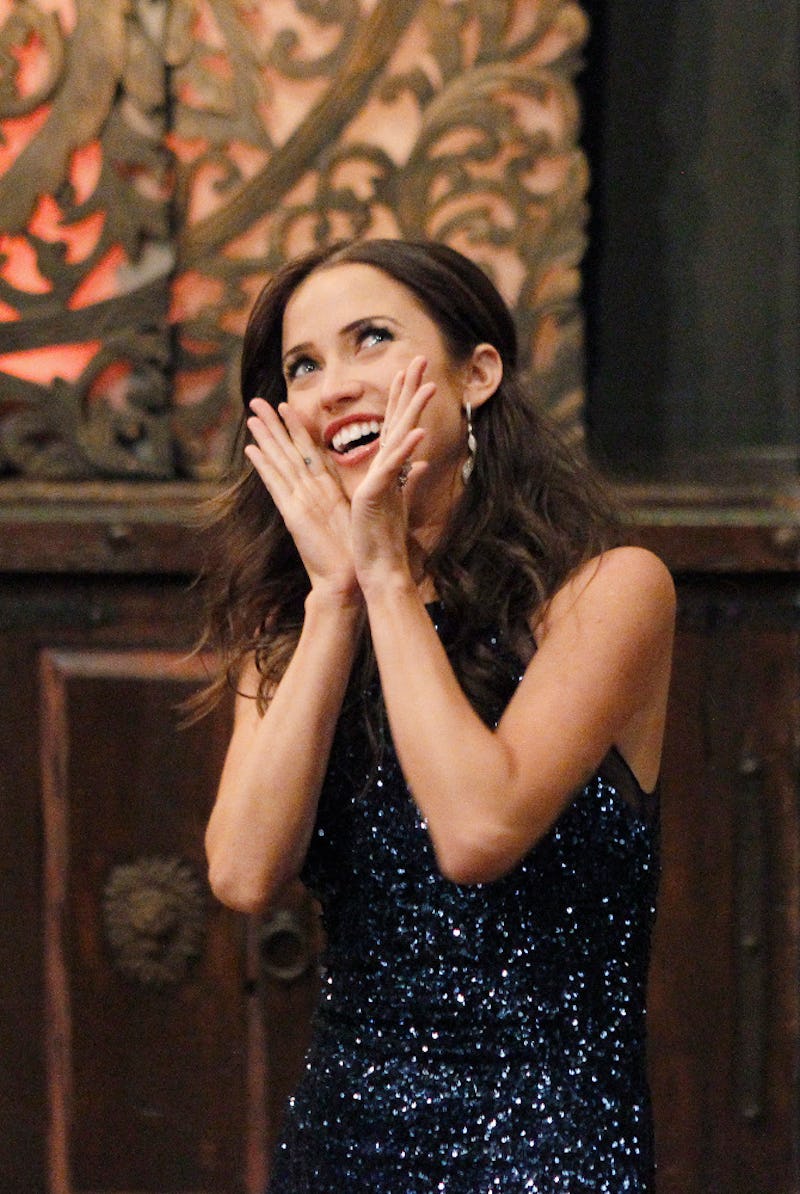 So far, absolutely nothing about Kaitlyn Bristowe's season of The Bachelorette has been normal. (And, I'm not just talking about Tony the Healer.) We have had a weird shortage of rose ceremonies, we never know if they are coming at the end or the beginning of the episode, and it seems like she's kicking most of the men out randomly throughout each episode. Basically Kaitlyn is breaking The Bachelorette "rules," and taking matters into her own hands. To be honest, it's actually kind of awesome because we have no idea how each episode is going to play out. She has taken it upon herself to make this show the way she wants it to be. #GirlBoss.
June 22 is the night we will see Kaitlyn do something that no Bachelorette has done on the show yet (that we know about at least). According to the previews, she is going to have sex with someone outside the fantasy suite, and it's going to be dramatic. But, first, she has to kick Ian off the show, in a rose ceremony or not, because he's the freaking worst guy ever. Breaking two rules in one episode. Amazing.
It's not the first time she's played by her own rules, and it likely won't be the last. Here are seven times so far this season Kaitlyn awesomely broke the stereotypes of being the Bachelorette. After all, you know what they say: Rules are meant to be broken.
1. She Hooked Up…Before The Fantasy Suite
Everyone has got to get over this and stop slut-shaming her. I feel like she can't possibly be the first Bachelorette to hook up before the Fantasy Suite, she's just the first to admit it. Sometimes when you're attracted to someone, it happens. We know that the Bachelors have done this on past seasons, and they didn't get nearly as much crap for doing it.
2. Kaitlyn Called All The Men Out
After being confronted by Josh about how all the guys hated Nick, she went straight back to the group and called every single one of them out. Most of them chickened out of admitting they disliked him, because most women wouldn't confront everyone like that. Just another reason Kaitlyn is awesome.
3. Canceling Rose Ceremonies
She called off a rose ceremony after a dramatic night, and other times she's sent people home whenever she feels like they're not right for her. Other people have done that in the past, but it's just another example of her making her own rules. Isn't that the point of finding a husband? She should get to choose when people leave.
4. She Has No Problem Kicking People Out
Just ask Kupah and Clint who got the boot before a rose ceremony after they pissed her off. Don't be rude to Kaitlyn she will send you packing. (Aka, BYE IAN!)
5. She Let Nick Come Back
Is it annoying when people come in mid-season? Yes, but you know what? If I was into someone that I thought could be my husband (even if it is Nick Viall), I would let them come on the show. Rules be damned.
6. She Snuck Away To Talk To The Guys
In the middle of the limo introductions Kaitlyn left Britt outside to go talk to the men. Britt mentioned that it was kind of a cheap shot to do that, but, look, in this world you have to do what you have to do to find someone. Kaitlyn took charge, and now she's the Bachelorette, so I think it worked out.
7. She [Spoiler!] Snapchatted A Picture Of Shawn B. Post-Show
Kaitlyn accidentally snapped a picture of her and Shawn, and now the entire world is pretty positive she chose Shawn. It was probably an accident, but I'm pretty sure that it was still breaking the rules! But, it's kind of awesome and definitely won't stop me from watching the show. I'm sure there's more rule-breaking ahead, and I can't wait to see what Kaitlyn does next.
Images: ABC/Rick Rowell (3); ABC/Felicia Graham; ABC/Clodagh Kilcoyne; Giphy (3)