These Instagrammers Have The Best Shoes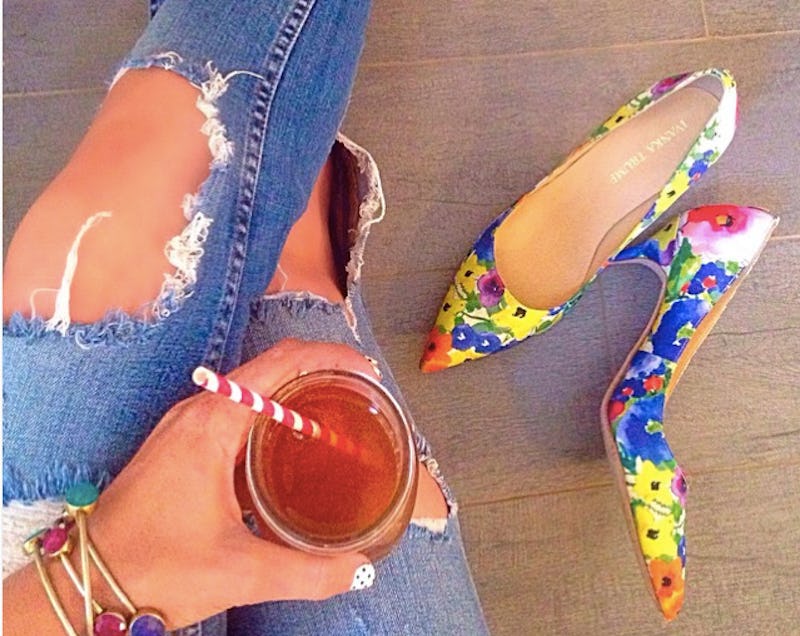 Like Marilyn Monroe said, "Give a girl the right pair of shoes, she will conquer the world." And those words have never been more true than when it comes to blogging about shoes on Instagram. Everywhere you look on the app, bloggers are posting pictures of shoes that would make anyone's mouth drop. From sky-high heels to super chic flats, Instagram is a treasure trove of fashionable shoes.
No matter your own personal style sense, there is a fashionable Instagrammer out there who epitomizes your favorite look. Whether boho chic, preppy, or grunge, there is a world full of shoes ready to make your whip out your credit card. Luckily for our wallets, Instagram hasn't quite figured out e-commerce yet.
Maybe it's something about the lighting in the photos or the way bloggers pair their accessories, but these fashionable shoe photos are addictive to look at. I might not be able to keep the latest Valentino's in my own closet, but double-tapping them on someone else's feed is almost as good. Here are a few of my favorite fashion bloggers who always rock the most fashionable of shoes.
1. January.Sunshine
Denise of @January.sunshine has such a light, colorful style. I love combing through her feed to grab fun, summer fashion inspiration. Her shoe game is always on point!
2. Ruffles And Rock Studs
Talk about high-end fashion envy! Sam Hughs never seems to quit. Between her beautiful vacation photos and her high-end shopping sprees, I'm feeling all sorts of envy.
3. Diana Madison
Diana Madison's style is a perfect blend of boho and rocker chic. I love the way she incorporates killer heels with long, flowing skirts. Her looks are always fierce.
4. AStylishSideProject
Mollie of @AStylishSideProject is absolutely the queen of cute flats. Her preppy, colorful style radiates through her choice of shoes, which is definitely something to envy.
5. OscarPRGirl
Attention lovers of high fashion! This Instagram page is for you. Between glamour shots and street style photos, this Instagram has it all. What I love the most about this feed is the amount of to-die-for shoes.
6. Gabi Gregg
Gabi might be most well known for her size-inclusive swimsuit collabs, but I'm equally as big a fan of her eclectic footwear wardrobe.
7. FashBoulevard
Anna James of @FashBoulevard is one of my main sources of shoe inspiration. From chic flats to sexy heels, this Instagrammer has it all. What I would give to raid her closet!
8. TheFashionGuitar
Charlotte G's style seems to be all about matching fashionable pieces with comfortable apparel. Just look as those wedges! I feel like I could walk for days in those shoes without getting a blister. This fashionable mom sure does know how to rock a pair of shoes.
9. Ragini Nag Rao
If feminine flats are more your style, you're going to love Ragini's feed.
10. Krystal_Bick
Blogger Krystal Bick seems to live a life that is extremely chic. From photos of her apartment to her street style outfits, her Instagram is amazing. Her style is classic, but her shoes tend to be a bit more edgy. For fashion beginners, this is a great place to start for some fashion inspiration.
11. SincerelyJules
What I would give to adventure around the world with this fashionable Instagrammer! Even though she is constantly traveling, she always looks so chic. She is one of those bloggers that meshes comfort with high-end looks.
Are your toes tapping with joy yet?
Want more style tips? Check out the videos below and subscribe to Bustle on YouTube.